Gomez Moorhead loves managing family business
October 26, 2023 - 10:49 pm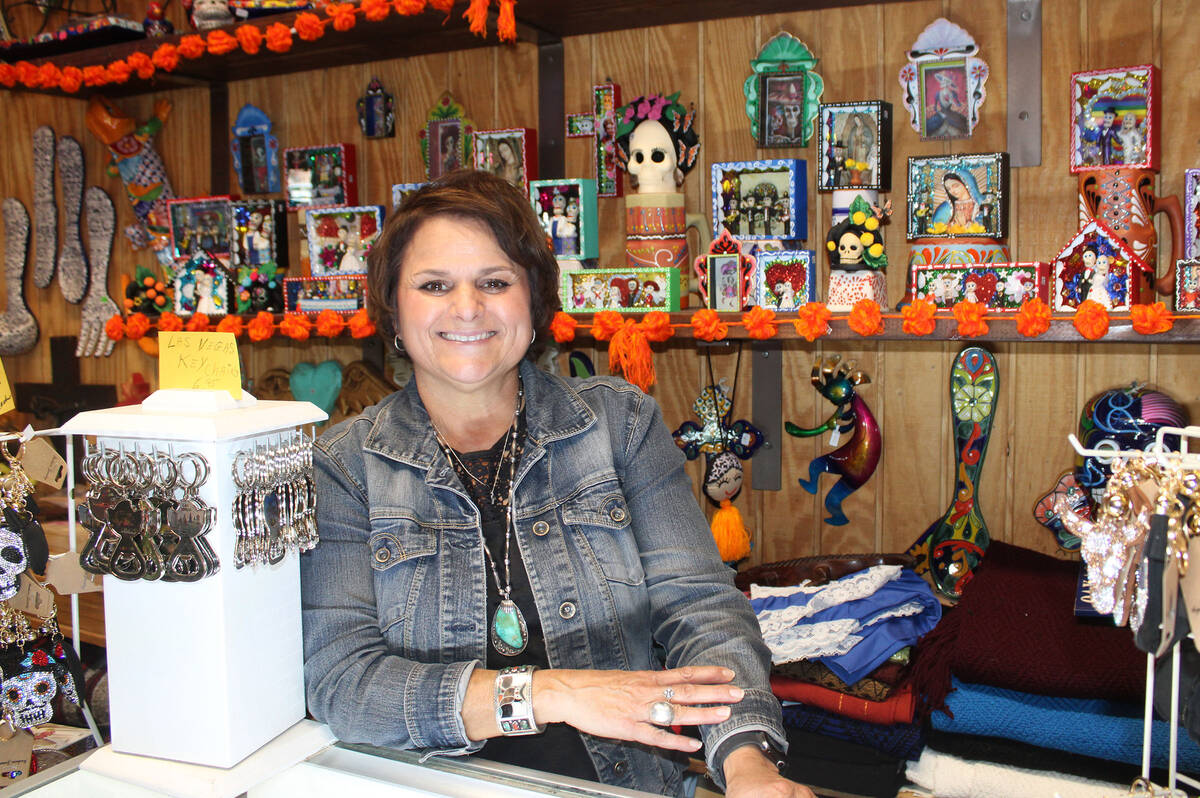 While growing up, Angelica Gomez Moorhead and six siblings all took turns working for the family business.
Of course, as a pre-teen or teen, working for one's parents was looked upon as a chore. Today, she sees it as a privilege.
"All seven of us kids, this is where we were raised. At the time we didn't appreciate it because we had a job regardless if we wanted one or not," she said, laughing. "That's why all of us were busy in sports or other activities because this was the last place we wanted to be. But as we got older, we all saw how my parents struggled and worked so hard to create what they have created. That's one reason I love coming to work every day."
Today, Gomez Moorhead serves as manager of the Western and Mexican Center, which recently celebrated its 58th anniversary in business, making it one of the longest running in Boulder City.
"My dad (Ramiro, but was best known as Ray), passed away in February but my mom (Petra) is here most days," she said. "She's the owner. I just run things for her. But she's the boss."
As for the key of not only staying open, but thriving, for nearly six decades, Gomez Moorhead said it comes down to a few long-standing elements.
"We've always tried to make people feel at home when they walk in," she said. "That's something my mom and dad taught us long ago – treat everybody with respect. It's so important for us that when people walk in, we welcome them and treat them like family."
She then added, "We're not just a cheesy gift shop. I don't have a ton of Las Vegas stuff like we used to. We now have more Mexican artwork. Our Native American jewelry comes from the Navajo, Hopi and Zuni tribes. We mix a lot of things up, which is what helps make us unique. Our goal is to move product because if it just sits here, we can't pay our bills. We want to sell things because otherwise you turn into a museum."
As for what things have been like at the store since the passing of her father, she said, "I hate to say it's been business as usual but I have to because this is what we created and our goal is to definitely continue how it was when he ran the business. He always made it so welcoming for people to come in. This was his livelihood here and in Mexico since my grandfather had lots of stores."
Before helping to run the family business, Gomez Moorhead gained experience running a family business of a different type. Twenty years ago, she and her husband, Bill, took over A&W from his mom and stepdad, Curtis Wells. She said their plan was to possibly take the restaurant over but 10 years down the road. That's because at the time they did, they had left their jobs and their children were 2, 4 and 6.
"Kudos to restaurant owners," she said. "I don't care if it's sandwich shop, food truck or a 5-star restaurant, it is a lot of work. You don't realize that until you're doing it. We asked ourselves, 'How hard can it be?' We're both hard workers but that was far more than we expected."
After three years, they sold A&W and Gomez Moorhead would soon come to work for her parents, with the desire to have extra time to raise their young family and to continue coaching softball. Off and on, she's been a coach for more than a quarter-century, most of which was at Boulder City High School, where she's been the head softball coach for 11 years.
"I love working with these young adult women," the 1987 BCHS grad said. "I love softball and that's why we're out there. But I think as a coach, my job is to also help them to become good people and positive contributors to society.
"Sports teaches you so much. At that age, sometimes I'm more of a psychologist or in some cases, a second mom to them. I am happy to do that and I respect them but I demand respect in return. When I played, we weren't yelled at and were treated like people. That's the way I coach."
When asked what it's like coaching for one's alma mater, let alone coaching on the exact same field in which she played, Gomez Moorhead flashed a wide grin and said, "Oh, man there's nothing like it. I hope that when I do leave, one of my players take over. That would be great. I have so many wonderful memories on that field and that's what I'm trying to help create for my players."
Ron Eland is editor of the Boulder City Review. He can be reached at reland@bouldercityreview.com or at 702-586-9523.