Golf tournament to raise money for school safety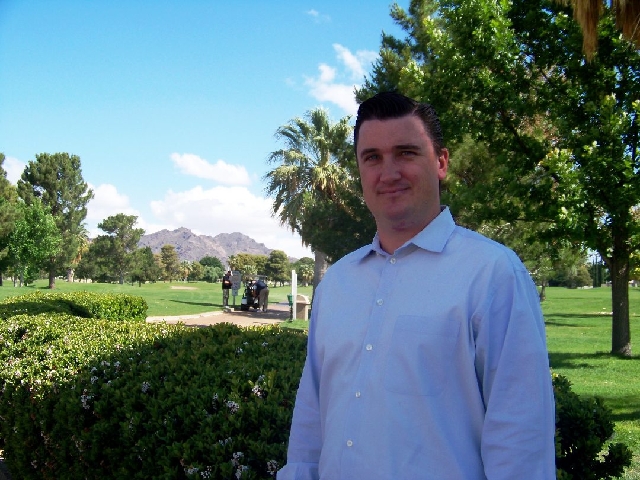 Doing something for kids was local real estate agent Rich Shuman's only intention when he approached the local Community Education Advisory Board to propose sponsoring a golf tournament to benefit the organization.
The first Heritage Group Invitational Golf Tournament takes place Saturday at the Boulder City Municipal Golf Course. Consecutive tee times begin at 7:30 a.m. Format is two man best ball, and since it is a competitive tournament, mulligans will not be sold.
We're trying to keep it competitive," Shuman said. "Real, true golfers do not believe in mulligans."
Cost of the tournament is $85 and includes green fees, cart and lunch after the tournament. Shuman hopes to raise $2,000 with 30 participants.
Shuman had staged a successful charity golf tournament "a long time ago," but it was only recently that the idea of the Heritage Group Invitational Golf Tournament to benefit CEAB took shape.
With a fundraising idea in mind, Shuman attended two CEAB meetings and presented his proposal. CEAB members were unanimously in support of the tournament, "no questions asked," Shuman said.
Roxanne Dey, president of the CEAB, said members were "definitely excited" when Shuman came to them with the idea for the Heritage Group golf tournament.
Shuman said he was so impressed with the meetings he attended, from this point forward he'd "never miss a CEAB meeting."
"It's appalling how hard it is for them to get money to do stuff," Shuman said.
Shuman has two daughters in Boulder City schools: Bailey attends Garrett Junior High School and Riley attends Martha P. King Elementary.
Shuman said his first priority for using golf tournament funds was "school safety, tightening up security a little bit, and being a little more vigilant of who is coming and going without jeopardizing our quality of life."
"Ever since Connecticut, I've been thinking we should do stuff to make our schools safer. That's our obligation," he said.
Dey explained that the practice of distributing CEAB funds is to divide them equally among the four public schools, and set some money aside for grants to teachers for special projects.
She went on to explain that individual donors can designate a specific use for the money, as Shuman has.
Dey, along with CEAB members and principals from the schools, has already been "brainstorming" about the use of golf tournament funds in regard to safety and security measures. She said Garrett Principal Jamey Hood is conferring with the Clark County School District to examine the possibility of some type of reconfiguration of the entrance to the school
Shuman is working with Boulder City resident Glen Leavitt, son of City Councilwoman Peggy Leavitt, on promoting Saturday's tournament and has received "wonderful support" in promoting the event from CEAB members.
For a place in Saturday's Heritage Group Invitational, call Shuman at 702-809-3511.