Goatfeathers reopens under new ownership, management
March 12, 2014 - 11:52 am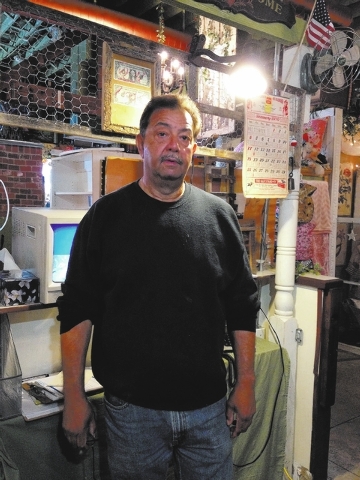 Goatfeathers, the antique and gift store that closed late last year with financial troubles, officially reopened Monday under new ownership and management.
Gary Allen, who owns Boulder City Antique Market with wife, Catherine, said he signed a one-year lease for the 8,000-square-foot property at 1300 Wyoming St. where Goatfeathers had been located for nine years.
The building's owner, Las Vegas-based physician Wendell Butler, owned Goatfeathers until a former manager closed the business in December, alleging Butler had absconded with $20,000 meant to pay vendors.
Butler did not return a request for comment.
Allen said he will use the Goatfeathers name, but will be operating under the Boulder City Antique Market business license.
"I bought the name 'Goatfeathers,' not the bills," Allen said.
Allen, who opened the antique market in May, said Goatfeathers is "a landmark" and "a good thing for Boulder City," but couldn't say exactly why he is taking it over.
"Why am I doing it? I wish I could really tell you," he said. "It's not a money thing."
In fact, Allen said he didn't even take a look at Goatfeathers' books before signing the lease.
"All I want that place to do is support itself," he said.
But Allen, who saw vendors rush the antique market when Goatfeathers closed, knows how much the business meant to the community. He said a woman burst into tears recently, telling him that her prayers had been answered with him reopening the business.
"I'm just being a good guy," he said.
Cheryl Myers, the former Goatfeathers manager who made the decision to close the store, said she was "honored" that the Allens would be reopening the business.
"The last few years my girls and I have spent making the store a success was not for naught," she said. "I will be working there a few days a week and will help in any way possible."
Goatfeathers will be similar to before, but will be operated by a combination of former and new staff, and will have fewer vendors, Allen said.
About 40 vendors have moved into the building, less than half of the number there before, according to new manager Joanie Brown.
"I'm really optimistic that this will be lovely," Brown said. "It will be really fun and keep people coming to Boulder City."
Vendors include some previous Goatfeathers vendors, such as jeweler Barbara McConaghy. She said she was unable to find a new location when Goatfeathers closed, causing her to lose money.
"It was worthwhile coming back, rather than sitting in my house," she said.
McConaghy claims Butler still owes her money, but she did not have a problem coming back to the business under new ownership.
Woodworker Henry Hayes said he moved to the antique market when Goatfeathers closed, but wanted to move back to his former location because it was "more antiquish" and he could have more space for less money.
He said Butler does not owe him money.
Some however, such as Beverly Dow, are new to Goatfeathers.
Dow, who is a first-time seller of refurbished furniture and household items, said she seized the opportunity after overhearing talk at the antique market that Goatfeathers would be reopening.
Not everyone is anxious to locate to Goatfeathers, however.
Former Goatfeathers vendor Tom Guin, who moved to the antique mall, said Butler owes him money and he is "still a little shell shocked" about Goatfeathers abruptly closing.
The 1,000-square-foot Goatfeathers Too location at 527 Nevada Way, which opened two years ago with the purpose of attracting Nevada Way traffic to Goatfeathers, will not be reopening. The space, which is not owned by Butler, has been leased by another business, Jewelry by Charlie.