From couch to Cocodona: BC Resident completes one of nation's toughest ultramarathons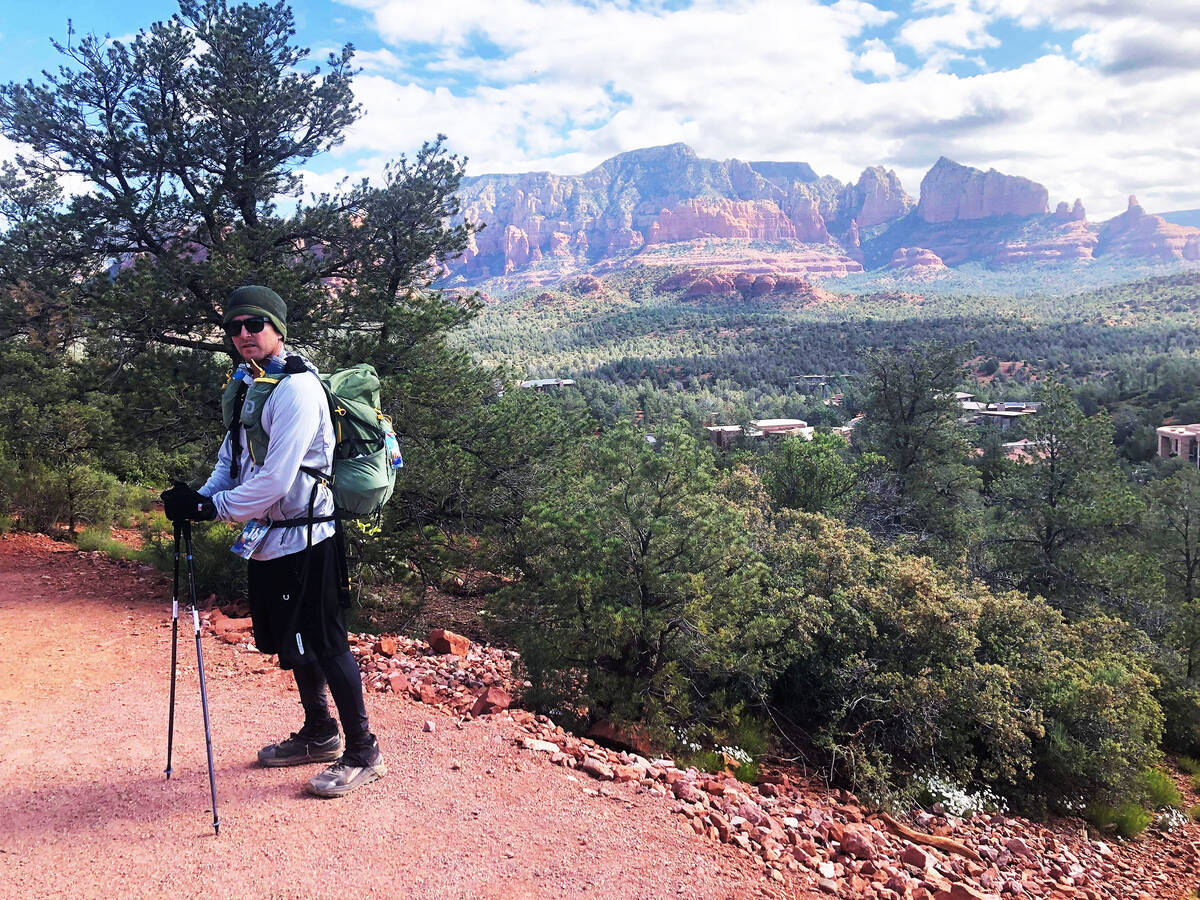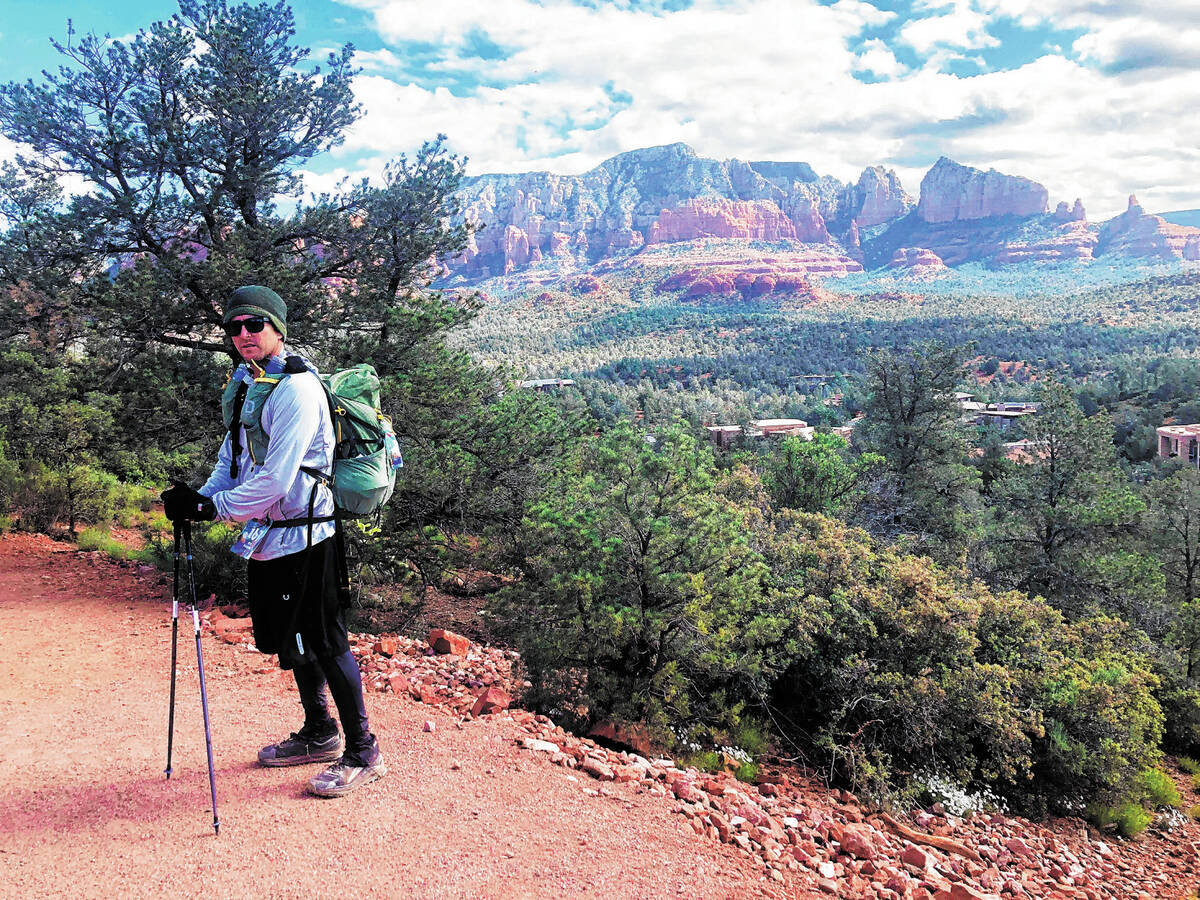 The distance between Boulder City and Phoenix is roughly 250 miles. Now imagine walking or running that distance and not on the roadway but rather over mountains and rough terrain.
Furthermore, imagine having to do that in a set amount of time. For Kyle Hammond, he didn't have to imagine it, he lived it.
The 36-year-old, who has lived in Boulder City since he was two, recently competed in the Cocodona 250, which is considered one of the most grueling ultramarathons in the nation. It starts in Black Canyon, Ariz., and makes its way to Sedona and finishes in downtown Flagstaff. Competitors have 125 hours to finish but each must get to and leave the designated aid stations by a certain cutoff time or they're out of the race. Competitors had to average at least 50 miles a day. Hammond finished in a time of 119 hours, 36 minutes and 29 seconds.
To prepare for a race like this, Hammond said he did a lot of cross-training to build his leg strength and hiking trails to help with his endurance.
"My mental approach is what's gotten me through these races, which are 75% mental and 25% physical," he said. "So, signing up and showing up for the race is half the battle."
He said the terrain "was all over the place" as it started in low desert and within the first 30 miles it climbed to nearly 10,000-foot elevation in 90-degree weather. Because of that, he said 25 to 30 competitors dropped out that first day from heat exhaustion and dehydration.
"There were some really good ultrarunners in that race but they were dropping like flies because it was so steep, rocky and exposed," he said. "There was no shade at all."
While this was his first Cocodona 250, he did not come into the race blindly. He did his homework and added that this particular race is in the back of every ultrarunners' mind because its level of difficulty. Competing in this race was not originally planned for this year. He had a race at Lake Tahoe scheduled for September but due to a forest fire, it was canceled. So instead, he set his sights a little further south.
"I was looking for something, saw the link for the race and thought, 'What better time than now?'" he said.
He said that there are no qualifying races for Cocodona, but instead the organizers determine if a runner is qualified based on their race history. Most ultramarathons have a lottery system because of the high number of competitors.
"Everyone told me the first leg was the hardest, which it was, but it wasn't," he said, smiling. "There were just as many hill climbs and elevation gains the rest of the way but at that point, you're doing it with heat exhaustion and tired legs. The climbs were nonstop. You'd climb up a mountain and think you're done and then you realize you're not even halfway there. I probably hiked 90% of the time."
Hammond said the week prior he loaded up on carbohydrates because during the race, he said it's crucial to eat but he was rarely hungry due in part to all the electrolytes he took in, which contain a large amount of salt. He started the race at 176 pounds and finished at 165.
"About halfway through I hit my first, what they call, bonk," he said. "I missed my family. I asked why I'm doing this to myself and why am I putting myself through this self-torture. You just have to get out of that self-pity and keep going. I kept telling myself that it's just five days of my life. Five days and it will be over. Kind of five days of suffering and a lifetime of glory type of thought."
Once he hit day five, Hammond said he knew he was going to finish.
"I was so happy to see my family," he said of crossing the finish line. "They all had signs for me. Me finishing was just as much of a win for them as it was for me."
Hammond, who works for the city, said a lot of credit for him completing the race goes to family and friends, especially his wife, Krista, and his pit crew, his dad, Jack, and family friend, Craig Castleberry.
While he said he doesn't think he'll do Cocodona again, there is a thing called the Triple Crown, which includes races in Lake Tahoe; Moab, Utah; and Mount St. Helens, Wash., which he hopes to do in 2024. Leading up to Cocodona, he competed in races of 50 and 100 miles in Arizona and California for training runs.
Unlike many ultrarunners, Hammond does not come from a running background. He's never even done a 5K competitive run. In fact, he began ultramarathon running just a year and a half ago. His two best friends, Tyler Nash and Jeremy Holley, have been distance competitors for a couple years and encouraged him to join them.
"There's been a competitive nature between us for years and finally they broke me one day and I signed up for the Jackpot Ultra, here in Vegas," he said of the 48-hour, 100-mile race. "That started it for me. We've always pushed one another. We always say, 'You need to be comfortable with being uncomfortable.' So, what better way than to run 100 miles in my first race?"
A couple of years ago, Hammond was diagnosed with Crohn's disease, an intestinal disorder. He dealt with a lot of stomach pain but realized when he was competing, as opposed to sitting on his couch, "sulking in my sorrow," a lot of that pain went away.
"That's where the mental aspect kicked in for me," he said. "If I can beat that, it was like I can conquer the world type of thing. I feel like I'm the poster child of, 'If I can do it, you can do it.'"
Ron Eland is editor of the Boulder City Review. He can be reached at reland@bouldercityreview.com or at 702-586-9523.