Flying high: Working at BC airport dream job for new manager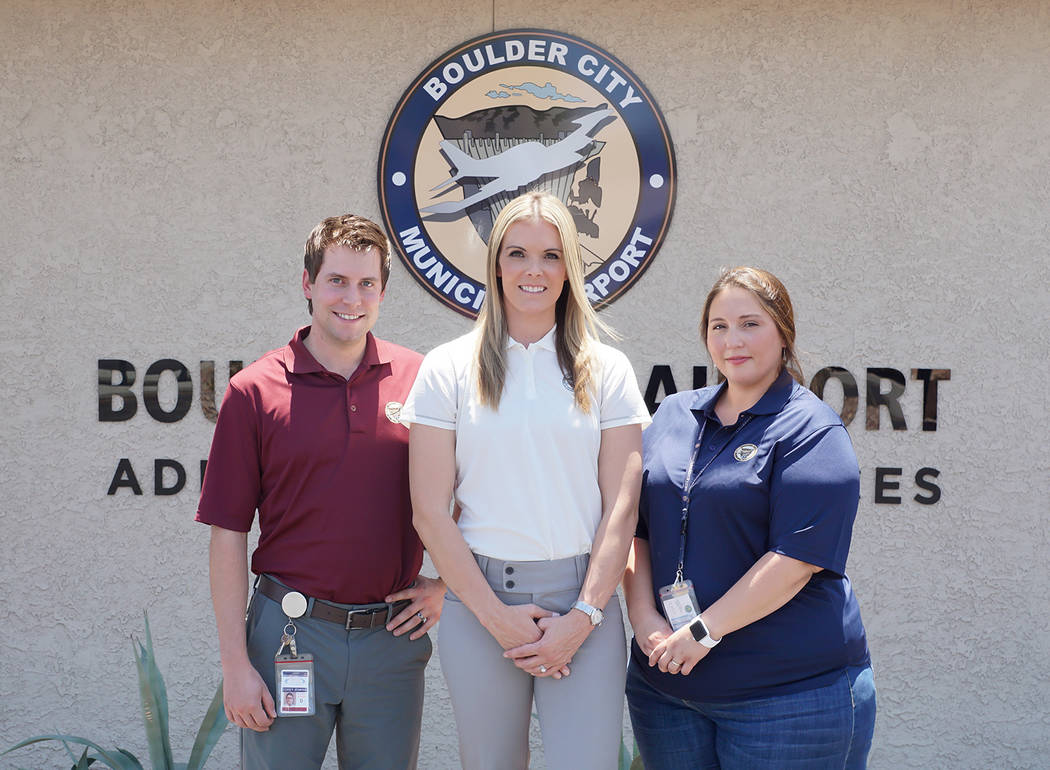 When she was a little girl, Jennifer Lopez would go with her grandfather to the airport to watch the planes take off and land.
Hailing from a small city in Minnesota, the airport was one of the most exciting places in town, she said.
Years later, the thrill remains. From her office at the Boulder City Municipal Airport, Lopez still watches the comings and goings of the planes and helicopters based at the facility.
"I flew in here as a pilot. This is my dream job," she said of her new position as airport manager.
Lopez's love of aviation runs deep. When researching career opportunities after high school, "aviation was a slam dunk," she said. "I always knew I wanted to be involved with flying and airports."
Lopez has been flying for 20 years. She has been a commercial pilot for about 15 years and a certified flight instructor for about 12.
"Once I started flying, I haven't stopped. It will always be a part of my life."
She has a bachelor's degree in aeronautics and bachelor's degree of business administration in aviation management from the University of South Dakota.
Lopez came to Southern Nevada about 10 years ago and began working at Clark County Department of Aviation, where she spent nearly six years as an airport program administrator. While there, she started to pursue a master's degree in crisis and emergency management at UNLV.
Crisis experience
That prompted a short, but important career change.
Through her participation in Clark County's leadership program, she had the opportunity to meet Clark County's fire captain. She said she expressed her desire to volunteer as a firefighter to get first responder experience, which would help her with her education, and allow her to help people and her community.
She later met another fire captain, who suggested she go to Clark County's fire academy.
After six months of intensive training, she became one of 19 women among the county's 700 firefighters.
"I worked on the front lines with some of the strongest women out there. It was a great opportunity."
But it was her love of aviation that brought her back to the airport and Boulder City.
Endless possibilities
Lopez said she appreciates the "endless possibilities" that come with running the Boulder City airport, which, despite its small size, is the third busiest in the state.
She started at the end of June and is doing her best to meet all the tenants at the airport and learn all she can about their operations. She said part of her job is to make sure they are successful and happy.
However, she said her primary goal is to ensure everyone's safety and provide the best customer service and experience possible.
"Safety is paramount to any operation," she said.
Several projects are on the near horizon as the United States Department of Transportation recently awarded the airport $1.43 million to improve safety at the facility.
When not at work, she and her husband, Erik Lopez, enjoy spending time outdoors and learning new things about the community they call home. She said they like to attend concerts and special events, and spend time with family and friends.
Though her head is often in the clouds, ironically, her husband is afraid of heights. "But I have gotten him to fly with me."
As she settles into her new position, Lopez is quick to point out that she relies on the help of her small staff: Marissa Adou, assistant airport manager, who has been at the airport for more than eight years, and Corey Jenkins airport operations agent, who has more than a year of service.
"They bring a high level of work ethic, knowledge and integrity to work with them every day," she said.
Hali Bernstein Saylor is editor of the Boulder City Review. She can be reached at hsaylor@bouldercityreview.com or at 702-586-9523. Follow @HalisComment on Twitter.