First baby: Couple starts new year with addition to family
January 6, 2016 - 6:06 pm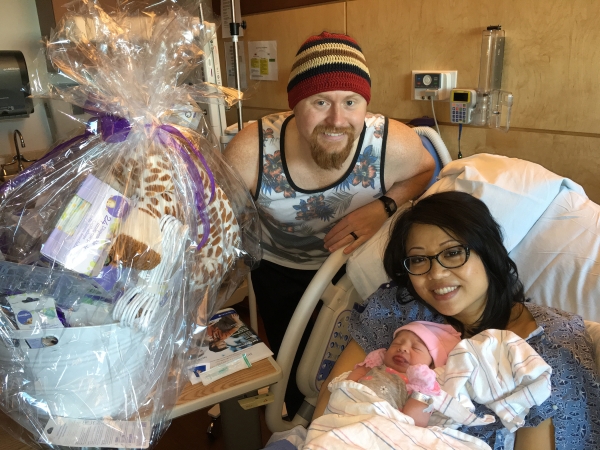 Instead of clinking the glasses of champagne or watching the fireworks from the Las Vegas Strip this year, Boulder City residents Joe and Cris Stubitz found themselves ringing in the new year at Summerlin Hospital.
The doctors had scheduled their newborn baby girl to arrive on Dec. 28. When that did not happen, it led the Stubitz family induce labor on Dec. 31. If a pregnancy lasts more than 42 weeks, the doctors can schedule this to get the contractions going and start the labor.
After sitting through 12 hours of pushing and remembering to breathe, Cris Stubitz gave birth to Chloe Jasmine Stubitz at 8:47 a.m. on Jan. 1.
"We didn't really do the whole countdown this year. The nurse came in around 12:10 a.m. and wished us a happy new year," says a now more pacified Joe, who is ecstatic to have a healthy new daughter to add to the family. "We were just more focused on getting the baby out of there first."
Chloe, which means fresh blooming in Greek, was named after the Greek goddess of agriculture, Demeter. What makes her so special is not only that she was born on New Year's Day, but that she was the first one to blossom at Summerlin Hospital in 2016.
"They let me know there was another mom in the other room getting ready for her birth. Then they told me there was a free prize to whoever delivers the baby out first, so I was trying to push it out as fast as I could," explains Cris jocularly.
Ultimately, they ended up beating the birth happening next door by 18 minutes. Thanks to help from their doctors who were rooting for them to win like a horse about to cross the finish line, they took home a gift basket full of diapers, baby wipes and safety accessories to baby-proof the house.
For the Stubitzes, choosing a doctor that is located in Summerlin was tough since it was so far from their home.
Cris said she knew that she trusted her doctor, Dr. Karen Dalley at Summerlin Hospital, to deliver Chloe safe and sound — just like she did three years earlier with their first child, daughter Claire.
When Claire was born they had to perform an emergency cesarean section, a procedure that was close to happening with Chloe as well.
"Our first daughter was what you call breech, so she wasn't coming out head first into the world, she was head up in mom's stomach still," Joe said. "Chloe was upside down too, but we prayed for her to get in the right position so we can have a natural birth. God answered our prayers and she was able to deliver naturally."
As the Stubitz family looks to integrate one more female presence into the household, Joe said he realizes girls run the world, and he is just lucky to be a part of it.
"We got a two bedroom condo, and now there's three women. So let's just say I need to take some time to cool off once they're all together, but I love it," said the father of two. "She's healthy and came out with a full head of hair, so Chloe is doing really good."
Contact reporter Juan Diego Pergentili at jpergentili@bouldercityreview.com or at 702-586-9401. Follow him on Twitter @jdpbcreview.