Fire destroys triplex; father helps save family by throwing child from second-story window
September 16, 2015 - 3:23 pm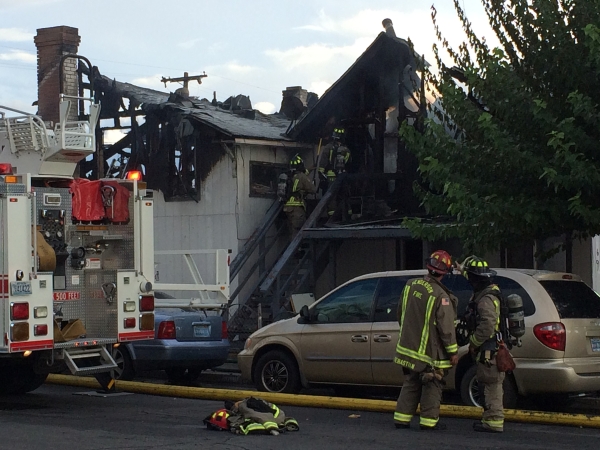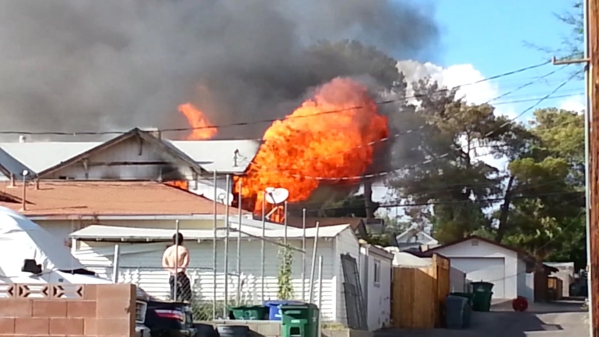 Two people were injured trying to escape a fire that destroyed a triplex Monday afternoon and left two families homeless.
The three-unit building at the corner of Wyoming Street and Avenue L caught fire around 3:30 p.m. The cause of the blaze is unknown at this time and is under investigation, said Boulder City Fire Chief Kevin Nicholson.
The father and one child living in the upstairs unit were taken to University Medical Center for injuries sustained when trying to escape the fire as well as smoke inhalation. The mother and another child were taken to Boulder City Hospital where they were treated and released, he said.
Nicholson said the child with injuries was thrown from a second-story window, but he didn't have any information about the type of injuries sustained or the child's condition.
He said he spoke with firefighters who were first to arrive on the scene and they "seemed very positive" that the victims' injuries were not life threatening.
Alicia Tederman, who lived in the downstairs unit with her fiance, Logan Pierce, and their two children, Kairi, 5, and Brayden, 5, said they all escaped unharmed, though they lost everything.
Tederman said the fire appears to have started upstairs and they were home when someone banged on their door and told them to get out.
"I'm still kinda in shock," she said Wednesday morning.
They had only been living there for about three weeks.
Tederman said she didn't know the other family and the third unit was unoccupied.
Chris Clements, who lives a few houses away on Avenue M, was one of first people at the fire and helped rescue the young woman who lived in the upstairs unit.
"At first I thought it was a domestic (violence situation). I heard someone screaming for help."
After seeing the smoke and flames, Clements said he grabbed a ladder and "jumped a couple of fences" to get on the property where he used the ladder reach the woman and pull her from a small bathroom window.
As he was carrying her down the ladder, she was screaming about her two children, he said.
"I was going to climb through the bathroom window, but the smoke was way too much," he said. "The fire was insane."
As soon as Clements got the woman safely to the ground she "ran in a different direction."
He said he never saw the children and didn't get the woman's name.
Nicholson said the fire escalated quickly because of the wind and was very hot.
As word of the fire spread on social media, community residents began gathering clothes and household items for the families.
"My phone hasn't stopped since yesterday," said Amber Howe on Tuesday. "It's overwhelming … the community is just wonderful coming together like this and helping."
Howe works with Tederman at Mountain View Care Center.
"I have offered to pay out of my pocket to get the things they are asking for and people have told me 'No,' " Howe said.
Tederman said she and her family are staying with relatives and are "amazed and thrilled" with the support for the community.
"Everybody has been a big help," said the two-year resident of Boulder City.
Donations can be given to Howe at 850 Jeri Lane or by calling her at 775-354-7060. Additionally, donations can be made by contacting Jennifer Olsen at 1510 Sandra Drive or by calling her at 702-521-0773.
Howe said the two can make arrangements to have large items picked up and will sort all the donations to make sure each family gets what it needs.
Hali Bernstein Saylor is editor of the Boulder City Review. She can be reached at hsaylor@bouldercityreview.com or at 702-586-9523. Follow @HalisComment on Twitter.