Finance director resigns; Kim accepts city manager position in Washington
August 23, 2017 - 2:28 pm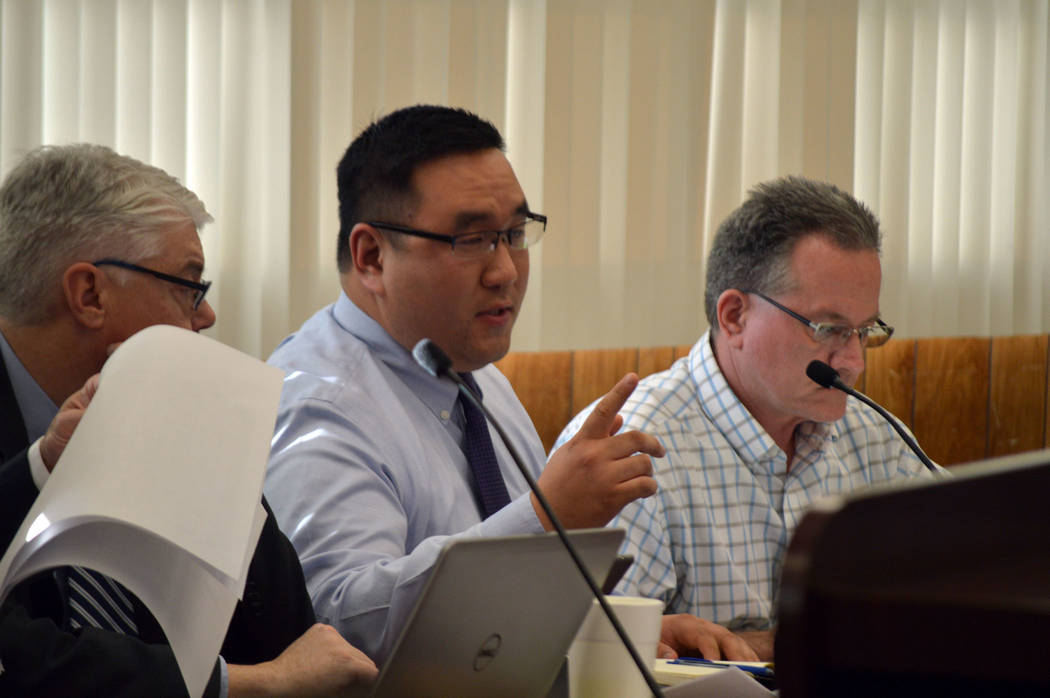 Hyun Kim's short tenure as Boulder City's finance director is ending, as he has accepted a city manager position in another state.
"I'm pursuing an opportunity to take on a city manager role in Fife, Washington," he said. "I'm looking forward to working with a strong team to execute on the council's priorities for the community.
"It has truly been an honor to work for City Manager (Scott) Hansen and the City Council, as well as the residents of Boulder City," he added.
Kim's last day in Boulder City still has not been set, but according to a post on the city of Fife's website, he will start his new position Sept. 13.
In 2015, the city was offering a salary between $130,000 and $165,000 plus benefits for the city manager position. When he was hired as finance director, Bryce Bolt, city administrator said Kim's annual salary will be $127,174.
The city has a has a biennial budget of $163.5 million with a general fund of $37.5 million.
Kim is the fourth Boulder City department head to leave their position since February. Currently, Boulder City is recruiting for a city attorney and a city manager. In addition, its community development director changed positions and now coordinates special projects.
Kim started as finance director in October 2016, prior to which he served as town administrator of Afton, Wyoming, which had 2,000 resident and a general fund budget of $2.7 million. In Boulder City, he worked with a general fund budget of more than $31 million and a population of 15,000.
"I have always enjoyed working with Mr. Kim, both in my role as public works director and as acting city manager," Hansen said. "He conducts himself in a very professional manner and is a good asset to our management team. He will be missed for sure."
According to Fife's website, the city manager is responsible for implementing the adopted policies of the mayor and council by coordinating services to meet the needs of all who live, conduct business and play in the city.
He also proposes policies and programs, carries out council directives, and develops a long-range view of city problems, needs, goals, and objectives for the council. Additionally, the city manager is responsible for preparing general rules and regulations necessary for the conduct of city departments and offices, and supervising the preparation of the city's budget and financial reports each fiscal year.
Boulder City Mayor Rod Woodbury will also miss working with Kim and appreciates his work for the city.
"Hyun Kim is one of the most pleasant individuals I've ever had the pleasure to work with," he said. "He's always been so respectful, hardworking and anxious to please both the council and the public. Just a few months after being hired as the city finance director, he immediately made a big impact with his innovative approach to the budget process. Mr. Kim made that process more accessible to the public than ever before by creating an online system that allowed anyone to view the original draft, supporting materials and ongoing changes in a fluid, real-time way that was unprecedented in our community. I'm disappointed that we won't have the opportunity to see him take that process to greater heights in the coming years, but hopefully, his successor can pick up the torch where he left off.
"Hyun also prided himself on being extremely responsive to citizen requests for information, and his hard work in that regard is just another example of his dedication to the City Council's commitment to ever-increasing transparency," he added. "We will miss Mr. Kim's smile, his humility and his team-player mentality. But we naturally wish him the best in his new city manager role, expect to see him do great things wherever life's paths take him, and thank him for his dedicated service to Boulder City during the short time that he's been with us."
Despite his limited time in Boulder City, Kim said he is thankful for it and confident the town will move forward.
"The best part of my job here in Boulder City has been, without a doubt, the amazing people I have been able to work with and for each day," he said. "I will miss working with the talented and dedicated public servants in the finance department, who have continually impressed me during my tenure here.
"I will miss the passionate citizenry here in Boulder City, who continually impress me with their knowledge of the current issues facing this great community," he added. "The city is working toward the next chapter in Boulder City's amazing history, and as the discussions transition into sustainable decisions — I know that Boulder City will continue to be a premier community to raise a family and start a business."
Kim said his final days here will be to put things into place for the completion of several projects.
"My top priority is to take care of projects I am working on right now, including the ongoing audit for Boulder City, which should be completed in the next few months," he said.
Hansen said his goal is to start recruitment for a new finance director at the end of this week, with other members of the finance department sharing Kim's duties until someone is found.
"The finance department staff is a small group," he said. "The loss of Mr. Kim will create additional demands on all members within the department. The city is fortunate to have several long-term employees within our finance department that have assisted with previous transitions and I am confident they will continue to serve the city well."
Contact reporter Celia Shortt Goodyear at cgoodyear@bouldercityreview.com or at 702-586-9401. Follow her on Twitter @csgoodyear.
Fife Fast Facts
Population: 10,103
Location: Northwest Washington, considered a suburb of Tacoma
City Council: Seven members elected to four-year terms