Final contracts expected for new attorney, manager
February 14, 2018 - 4:50 pm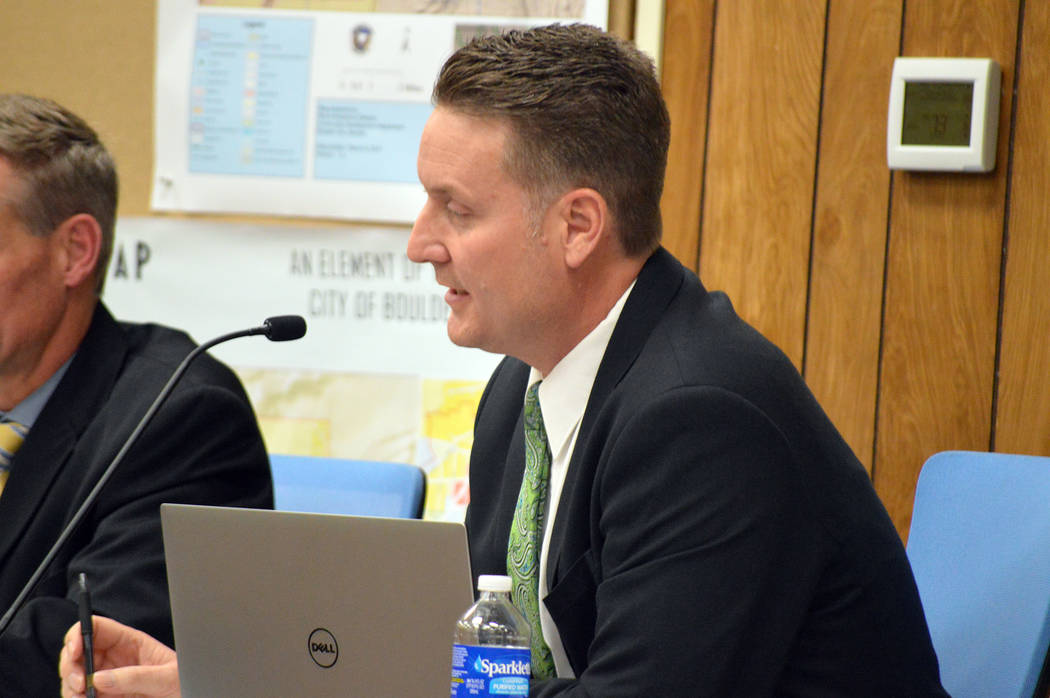 Boulder City's time without a permanent city attorney and city manager is coming to a close, as contracts for both positions should come before City Council at the end of February.
Council appointed Steve Morris as city attorney on Sept. 26 in a divided vote. Morris was already working for the city as an independent contractor in the attorney's office and had been appointed acting city attorney June 28. His employment offer was contingent on completing a physical exam and a negotiated employment agreement.
At Tuesday's City Council meeting, Administrative Officer Bryce Boldt said Morris had completed the exam Oct. 16 and on Nov. 11 was given a copy of the former city manager's employment agreement.
Boldt also confirmed with Bob Murray &Associates, which is handling Morris' contract negotiations, that it had a copy of the draft city attorney employment agreement, but had yet to receive a counter-proposal from Morris.
"As most of the community knows by now there were certain complaints filed with the attorney general challenging the action that was taken by the City Council at the open meetings on Sept. 20, 2017, and Sept. 26, 2017," Morris said. "Those complaints were responded to by the city. We anticipated receiving a determination back from the attorney general but have not received one to this day. Notwithstanding, it is my opinion that any action that can be taken under NRS 241 has expired and unless members of the community can convince me to withdraw from consideration by our Feb. 27 meeting, the contract … will come before the council at that meeting."
According to the Nevada attorney general's website, the attorney general may sue in district court to void any action taken in violation of the open meeting law within 60 days after the action was taken. It may also sue within 120 days after the action was taken to require compliance with the open meeting law.
The 60-day period for this would have expired at the end of November and, according to Morris, the 120-day period ended Jan. 24.
"That was a significant legal issue," he said. "There was a legal cloud placed over that, but that has since expired, and the council will be able to consider the contract on the 27th."
The attorney general can still issue an opinion on the alleged violation.
In a 2016 open meeting law violation opinion for Boulder City, the attorney general asked the council to formally enter the findings into the record. This violation was in regards to a breakfast meeting some of the council members had with Hyun Kim, former finance director.
Councilman Kiernan McManus encouraged Morris to provide opportunities for the council to be updated in these types of situations so that it can take the information and make a decision on how to move forward.
Morris said that he appreciated McManus' request and he would endeavour to keep the council informed as a whole. He also encouraged McManus to reach out and ask him questions, as some of the other council members had done.
"I don't know that it's my responsibility to reach out," McManus said. "I guess that's what I'm trying to get out."
Since September, Morris has continued to work under the terms of his independent contractor agreement as assistant city attorney signed in 2012 and is earning a minimum of 15 hours per week at his billable rate of $325 per hour.
Resident Neal Siniakin told council that he disagreed with Morris' decision to wait out the 120 days and that this issue could have been resolved after the 60-day period.
Siniakin and Ainsworth Hunt each filed open meeting law complaints dealing with the Sept. 20 and 26 meetings.
Council also approved having Morris draft a contract for Alfonso Noyola, who was selected as the new city manager. The contract will take into account the negotiations between council and Noyola during an almost three-hour-long executive session at the meeting Tuesday evening.
His contract is schedule to come before City Council at its Feb. 27.
Contact reporter Celia Shortt Goodyear at cgoodyear@bouldercityreview.com or at 702-586-9401. Follow her on Twitter @csgoodyear.