Film fest poster gets familiar touch
January 10, 2018 - 3:34 pm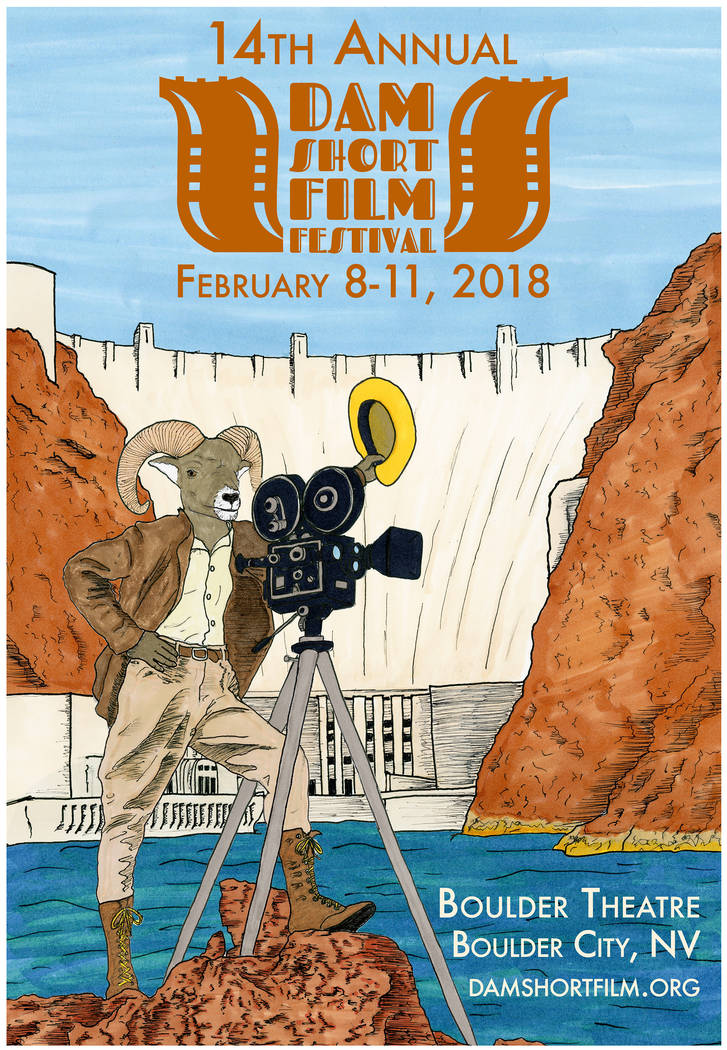 A local artist brought together several elements familiar to Boulder City for this year's poster for the Dam Short Film Festival.
"Obviously, with it being the Dam Short Film Festival, you wanted the Hoover Dam in there," James Adams said. "I also wanted it to be true to Boulder City."
To help accomplish that goal, he highlighted bighorn sheep in the poster for the 14th annual film festival, which will be held Feb. 8-11.
"I've always like playing around like that," he said of incorporating animals into his art. "I've always liked rams heads and wanted to figure out how can I get bighorn sheep in there."
In addition to the sheep and Hoover Dam, Adams wanted to showcase the history of the town and found a vintage picture of a surveyor he used as inspiration, transforming the bighorn into a filmmaker.
"I was trying to think of all the ways to encompass Boulder City in a picture for a film festival. … I found the images I wanted to use and made an image of what I wanted to do," he said. "Then I scanned it in and started drawing."
To complete the finished poster, Adams created three images: one of Hoover Dam, one of the bighorn sheep and one of the water below the dam.
"The hardest part was the dam itself," he said. "There are a lot of intricacies that people don't see. … It's important to be accurate even with style because then you just look goofy."
He did each drawing with Prismacolor art markers.
"I feel that's where my style comes out, using the markers in a way people don't expect," he said.
Once he had each element completed, he scanned them all and put the final product together in Adobe Photoshop.
Adams moved to Boulder City when he was 10 years old and since then has been part of many different community events, including the Dam Short Film Festival since 2006.
His poster design fits in with the film festival's desire to showcase local talent.
"Each season we recruit a different local artist," said John LaBonney, the festival director.
"I think it's very good," he said of Adams' poster. "I like the bighorn sheep guy. … It's a cool poster."
Rather than telling artists specifically what and how to design, LaBonney said organizers leave it to each person to decide what to put on the poster but do ask that he or she preserves the vibe of the festival shown throughout years.
He said the bighorn sheep guy will also "pop up in other places" and be used for the festival's ticket stubs and passes.
As someone who has been inspired by Boulder City and what it offers people, Adams said it means a lot to him to be at an age where he can participate in these types of events and contribute to the children who are growing up here now.
Professionally he has designed artwork for bands, including Same Sex Mary, a local band that he co-founded with Tsvetelina Stefanova. He also does portraits.
Tickets are now available for the film festival. For details, visit http://damshortfilm.org.
Contact reporter Celia Shortt Goodyear at cgoodyear@bouldercityreview.com or at 702-586-9401. Follow her on Twitter @csgoodyear.
Thursday, Feb. 8: Movie screenings from noon to 10 p.m.
Friday, Feb. 9: Movie screenings from noon to 6:15 p.m.; filmmaker meet-n-greet from 6:15-7:30 p.m.; movie screenings from 7:30-10:15 p.m.
Saturday, Feb. 10: Movie screenings from noon to 6:15 p.m.; Dam Mixer from 6:15-7:30 p.m.; movie screenings from 7:45-10:30 p.m.
Sunday, Feb. 11: Movie screenings from noon to 6 p.m.; Best of the Fest from 8-9:30 p.m.; awards party starting at 9:30 p.m.