Film fest gets $7,000 grant to attract out-of-state visitors
December 6, 2017 - 4:19 pm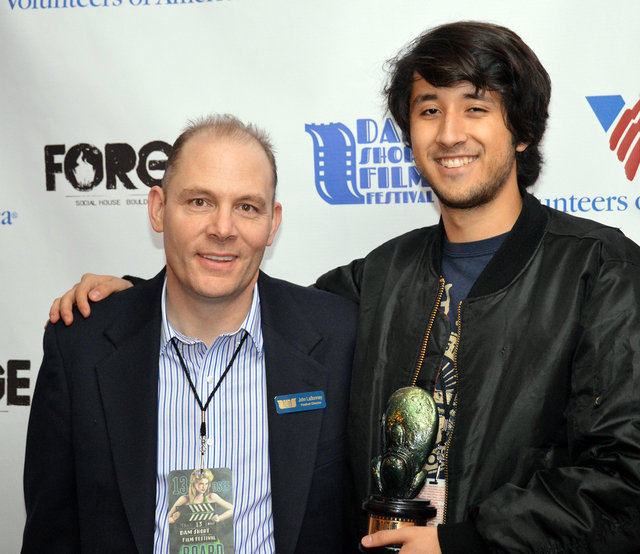 Boulder City's Dam Short Film Festival received a $7,000 grant to help with promotional costs from the Nevada Commission on Tourism.
The grant is part of the commission's Rural Marketing Grants program, which recently awarded a total of $666,600 to rural tourism agencies.
"The money is going to be spent to attract people from out of state to the Dam Short Film Festival," said John LaBonney, festival director.
He said they plan to create video spots about the festival that will air out of state as well as creating advertising and print media in Los Angeles and other press releases and press packet items for the future.
"We are looking forward to being a partner with Rural Marketing Grants," he said.
"Tourism is a billion-dollar industry in rural Nevada, and the projects funded in this latest round of grants represent some of the best efforts to drive visitation to our rural communities," said Lt. Governor Mark Hutchison on Monday when he announced the recipients.
"Rural Nevada continues to demonstrate the ingenuity and hard work it takes to keep its tourism industry strong, and we are pleased to support those efforts through the grant program."
Hutchison is also chairman of the Nevada Commission on Tourism.
LaBonney said that the organization applied for the grant at the end of September, and this is the second time it's been awarded money through this program. It received $8,000 several years ago, but did not spend all of the money because of the spending conditions.
"This one I tailored to what the Nevada Department of Tourism wanted, more people staying overnight in Nevada," he said.
The film festival was founded as a nonprofit organization in 2003 by Lee and Anita Lanier and is an annual event at the Boulder Theatre. Its mission is "to seek out original, unusual and entertaining short films from around the world and make them available to the general public" through the festival.
The 14th Dam Short Film Festival will take place Feb. 8-11 and has received close to 700 submissions for it, including a record 80 submissions in the Nevada Filmmaker category.
"I was blown away," LaBonney said of the Nevada Filmmaker category.
Unlike previous years, this festival will be held Thursday through Sunday rather than Wednesday through Saturday.
It will also feature a virtual reality exhibition. LaBonney said people will be able to wear a virtual reality headset and experience projects created for it.
The schedule for the 2018 Dam Short Film Festival will be released around Jan. 1.
Contact reporter Celia Shortt Goodyear at cgoodyear@bouldercityreview.com or at 702-586-9401. Follow her on Twitter @csgoodyear.