Fifteen students earn school's top honor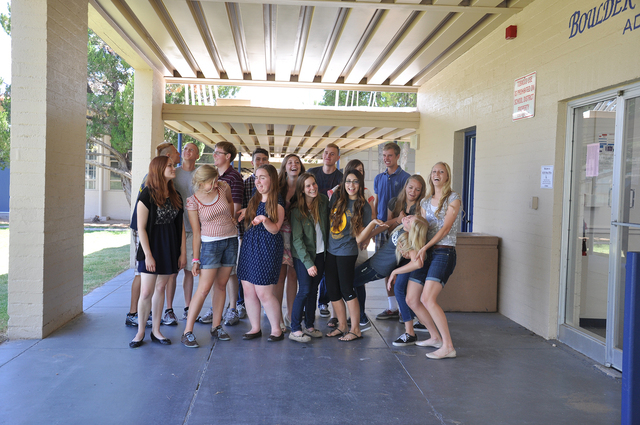 Members of the class of 2014 have shined through athletics, theater, music and all other extracurricular activities at Boulder City High School. In addition to conquering state championships and producing multiple plays and musical productions, the class will graduate with 15 valedictorians and one salutatorian this month.
To become a valedictorian, students must maintain a 4.0 grade point average or higher throughout their high school career. The students also must complete several Advanced Placement courses, which entail college-level curricula and examinations.
In order to have the top rank of their class, the students knew as freshmen they had to push themselves academically in order to reach their goals.
"To take a more challenging course makes it harder to get good grades," said Madison Sargeant, who will attend Brigham Young University in Provo, Utah, in the fall. "We take them knowing that they could make our GPA lower, but it gives us more (of) a reason to do better."
The valedictorian is ranked first in the class. This year, 15 students tied for the honor with a 4.8 weighted GPA. They are Ashlen Bhatia, Aiyana Donske, Ruth Faulkner, Joseph Gebhart, Chandler Harkins, Evan Klouse, Savannah Morris, Amy Pellouchoud, Madison Sargeant, Daphne Skordas, Marcus Walker, Nicholas Walker, Erin Warshefski, Jana Williams and Samuel Woodbury .
Coming in a close second is Niquel Nussear with a GPA of 4.7.
Vice Principal Amy Wagner said that the class of 2014 has shined academically since her arrival at BCHS in 2011.
"This is one of the classes that (has) just overachieved above and beyond," Wagner said. "We started academic assemblies in fall of 2011, and these guys have won every single one."
Academic assemblies are put on quarterly at BCHS. Each class competes in minute-to-win-it games in order to receive prizes such as iPads, laptops and gift cards.
"They also receive points based on the A Honor Roll, the A-B Honor Roll," Wagner said. "Most of the guys and girls in this group have won a lot of those prizes because of how well they have done throughout their high school careers."
Becoming a valedictorian was many of the students' personal goals since the beginning of high school.
"When I was a freshman, I decided that I would give my best to high school and I ended up with straight A's," said Morris, who will attend BYU in the fall. "It has always been one of my goals."
For most, receiving less than the valedictorian honor was unacceptable.
"For me it was a personal commitment," said Skordas, who also will attend BYU in the fall. "There was nothing more than becoming a valedictorian that I wanted to strive for."
This large group of students has worked together to help encourage each other to maintain high GPAs. Warshefski, who will attend San Diego State University in the fall, said her successes have come from the close-knit atmosphere at BCHS.
"The difference between BCHS and larger schools is the support we have here … especially in this class because going to school and being in classes with these people pushes you to be better," Warshefski said. "It pushes you to be a better writer, to be better at math and history. We push each other and challenge each other. I'm thankful for being in the class of 2014 for that healthy competition."
Donske, who will attend Southern Oregon University in Ashland, Ore., in the fall agrees that the smaller school has helped her succeed in her four years at BCHS.
"We are such an involved school that we are almost forced to work together," she said. "We challenge each other and feed off each others' achievements."
Overall, in addition to the 15 valedictorians, the small class of 158 students has exceeded the expectations of the teachers and staff at BCHS, Wagner said.
"This class' AP scores, SAT and ACT scores have been remarkable as a class," she said. "Not only do you see these guys perform in the classroom, but also on the field, in the theater, in music performances … and in everything."