Faisses to be honored at gala
April 23, 2014 - 12:48 pm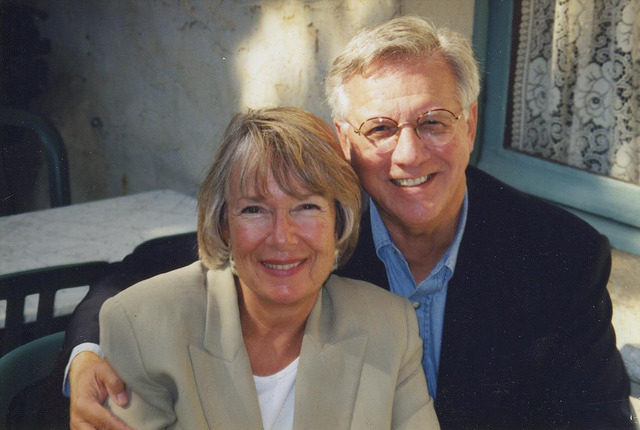 A deep love for Boulder City doesn't have to come from being born in the city.
Bob and Linda Faiss can attest to that.
The couple, who moved to the city 24 years ago, said something magical happens when you travel from the Las Vegas Valley and turn the corner near Railroad Pass Casino and head into Boulder City.
Their love for the community blossomed into support for a variety of causes and organizations, most notably Boulder City Hospital.
The two will be honored May 16 during the Boulder City Hospital Foundation's annual Heart of the Community Gala.
"It's a singular honor we never thought we'd get," said Linda Faiss, who has served on the hospital's board for more years than she can remember and is currently vice president.
"It was an easy selection," said Christine Milburn, president of the hospital foundation's board and member of the hospital's board of directors. "Bob and Linda represent the spirit of what the Heart of the Community is in Boulder City.
"With what they have done for the hospital and what they have done for the community, they deserve to be honored. They are exemplary people," she said.
According to Milburn, the Faisses understand how important it is that the hospital remains a viable operation.
"Much of the hospital's expansion and renovation was made possible by the Faisses and their connections to key leaders," she said, noting how helpful they were in obtaining more than $15 million in loans from the U.S. Agriculture Department as well as support for the projects.
"They share their gifts and talents with the community. … They participate in events with a kind heart."
"My passion is to save Boulder City Hospital," Linda said.
The nonprofit hospital is in need of help from people such as the Faisses. Since 2000, it has lost more than $500,000 annually and a 2008 ballot campaign for a special tax district to subsidize operations failed.
It's a scene that is being played out across the nation, she said. Rural hospitals across the country are dying for a lack of support.
That, however, doesn't mean they aren't needed. In fact, the Faisses credit the hospital with saving Bob's life twice in the past few years.
"It's one of the finest hospitals I've been in over the past two-year period," Bob Faiss said, noting that includes a visit to the Mayo Clinic, part of his battle against cancer. "We're very proud of it. Not only are we supporters and have been for a long time, but we are also patients."
"We know firsthand what a special place Boulder City Hospital is," added Linda Faiss. "It's one of the reasons Boulder City rates so high for quality of life. What happens when we don't have a place like Boulder City Hospital and there's an emergency?"
The Agriculture Department loans are being used to expand the emergency room and for the recently completed 10-bed geriatric-behavioral center and 10-bed acute rehabilitation unit, part of the hospital's change of focus intended to make it self-sufficient.
"It's an anomaly to have a rural hospital next to a giant metropolitan area," Linda Faiss said.
"We couldn't have landed in a better place," she said.
Although the recognition from the hospital foundation is nice, the Faisses said the love they feel from fellow Boulder City residents is "better than any honor."
"When Bob got sick, I can't tell you how many people showed up at our door. It was an answer every day to the prayers I had. We were treated so specially," she said.
Bob, who is considered one of the world's foremost authorities on gaming law, is a shareholder with Lionel Sawyer & Collins and was named as the premier gaming attorney in the United States and one of the 100 most influential lawyers in America by the National Law Journal. Additionally, he has represented the gaming industry in the Nevada Legislature for the past 33 years and was selected by the Detroit City Council to serve as its special gaming counsel in the creation of its casino regulations. He is active in international aspects of gaming law.
From 1998 through 2003, Faiss served on the Treasury Department's Bank Secrecy Act advisory group as the representative of the U.S. casino industry and he testified before the Senate on amendments to the Bank Secrecy Act, and before the National Gambling Impact Study Commission on casino credit practices and procedures.
He has been an adjunct professor in gaming law and policy since 2001 at the the University of Nevada, Las Vegas' Boyd Law School and is an instructor in gaming law for the National Judicial College.
Before joining Lionel Sawyer & Collins, Faiss was the Las Vegas Sun's city editor, assistant executive secretary to the Nevada Gaming Commission, executive assistant to Nevada's governor and a White House staff assistant to President Lyndon B. Johnson.
Bob said he sheds that image "of a dignified attorney" when he comes around the Railroad Pass Casino and he's at home in Boulder City. Here, he's "Hi Bob," former host of "Hi Bob," BCTV's once highest rated television show, and one-time member of the Bowlers From Hell team.
The two joke that his professional accolades pale in comparison to his "RAV" value — how often he is "recognized at Vons."
Linda Faiss is a founding partner of FaissFoleyWarren, which specializes in public relations and government affairs. She once served as public information officer for Las Vegas and was Valley Times' city editor.
In addition to serving on the hospital's board, she is a past president for the national board of trustees for St. Jude's Ranch for Children, and has been a member of the Nevada Humanities Committee, University of Nevada, Reno Foundation and Nevada Public Radio board of directors.
The Faisses are the fifth recipient of the Heart of the Community award. Past recipients are Dr. Florence and Gard Jameson, Ralph and Sara Denton, Vern and Darlene Burk and Bob Ferraro.
The gala, which raises funds for the hospital, will begin at 5:30 p.m. with cocktails. Dinner will be served at 7 p.m.
In addition to recognizing the Faisses and their contributions to the hospital, the event will feature silent and live auctions and a "few surprises," Milburn said.
Tickets are $150 each or $2,000 for a table for 10, which includes a bottle of Champagne.
For tickets or more information, call 702-293-0214.