Explorers tops again at competition
January 31, 2018 - 3:43 pm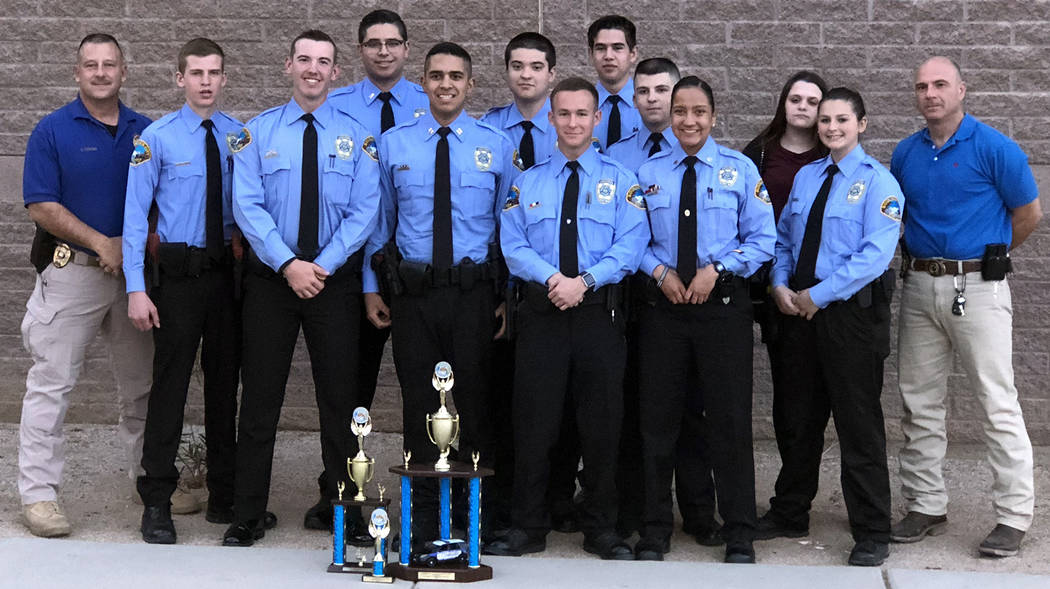 The Boulder City Police Department Explorer Post recently took first place in Incident Command for the second year in a row at the 20th annual Chandler Explorer Tactical Competition in Arizona.
"We placed first for the second year in a row in the hardest event. … It's almost unheard of for an Explorer team to do that two years in a row," said Boulder City Police officer Scott Pastore, head adviser of Explorer Post 198.
The local post sent 11 Explorers, who competed as a team in eight events, to the competition.
The competition has been around for approximately 20 years and offers more than 30 categories in which kids in the Explorer program can participate.
In addition to Pastore, Detective Craig Tomao helps lead the post.
The competition, which took place Jan. 12-14, included 1,000 participants from 65 posts.
The Explorer post is an independent program, coordinated with the Boy Scouts. It is fully funded by donations from the community and its advisers. Pastore restarted it in 2008. It helps kids learn about a law enforcement career and teaches them about leadership, community involvement and responsibility.
The Incident Command event requires the Explorers to coordinate all activities related to a mock catastrophe, including response and investigation.
"We're just Boulder City," Pastore said. "We don't even have a SWAT. … We're happy. … It just makes it harder to get it for a third year in a row."
To instruct the Explorers how to handle that type of incident, Pastore, Tomao and officer Tom Perkins relied on their SWAT training and experience, which they passed along to the team.
"This group did a great job of taking the information, learning it and executing it," Pastore said. "The kids take a complex exercise that we'd see as police officers and do it with flying colors. I couldn't be more proud of them."
The Boulder City team also placed fourth in Tubular Assault, competing for the first time in the category, which tested each team's ability to take control safely of any building, vehicle or vessel with a narrow and elongated form.
"Our Explorers and their advisers are a superb group," said Police Chief Tim Shea. "I am exceptionally proud of them as individuals and of their dedication and accomplishments. As representatives of our future, they help illuminate a bright and promising tomorrow."
In addition to the team event, Explorer Vanessa Avila placed fourth in the 3-mile run.
"I couldn't be more proud of them," Pastore said.
The Chandler competition may not be the only one Post 198 participates in this year. Pastore said members hope to compete in another event in Riverside, California, that deals with more everyday tasks for police officers.
"We want to try to do more of the things that they'd do if they were police officers to help them understand the job they may do when they are adults," he said.
Contact reporter Celia Shortt Goodyear at cgoodyear@bouldercityreview.com or at 702-586-9401. Follow her on Twitter @csgoodyear.