Explorer helps save lives at Sunday's shooting
October 4, 2017 - 3:31 pm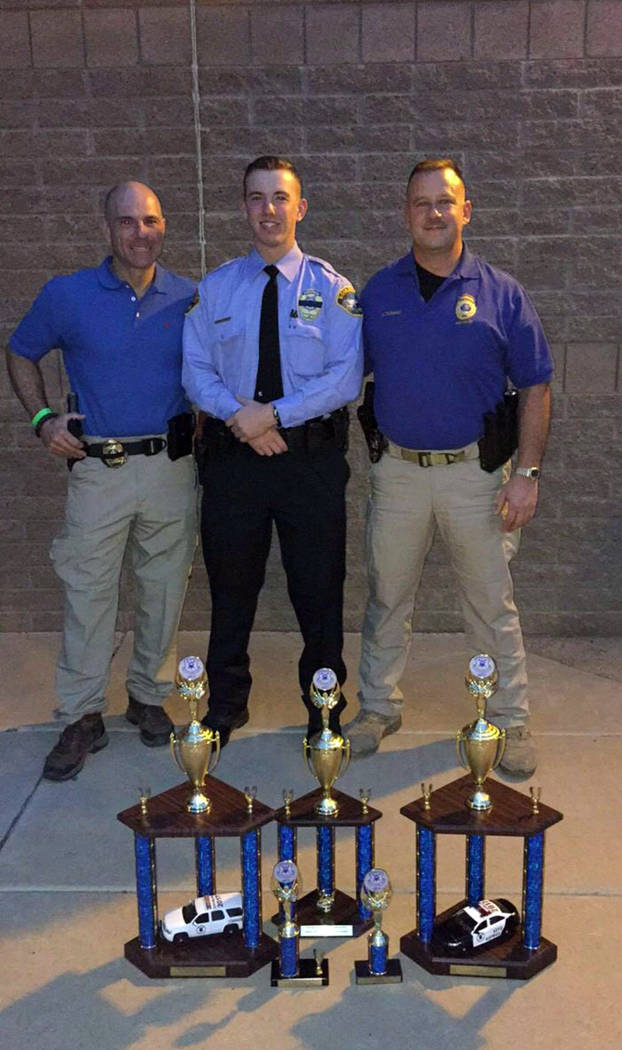 A Boulder City Police Explorer relied on his training to render aid and save lives during Sunday's mass shooting in downtown Las Vegas, which is the deadliest in United States history.
"It was a think on your feet kind of thing," said Bailey Thompson, 17, of the shooting, in which 59 people were killed and more than 500 injured when a gunman opened fire from a room at the Mandalay Bay onto the Route 91 Harvest country music festival.
Thompson, a fan of country music singer Jason Aldean, was on his way home from Salt Lake City on Sunday when he found out the singer was doing a concert at the festival that evening.
"I just had to go," he said.
Thompson said that a friend who couldn't attend the show sold him his admission wristband and he arrived shortly before Aldean started performing.
"I couldn't have been there more than 45 minutes before the first shot went off," he said.
When the shooting started, Thompson said that it was so quiet he thought firecrackers were going off. The sound stopped, and then 30 seconds later it started again, at which he time said he knew exactly what the noise was.
Fighting instinct
"By that time, it was just a fighting instinct," he said of what he did next.
He told those around him to stay low, make themselves as small of a target as possible and to get out of there as fast as possible.
As he was helping people, a third round of shots began.
"That's when all hell broke loose," Thompson said.
From that point on, he said that he ran toward the shots and helped whoever he came across.
"I'd see one, do I whatever I could to assist and move to the next," he said.
He said that his resources limited what medical help he could give, so he used whatever he could find — belts, shoelaces, watch bands, etc.
"It just never stopped," he said.
From there, Thompson said that he loaded those victims with gunshot wounds into the bed of his truck and drove them to Spring Valley Hospital, four miles away.
"It was the closest hospital I could find, and I knew how to get there … I was the first nonemergency vehicle there," he said.
After dropping off 13 victims, he left and went back to the concert grounds to find more people who needed help.
"I picked up whoever I could find," he said.
After his second trip to the hospital, Thompson said that he stayed there to help with security until he went home, as the hospital was "100 percent" overrun.
Law enforcement training
Thompson has been a part of Boulder City's Explorer Post 198 for almost two years. The program is designed to give kids from the ages of 14 to 21 a background in law enforcement, as well as helping them become better citizens.
Thompson lives in Henderson but chose to join Boulder City's Explorer program because he felt it was the best one in the area.
In addition, he is a private in the United States Army, as he participated in a split operation with the military and went through basic training after his junior year of high school.
Both his Explorer and military training helped him on Sunday when he was at the concert and shots were fired.
Boulder City Police Detective Craig Tomao, an adviser for the Explorer program, said that Thompson's training in tactical emergency, medical and downed officer rescue all contributed to his actions Sunday night.
"The training he was put through was now put to the test," he said. "He kept himself in harm's way to help people."
After learning of Thompson's actions, Tomao said he was proud of what he had done.
"That's our ultimate compliment when one of the Explorers we train uses it," he said. "He did exactly what he was trained to do in the military and with us. He stayed calm, administered aid and kept himself in harm's way."
Sheepdog who serves
"It's an amazing feeling … but I don't feel like a hero because there are still families that lost loves ones and still people I couldn't get to," Thompson said. "I'm not a hero. I'm just a sheepdog. I blend in with the sheep. When the wolves prey on the sheep, then I come out."
Tomao was also there Sunday in the aftermath of the shooting. He worked with the Fusion Center in Las Vegas, which is a collaborative effort with local, state and federal law enforcement agencies.
Tomao teamed up with Northwest Area Command Captain Sasha Larkin to help secure the scene following the shooting.
Tomao said that he helped secure all the entrances and exits and looked for victims or those who were still hiding, and he found three people who were hiding under temporary structures.
"Craig was phenomenal," Larkin said.
Despite both being there Sunday night, neither Tomao or Thompson knew the other was there until the next day.
Thompson is a senior at Basic Academy of International Studies in Henderson. Upon graduation, he could be deployed with his U.S. Army unit to South Korea.
Contact reporter Celia Shortt Goodyear at cgoodyear@bouldercityreview.com or at 702-586-9401. Follow her on Twitter @csgoodyear.