Ex-St. Jude's worker faces sexual assault charges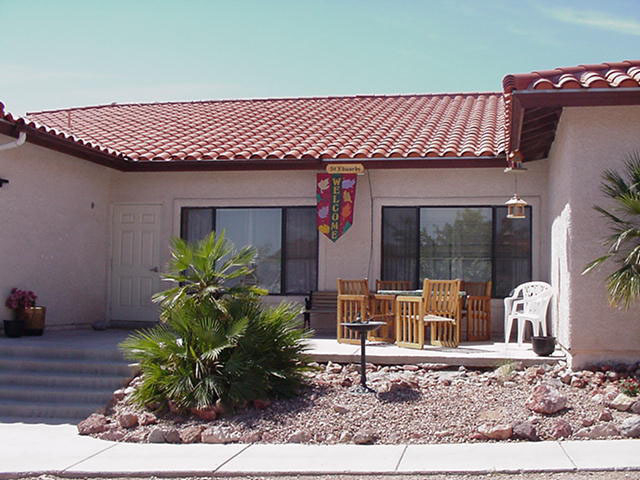 A former employee of St. Jude's Ranch for Children faces sexual assault charges after he was investigated and cleared to return to work with minors, the Las Vegas Review-Journal has learned.
A criminal complaint against Aldrin Antonio West was filed May 21 at the Boulder City Justice Court. He faces one count of open or gross lewdness over allegations of masturbating in the presence of another employee, former child specialist Jodi Lynn Fennell. West also faces one count of open or gross lewdness in connection with allegations of touching Fennell's breast, according to a copy of the criminal complaint.
A warrant for West's arrest was issued May 22, but he is not yet in custody. He didn't return calls seeking comment Monday.
Fennell has told the Review-Journal that she isn't the only victim. She said West was investigated by the Clark County Family Services Department after two teenage girls made reports involving him in summer 2012. The Review-Journal does not normally name victims of sexual assaults, but Fennell said she wanted to be named in this article.
"I want them to be accountable," Fennell said last week of Family Services and St. Jude's, where she worked with West.
St. Jude's Ranch is a county-licensed therapeutic foster care agency, and all employees must remain in good standing with Family Services at the ranch, which has several foster homes on campus, St. Jude's Ranch officials said.
West was hired as a child specialist at St. Jude's on Sept. 12, 2011. On April 6, 2012, he was cleared by Family Services to become a house parent at St. Jude's Ranch, according to Kristi Jourdan, Family Services spokeswoman.
A house parent lives at the home, runs the daily operations, ensures a child's needs are met and is the main contact at all times, Jourdan said.
"House parents are not licensed foster parents, but they go through the same federal and local background checks and training as foster parents do," Jourdan said last week.
West's employment was terminated Dec. 20, days after Fennell filed a complaint with the Boulder City Police Department. She said she was not allowed to have any contact with the children at St. Jude's Ranch after her reports to police, Family Services and St. Jude's Ranch. In February, she found out she was placed on unpaid administrative leave.
Christine J. Spadafor, CEO at St. Jude's Ranch, wouldn't say when and why Fennell was placed on administrative leave and said Family Services was reviewing the matter.
The number of children that West supervised fluctuated but did not exceed six, Spadafor said.
Before April 2012, when he was cleared to become a house parent, West had been "provisionally cleared" after a background check to work at St. Jude's Ranch under supervision, Jourdan said.
Family Services won't confirm or deny that it's investigating or that it investigated inappropriate behavior involving West at St. Jude's Ranch.
"While DFS investigates complaints thoroughly, the department does not confirm the existence of or comment upon the results of its investigations because of confidentiality laws that protect the safety, permanency and well-being of children," Jourdan said in May.
But officials at St. Jude's Ranch earlier this month said Family Services was reviewing the matter.
St. Jude's Ranch has checks and balances to ensure the safety of the children and employees, Spadafor said. Allegations are reported to Family Services, which determines whether an investigation is required.
"As soon as St. Jude's Ranch for Children is informed about allegations, it takes immediate action," Spadafor said in a statement. "The children's safety is always our No. 1 priority, which is why we aggressively and proactively investigated any hint of impropriety here."
Fennell said that Family Services investigated the reports made by two teenage girls, assigned West to attend "boundaries classes" and cleared him to return to work.
Family Services wouldn't confirm or deny the reports made by the teenage girls and declined to say whether it took any disciplinary action against West.
Jourdan did say that Family Services can and has referred people to boundaries classes conducted by outside counseling agencies. But she wouldn't say when people are referred to those classes and what the classes consist of.
Jourdan also wouldn't say whether West was referred to boundaries classes.
Although Jourdan wouldn't say whether West had been investigated in the past, Fennell provided copies of two audiotapes she made with the permission of Family Services investigator Teresa Cragon, who was investigating her case for the department earlier this year.
During an interview, Cragon is heard confirming a prior investigation but tells Fennell, "I had no part in that investigation."
She tells Fennell that "things would've ended up differently" if she had been involved in the first investigation.
"I walked in the dark … with someone who had been a sexual predator," Fennell tells Cragon during the interview.
Cragon wouldn't comment for the story and referred questions to Jourdan.
The Boulder City Police Department declined several records request for the Review-Journal to obtain a copy of the police report made by Fennell. The Clark County district attorney's office also declined a records request because documents are sealed until an arrest is made.
The Labor Department confirmed that its Wage and Hour Division in Las Vegas has received some information with regards to St. Jude's Ranch that might or might not involve labor violations.
"That information is currently under evaluation to determine an appropriate course of action, which may include an investigation by the division and or a referral to appropriate agencies," spokesman Jose Carnevali said Monday.
Contact Yesenia Amaro at yamaro@review journal.com or 702-383-0440. Find her on Twitter: @YeseniaAmaro.