Ex-officer Grasso faces new felony charge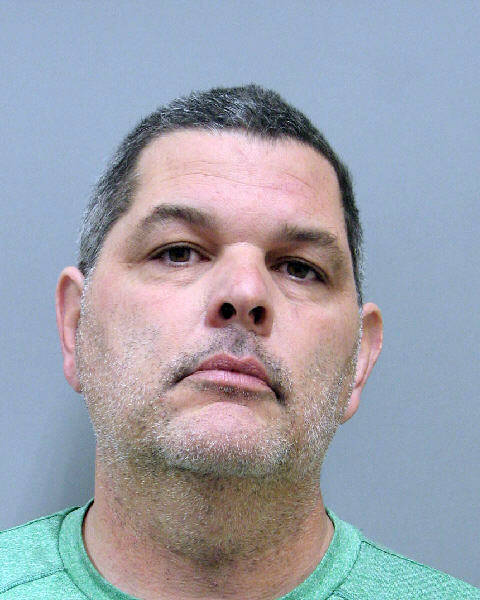 A former Boulder City police officer was arrested for his 15th felony charge after threatening to shoot up courthouses, judges and attorneys late last week.
Jeffrey Grasso, who retired from the department in March, was arrested by Henderson Police on Thursday, April 26, on charges of making threats or conveying false information concerning an act of terrorism in regards to comments he made to his ex-wife Kayla Grasso.
Consequently, his bail in another case in Clark County District Court, which charged him with stealing thousands of dollars from charitable accounts to aid his disabled son, was revoked and he was booked into the Clark County Detention Center on Monday.
According to the motion to revoke his bail and the Henderson Police Department arrest report, Kayla Grasso and Grasso were talking on the phone about a child support issue. Grasso said "that she either accepts his terms or they would have to go to court to resolve it." She replied that they would have to go to court, and Grasso responded by telling her he "would shoot up the courthouses and judges and attorneys."
Grasso's current wife, Kristi Grasso, corroborated this statement to police, which she said she heard because the phone was in speaker mode for the conversation.
Henderson police Detective Geoffrey Kesterson and several other officers went to interview Grasso at his Henderson home in response to the alleged threats. While they were there, they said, he came driving in at high speed, almost caused crashing into the garage door as it was going up.
Kesterson said that after pulling in, Grasso hit something and then stayed in his vehicle while "yelling loudly and screaming obscenities." He was "highly agitated" and continued yelling after getting out of the car. When the officers asked him to calm down, he refused.
Grasso then went inside and closed the garage door. In his report, Kesterson said that a few seconds later, Grasso was at the front door, screaming insulting things about his ex-wife. More police units arrived, and he came out of his home voluntarily and began screaming at the officers.
Kesterson said Grasso continued ignoring the officers' orders, so he shocked him with a Taser. Grasso was then handcuffed and arrested.
Grasso is charged with 14 nonviolent felonies in a separate case. Prosecutors allege that he exploited and stole from his handicapped son.
In January, Chief District Judge Elizabeth Gonzalez set bail at $15,000 and ordered Grasso to turn over all his weapons, including guns issued to him by the Police Department. Grasso bonded out for $3,000 cash. His trial in that case was set for Aug. 6.
According to the April 27 motion to revoke that bail, the court could find no records that Grasso had complied with the order to turn in his firearms. Officers contacted the Boulder City Police Department and found that Grasso's duty weapons had been returned, which included a handgun and a rifle.
"They did not recover any personal firearms, and they believed that (the) defendant had possessed an SKS style rifle and KelTec handgun," read the motion.
Kristi Grasso would not consent to having her residence searched for firearms after Grasso was arrested last week and told officers there were no firearms there. After Kesterson obtained a search warrant for Grasso's home, officers found a shotgun and two handguns. He was then charged with making threats or conveying false information concerning an act of terrorism, which is a felony.
Kesterson said in his report that because of Kristi's and Kayla's corroborating statements and that because Grasso knowingly made a verbal threat to shoot courthouses, judges and lawyers involved in his court cases that was intended to and did alarm Kayla, he arrested Grasso on the felony charge.
Rod Pena, public information officer for the Henderson Police Department, said the judicial process is next for Grasso with these two new charges.
According to the Jan. 11 indictment, from January 2014 to May 2016, Grasso forged documents from the Hyperbaric Institute of Nevada to falsely withdraw more than $10,000 from charitable accounts at the Boulder Dam Credit Union that had been set up to help pay for his disabled son's care.
The charges against him in that case are two counts of exploitation of a vulnerable person, two counts of theft, four counts of burglary, five counts of forgery and one count of offering a false instrument for filing or record.
The Boulder City Police Department put Grasso on administrative leave because of the indictment.
City spokeswoman Sue Manteris said Grasso retired through the Public Employees Retirement System in March and is not employed with the city. He was with the department for approximately 15 years.
According to Transparent Nevada, Grasso was paid $141,313.18 in salary and benefits in 2017.
Contact reporter Celia Shortt Goodyear at cgoodyear@bouldercityreview.com or at 702-586-9401. Follow her on Twitter @csgoodyear.