Ex-guardian pleads guilty to exploitation, theft
November 7, 2018 - 4:07 pm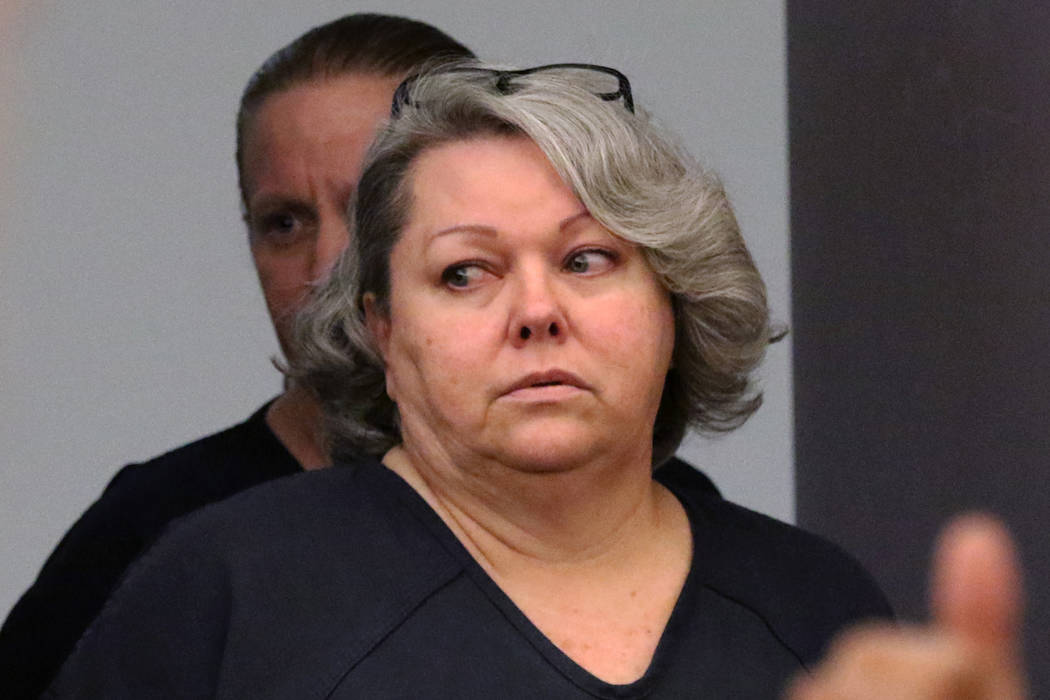 As a guardian, April Parks once controlled hundreds of Southern Nevada's most vulnerable people.
As an inmate, she pleaded guilty Monday, Nov. 5, to exploitation, theft and perjury charges. The hearing came more than a year after she was first indicted for swindling many of the elderly and infirm in her care.
In court, she only spoke when agreeing to the terms of her Alford plea — a type of guilty plea that requires a defendant to admit only that prosecutors could prove their case. She shuffled her once bright red hair — now gray — in front of her face, shielding herself from the handful of victim families who came as witnesses.
Parks, now 53, was one of the most active private professional guardians in the region. She often acted as the surrogate decision maker for 50 to 100 elderly and mentally incapacitated people, called wards, at a given time. As guardian, she had full control of their finances, estates and even medical decisions.
Her business, A Private Professional Guardian LLC, was based in Boulder City.
She originally faced more than 200 felony counts. On Monday, she pleaded guilty to six: three counts of exploitation, two counts of theft and one count of perjury.
But she still faces a maximum prison sentence of 84 years. A sentencing hearing is scheduled for Jan. 4.
Parks appeared in court Monday with three co-defendants, who also entered Alford pleas.
"They're pathetic!" one of Parks' former wards, Rudy North, yelled in court after the pleas were entered.
Under Parks' care, North and his wife were taken from their home and put into an assisted living facility in Boulder City. Parks sold nearly all their possessions shortly after moving the couple, North has said.
"I want you to put that in," North continued in court. "They're pathetic!"
The man was escorted out of the courtroom. Parks did not look at him.
"Today's pleas resolve the most significant guardianship exploitation case in Nevada's history," Attorney General Adam Laxalt said in a statement Monday.
Throughout the hearing, District Attorney Steve Wolfson sat in a back row of the gallery, silently observing.
"Guardians have a duty to protect their wards, not steal from them and destroy their lives," Wolfson later said in a statement. "These individuals violated their duty and they will be punished for their crimes."
In her amended indictment, Parks in accused of exploiting Jerome and Beverley Flaherty out of more than $708,000. Another has her exploiting about 40 others out of nearly $418,000.
Parks' attorney, Anthony Goldstein, declined to comment after the hearing.
The three other people who entered Alford pleas were Parks' business partner, Mark Simmons; her husband, Gary Neal Taylor; and her former attorney, Noel Simpson Palmer.
Simmons entered pleas to two counts of exploitation, one count of theft and one count of perjury. Taylor and Simpson Palmer each entered a plea to one count of exploitation. One of Simpson Palmer's cases was dismissed.
Simmons faces a maximum prison sentence of 54 years. Taylor's plea agreement recommends a sentence of 24-60 months in prison. Simpson Palmer will receive the recommendation of probation in exchange her cooperation.
Parks, Simmons and Taylor have been in the Clark County Detention Center since their arrest in March 2017.
"This is not judicial process," North's daughter, Julie Belshe, said as she walked out of court.
Belshe now works as a guardianship reform advocate. She said the past five years fighting for her parents, who now live with her, have been trying.
"This isn't justice," she said after the hearing, standing next to her father. "It's a slap on the wrist. What kind of message is this sending?"
Contact Rachel Crosby at rcrosby@reviewjournal.com or 702-477-3801. Follow @rachelacrosby on Twitter.