Errors by motorcycle clubs' attorney lead to dismissal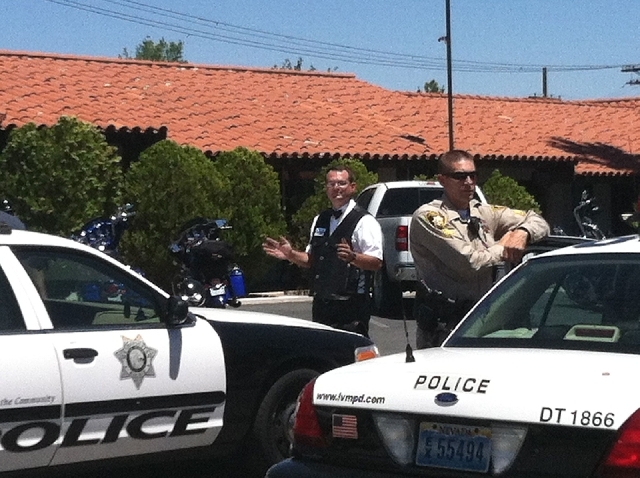 A federal judge last week dismissed former Police Chief Thomas Finn and Detective Scott Pastore from a lawsuit that claimed they violated the civil rights of Mongols Motorcycle Club members last year.
Finn and Pastore were removed from the suit because U.S. District Judge Andrew P. Gordon ruled on Friday that it was filed incorrectly.
The suit was filed last year by the Southern Nevada Confederation of Clubs, which includes the Mongols and 36 other biker organizations, and 33 individual plaintiffs.
Part of the suit claimed Finn and Pastore violated the constitutional rights of the Mongols, Mongols/Confederation attorney Stephen Stubbs and the owners of Boulder Inn & Suites during the club's national meeting at the Nevada Way Inn in June 2012.
However, neither the Mongols, Stubbs or the Boulder Inn owners were listed as plaintiffs in the suit.
"All claims that lack a proper plaintiff must be dismissed," Gordon wrote in the order.
Gordon also ruled that the confederation was an improper plaintiff, and that the bulky, 46-page suit needed to be broken up and re-filed as separate suits with incidents grouped by the multiple motorcycle clubs involved.
Additional plaintiffs and defendants in the suit were also dismissed for similar filing errors.
Pastore could not be reached for comment by deadline Wednesday.
Finn, however, slammed Stubbs and the lawsuit, which he called "baseless and self-serving," in a statement to the Boulder City Review.
"Stubbs' amateurish attempt to present his procedurally defective arguments before Federal District Court Judge Andrew P. Gordon was rightfully dismissed," Finn stated. "To gain a full appreciation of Stubbs' sloppiness, one simply needs to read Judge Gordon's entire ruling."
Stubbs admits there were mistakes made in the filing, but he will be given a "do-over."
"I made some mistakes, but the judge gave me an opportunity to correct them and I'll correct them. Then we'll move forward," Stubbs said.
The order gives the plaintiffs until Aug. 30 to re-file as four or more separate lawsuits.
The Mongols suit will be correctly amended to include the complaints against Finn and Pastore, Stubbs said.
"Everything including Finn, including Pastore, gets to be re-plead," Stubbs said.
The suit was initially filed in June 2012 in response to alleged civil rights violations unrelated to the Boulder City Mongols gathering, involving multiple clubs, and spanning more than two years.
Defendants included Metropolitan Police Department, North Las Vegas Police Department, Clark County Sheriff Doug Gillespie, North Las Vegas Police Chief Joseph Chronister and 19 police officers.
The complaint was amended Oct. 9 to include Finn and Pastore, after Stubbs says incriminating emails written by Finn and Pastore surfaced.
The suit alleged that Finn and Pastore violated the club's Fourteenth Amendment equal protection rights by enforcing certain laws only against the Mongols, having a zero tolerance policy against the Mongols, asking Boulder City Municipal Judge Victor Miller to violate the Mongols' rights, and refusing to act on criminal trespass complaints.
The suit also alleged Finn and Pastore violated the Mongols' First Amendment rights by "interfering with plaintiffs' freedoms of association and assembly" and intimidating the Mongols "to the point that they would not return to Boulder City."
"Judge Andrew P. Gordon has ruled on the law, and the ball is now in Stubbs' court," Finn stated.
Finn was fired April 15 after months of publicly accusing city officials of conspiring with Stubbs to fire him. The city has not given a reason for the firing, other than stating Finn was an at-will employee.
In addition to the federal lawsuit, Stubbs publicly accused Finn of committing felonies by deleting public records related to the Mongols event, resulting in the city asking for an outside investigation.
On April 23, the Clark County district attorney's office found that Finn did not commit a crime when he asked city employees to delete emails before the Mongols visit.