EMILY's List touts Clinton's values
February 10, 2016 - 4:03 pm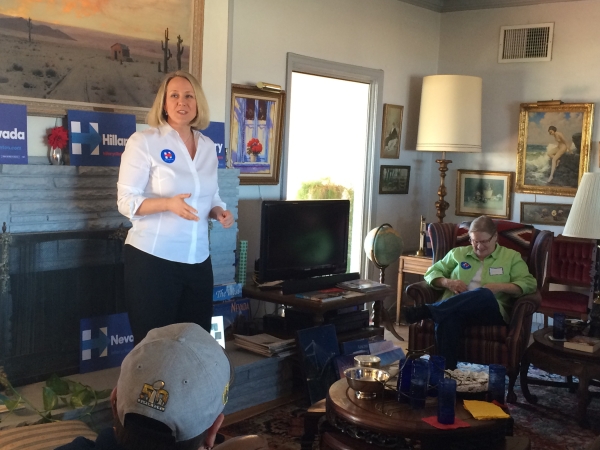 Population wise, Boulder City sits in the shadow of its larger neighbors to the north. But its importance in the upcoming presidential caucus is key to helping candidates obtain the delegates they need to win, according to Stephanie Schriock, president of EMILY's List, who was in town Saturday to speak at an event to energize local supporters of Hillary Clinton.
"It's just as important to get to the folks out here as it is in Las Vegas, Elko or Reno," she said.
Schriock told a group of about 25 that gathered at the home of Sara Denton why it was essential for them to participate in the Feb. 20 caucus, why they needed to get others to join them at the political event and why her organization is supporting Clinton.
From the time she decided to go to law school and entered a field with very few women, Clinton has been fighting for the same values, Schriock said. She wants to provide opportunities and equality for all, and that has never waivered.
"She listens to people's stories, about the struggles of American families," Schriock said, noting that Clinton has done this in whatever role she had, including secretary of state.
The national organization, whose name is an acronym for Early Money is Like Yeast, "raises dough" to help get pro-choice Democratic women elected. With more than 3 million members across the country — men and women — it has helped get 19 women to the U.S. Senate, elect 11 governors, seat more than 100 representatives in the House and assisted hundreds of other women win state, regional and local offices.
"I can see one office that we need to cross off our list … that is to see Hillary Clinton in the White House next year."
The organization's support is based on Clinton's desire to create more jobs, raise minimum wage and provide equal pay for equal work.
"She is such an advocate for these issues — to re-imagine the American dream and make it happen."
Schriock said one of the biggest hurdles for Clinton to overcome is the 25 years of marketing against her by the Republican party, and that is why support at all levels, especially in towns such as Boulder City, is so important in this race.
"She fights every day for the people; she is all about making people's lives better," Schriock said.
As she spoke about why EMILY's List was supporting Clinton, Schriock urged those in attendance to participate in the upcoming caucus, make phone calls and knock on people's doors so that they could participate as well.
"For me, having the opportunity to come to places like Boulder City shows people that they are not alone, that they have support across the country and we're all in this together," she said.
Hali Bernstein Saylor is editor of the Boulder City Review. She can be reached at hsaylor@bouldercityreview.com or at 702-586-9523. Follow @HalisComment on Twitter.