Eligibility issues cloud basketball seasons for BCHS, Garrett
February 15, 2023 - 4:10 pm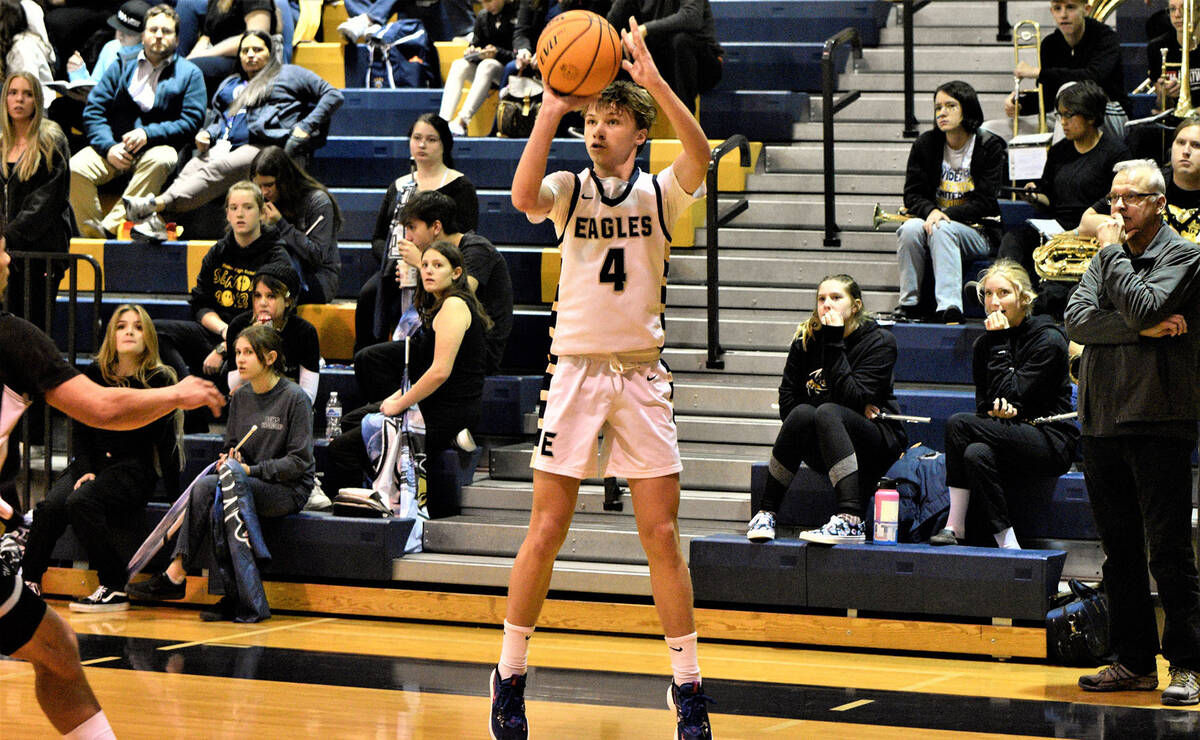 It should have been a joyful week for student athletes and their parents in Boulder City. The boys basketball teams at Boulder City High and at Garrett Junior High schools were having stellar years. Though smaller than the schools they compete with in the Clark County School District, both teams were regularly besting the competition. BCHS was 8-1 and Garrett was undefeated at 8-0.
Until, suddenly they weren't.
Due to student eligibility issues, the BCHS record became 0-9 and Garrett went to 0-8. With only a handful of games left on the schedule, even if both teams were to win all of their remaining games, they were mathematically eliminated from postseason play.
But, late Monday night, after a hearing that went on for seven hours, the Nevada Interscholastic Activities Association, which governs high school sports in the state, reversed its decision from just days earlier and reinstated the BCHS team into the playoffs. Their first playoff game is scheduled for 6:30 tonight at home.
"Coach (John) Balistere and all of the kids did such an amazing job this year. It would have been a shame if they had been denied a playoff spot because of an error made by an adult," said Ken Rose, whose son, Roman, plays on the team. "We are all looking forward to their first playoff game Thursday."
In both cases, it appears that someone from rival private schools in Henderson may have made a complaint after they lost a game, which led to the actions taken against the teams.
The BCHS situation centered on what Assistant Principal Daphne Brownson called "human error" in a letter to parents. Brownson said in the letter that all of the appropriate paperwork had been done for a transfer student, but it had not been submitted properly to the NIAA for review and that triggered the initial disqualification.
In her letter she added that there were no allegations that BCHS cheated. There also were no accusations of cheating against Garrett.
While also eligibility related, the crux of the issue for Garrett relates to the 2020-2021 school year when pandemic-related closures meant no sports were offered.
CCSD rules for middle schoolers say that students are eligible for six consecutive semesters and that not participating for one semester or more does not extend that limit. While major national organizations for college sports have issued rulings saying that the '20-'21 season does not count against eligibility limits, no such ruling has been made for middle school or high school sports.
"CCSD has not updated any of their documents or procedures for determining eligibility post-COVID," said Steve Danko, coach of Garrett's team. "We were going by changes to eligibility rules issued by national organizations that we believed the CCSD followed. We did not find out differently until the school got a letter telling us that all our wins were now losses."
In a statement, CCSD officials said that while the NIAA only oversees high school sports, the district has chosen to align middle school eligibility rules with its standards as well.
"The eligibility requirements for middle school athletics offered by CCSD are modeled after the rules set by the Nevada Interscholastic Activities Association (NIAA) for high school athletics," a district spokesperson said in an email to the Boulder City Review. "The NIAA has denied all requests for an additional year of athletic eligibility at the high school level following the COVID-19 pandemic. CCSD has followed that decision with respect to middle school athletics."
"My son is a great kid who is kind to others," said Jeff Zach, father of one of the two students whose eligibility is at issue.
Zach said he feels like the way the disqualification went down implies cheating or guilt.
"Some of these rules seem to be based on convenience for the district rather than the well-being of the kids," he said. "Plain and simple, the CCSD failed these kids."
"Of course, he is hurt and disappointed," said Mindy Cael, mother of the other Garrett player in question. "We held him back a year after the pandemic because we did not feel he had learned anything in that school year. That is nothing new and many parents held their kids back after 2020 for many different reasons. He didn't cheat the system. The system cheated him."
Contact reporter Bill Evans at wevans@bouldercityreview.com or at 702-586-9401.