Early voting well received by Boulder City residents
November 2, 2016 - 1:51 pm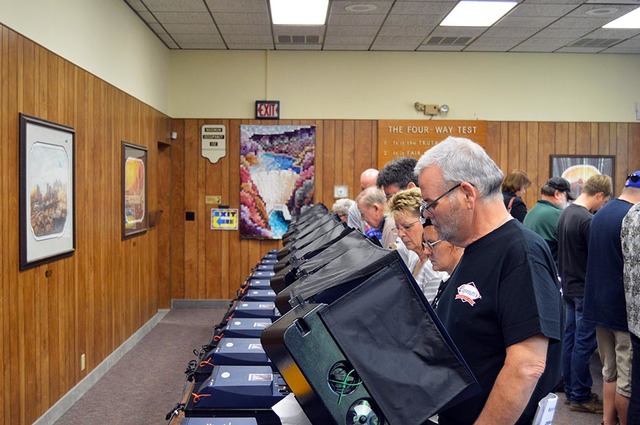 Boulder City residents came out in droves to have their voices heard during early voting on Monday and Tuesday.
The 2016 election has been pegged by many politicians as one of the most important in history, and residents waited in lines the length of City Hall to vote up and down the ballot.
Resident Keith Boyle said he voted to do his part in fixing a corrupt federal and state government.
"I voted because it is important," Boyle said. "There is a corruption in our government that needs to be fixed, and voting is a way we can do that."
Gary Karst said he voted early because work will keep him busy on Election Day and an early vote was a great way to ensure his vote would be heard.
"I am going to be tied up in meetings on Election Day so I stopped by City Hall to vote," Karst said. "Voting in so important, and I always have and always will vote."
Residents had one issue on the ballot concerning Boulder City and that was Question 1. A yes vote on Question 1 would give the city permission to use money from the capital improvement fund to accelerate repayment of the city's last remaining debt on the raw water line.
A no vote requires the city to continue to pay off the debt through the utility fund.
The city has supported a yes vote.
Resident Johanna Meller said that she adamantly voted no on the question because of the city's decision to increase utility rates.
"I think the city has no business using that money for any other account than the one it belongs to," Meller said. "They don't get to raise our utility rates then take money from another fund to help pay off a loan on a related utilities project. It doesn't pay it off; it just shortens the duration. The idea of redistributing this money in such a way is irresponsible account management."
Karst said he voted on Question 1 but did not care one way or another about the result.
Voter turnout in Clark County has been high, with 322,418 Clark County residents casting a ballot since early voting began on Oct. 22.
Residents who missed out on early voting but are registered can head to the polls on Election Day, Nov. 8.
Contact reporter Max Lancaster at mlancaster@bouldercityreview.com or 702-586-9401. Follow him on Twitter @MLancasterBCR.