Drones coming to Boulder City
January 2, 2014 - 4:45 am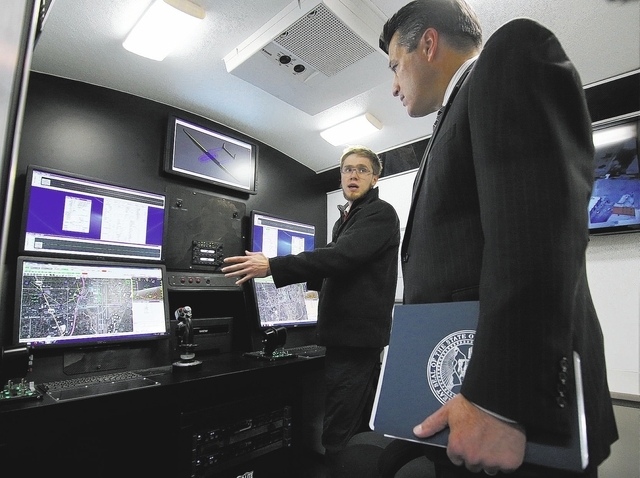 Boulder City is officially slated to become a testing location for drone research.
The Federal Aviation Administration announced Monday that Nevada was selected as one of six locations across the country that will serve as test sites for the integration of non-military unmanned aerial vehicles into the national airspace.
The announcement came following a 10-month selection period.
"This is wonderful news for Nevada that creates a huge opportunity for our economy," U.S. Sen. Harry Reid said.
Experts predict that the designation will attract unmanned aircraft industry because the operation of unmanned aerial vehicles in the national airspace is not permitted without special authorization.
Nevada estimates the test site designation will have a $2.5 billion economic impact by 2025, creating thousands of jobs, as well as $125 million in annual state and local tax revenue.
"This will open a whole new world to the people of our state," Gov. Brian Sandoval said during a Monday news conference. "This will really change the trajectory of our economic developments."
The state-sponsored testing program is facilitated by the unmanned aircraft systems program office, a division of the nonprofit Nevada Institute for Autonomous Systems.
Boulder City has been designated as one of Nevada's four testing areas.
The City Council voted in support of the state's application in March.
"For the state I think it's going to be a good thing," Mayor Roger Tobler said Monday. "It's going to bring new industry in."
And hoping to attract its share of industry, last month the City Council added 242 acres for potential airport-related commercial development to the city's 2014 Land Management Plan.
City Manager David Fraser said the test site designation will create "a great economic opportunity for the city," through lease revenue, aircraft testing fees and other "ripple" effects such as hotel and restaurant patronage.
"This (announcement) is good news. We need to be thinking and looking at ways to generate revenues because we've made a conscious decision to stay small (through the city's controlled growth ordinance)," Fraser said.
However, the discussion of drones in Boulder City has not been without opposition.
At a December Airport Advisory Committee meeting, local pilots spoke out about the perceived danger of having unmanned aircraft inhabiting their airspace.
"Putting these (unmanned) airplanes here in this airport is going to put everyone's life in danger. Period," local pilot Bill Reid said.
Fraser said he understands the safety concerns, as well as residents' privacy concerns.
He said an agreement between the city and the program management office is expected to be finalized at a City Council meeting this month.
"It will give us an opportunity to address things that are a concern to the public, like where (the unmanned aircraft) fly," Fraser said. "I think we'll have an opportunity to put in writing that they'll be flying south of us, not over us."
With the passage of the FAA Modernization and Reform Act of 2012, Congress required the FAA to establish a five-year program to address safety and operational issues associated with introducing unmanned aircraft into the national airspace. The act requires small non-military unmanned aircraft to be integrated into the national airspace by September 2015.
The FAA deadline for testing to begin is 180 days from Monday's announcement, but Nevada may be able to begin testing in as soon as two months, said Jonathan Daniels, technical director for the program management office.
Tests in Boulder City will occur on the dry lake bed first, and eventually at Boulder City Airport, Daniels said.
Daniels said the unmanned aircraft tested in Boulder City will be small, 55 pounds or less, flown by professional pilots and will not be flown over the town.
According to the FAA's website, Nevada's project objectives are to concentrate on unmanned aircraft system standards and operations, as well as operator standards and certification requirements.
The state's research also will include a concentrated look at how air traffic control procedures will evolve with the introduction of unmanned aircraft systems into the civil environment.
Daniels said Boulder City is an ideal location for a testing area.
"It has a very good climate for bringing in business and industrialization," he said. "It's rural enough that we have the area we can fly and do some testing, but it's close enough to the city that it's efficient and economically viable."
Fallon Municipal Airport, Reno-Stead Airport and Desert Rock Airport at the Nevada National Security Site also have been designated as state testing areas.
Nevada was one of 25 applicants that competed for the test site designation.
Other states designated are Alaska, New York, North Dakota, Texas and Virginia.