Double duty: Program will let students earn college credits while attending BCHS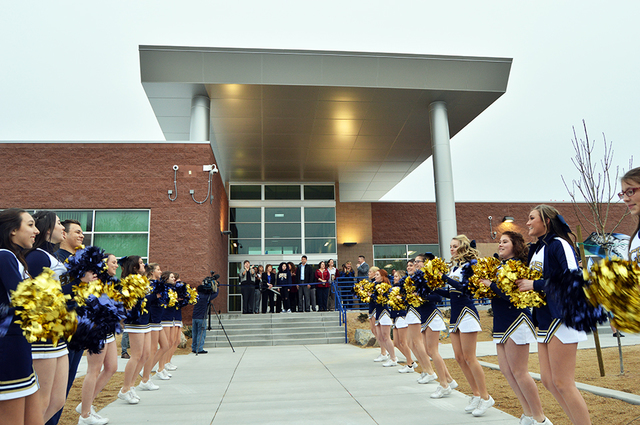 To increase opportunities for its students, Boulder City High School will start offering dual-credit classes that allow them to earn high school and college credit at the same time.
Through the Jumpstart Concurrent Enrollment Program with the College of Southern Nevada, high school juniors and seniors can take courses that count for high school credit and college prerequisites.
"It provides avenues for our students to have more opportunities for these credits," said BCHS Principal Amy Wagner.
Wagner is working toward having 24 credit units that students can earn, including in English, U.S. history, U.S. government, precalculus, chemistry and communications. Each dual-credit course can provide three CSN college credits per semester.
To be able to offer these dual-credit courses, teachers at BCHS have to become adjunct professors at CSN.
"Teachers are in that process," Wagner said.
Wagner plans to have dual-credit classes available for the 2017-2018 school year.
Because the classes provide college credit, there is a reduced tuition fee of $66.50 per class. Students also will have to purchase a textbook, but the school is exploring grants to help defray that cost, Wagner said.
The school currently offers Advanced Placement courses that allow students to earn college credit after taking an exam at the end of the course. Those will continued to be offered at BCHS.
She said she hopes that having these new classes available will keep students at BCHS.
"The kids I am trying to pull back in with this are those who are drawn to Nevada State to get their associates degree," she said. "They leave after their sophomore year."
Nevada State High School is a charter school that focuses on transitioning high school juniors and seniors into college classes, providing a more traditional college experience while they are still in high school.
Wagner thinks that students starting college too soon and missing their last two years of high school might not be a good thing.
"I don't want kids to grow up too fast," she said. "I think a lot of times if kids leave and go to a new school halfway through, they (at the new school) don't know them as a kid. I don't want them to be a number."
In addition, as a smaller high school of fewer than 600 students, BCHS can give more one-on-one attention to students and is uniquely equipped to help them succeed after high school.
"BCHS has a long history of kids being successful," Wagner said. "I feel like we are preparing kids well. We are a small high school … but we have a long history of preparing kids for post-secondary education … We know our kids and what's best for them sometimes."
As of 2016, BCHS graduates were being accepted at four-year colleges across the country, including UNLV, Auburn University, Brigham Young University, Emory University, Northwestern University, Princeton University, UCLA, the University of California, Berkeley and Stanford University.
The class of 2015 received a total of $5 million in scholarships.
For those who are interested in learning more about dual-credit classes at BCHS, the school will be hosting a parent meeting, "Making Decisions for the Classes of 2019/2020!" tonight at 6:30 at the school's lecture hall.
Contact reporter Celia Shortt Goodyear at cgoodyear@bouldercityreview.com or at 702-586-9401. Follow her on Twitter @csgoodyear.