Dotty's unveils plans for Hoover Dam Lodge
December 5, 2013 - 5:00 am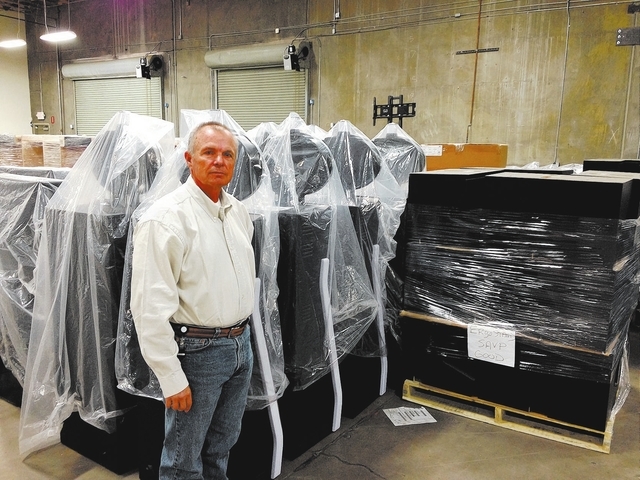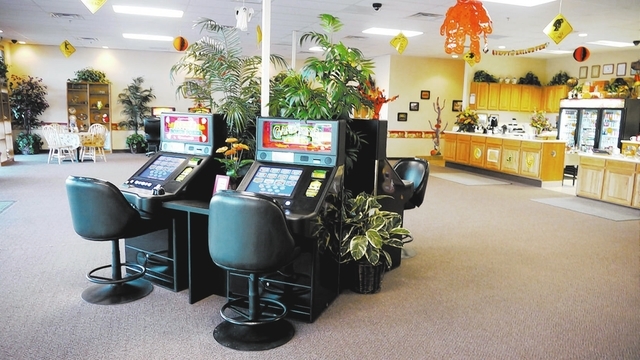 Dotty's revealed additional plans for the future of the Hacienda during an exclusive tour of the tavern operator's North Las Vegas headquarters Monday.
Hoover Dam Lodge, as the Hacienda will be renamed once Dotty's finalizes a purchase of the property and completes an extensive renovation, will feature an interior that Dotty's Chief Financial Officer/Chief Operating Officer Mike Eide described as a "boutique mall for gaming."
Like a traditional shopping mall, the Hoover Dam Lodge will feature a central corridor, but instead of shops the property will feature partitioned gaming areas, or individual casinos, inside the property, Eide said.
Details are still being sorted out, but the gaming areas may be grouped by themes, and at least one, possibly two, of the gaming areas will be a 50-machine Dotty's tavern.
"Depending on how that (first Dotty's) goes, we may put another Dotty's," Eide said.
There are more than 80 Dotty's taverns in Southern Nevada, characterized by a distinct interior with plants and porcelain figurines that Eide said are "designed to remind you of your grandmother's kitchen."
The Hacienda property is licensed to have 380 gaming machines, Eide said. It is scheduled to close briefly on the purchase closing date Dec. 23 and reopen Dec. 28 under Dotty's ownership with 150 gaming machines in operation.
The sale is scheduled to be finalized upon the receipt of licensing approvals. The company received gaming and licensing
approval from the Nevada Gaming Control Board Wednesday and will appear before the Clark County Gaming Commission Dec. 19.
The Dotty's tavern and additional machines will likely be added sometime after the reopening, Eide said.
"Our hope is to get it to 300 (gaming machines) in the first year," Eide said.
The renovated casino will have no table games, largely because of the cost of their operation, Eide said.
The pit at the Hacienda loses more than $500,000 a year, he said, because it is "very labor intensive."
Dotty's decision to eliminate table games, and the jobs that go with them, has been met with criticism from Hacienda employees.
Paula Parker, a Hacienda dealer who has worked on and off at the casino for more than 20 years, said the pit is costly because Hacienda dealers are overscheduled, with as many as eight employees on shift to cover four tables.
Additionally, she said many people visit the Hacienda for the table games, especially large tour groups.
"(Dotty's officials) are screwing themselves to take away the table games," Parker said. "In my opinion, they're cutting of their nose to spite their face."
Even without table games, Eide said the company aims to make Hoover Dam Lodge a destination for tourists as well as locals.
"What we have to do is create an environment for people to stop," he said.
Eide said he is unconcerned with future effect of the Interstate 11 bypass, which is expected to be constructed by 2017 and will reroute U.S. Highway 93 traffic around the Hoover Dam Lodge and Boulder City, beginning at the Mike O'Callaghan-Pat Tillman Memorial Bridge and ending at Railroad Pass.
"I'll probably be dead before they build it," he said, adding, "It'll only miss us by a half mile."
To attract visitors, Eide said the company will turn the property into "more of a lodge than a casino."
The company's founder and CEO, Craig Estey, has experience in the hospitality and park concession business.
Immediately after the Dec. 23 closing, the company will begin remodeling 60 of the 280 rooms.
The remodeling will take four to six months and, when finished, will provide guests with the option of higher-quality lodging, comparable to what's available in Boulder City, Eide said.
"We don't want to be the cheapest room in town," he said. "We also don't want to be the most expensive."
Dotty's plans to operate the hotel itself, Eide said. Hoover Dam Lodge will be the company's first hotel-casino.
To go with the lodge theme, the renovated Hoover Dam Lodge will feature a stone fireplace near the guest check-in area. And Dotty's has entered into discussions with a local tour operator interested in having a presence at the property.
Dotty's will close the Hacienda buffet, and install a new 24-hour coffee shop where the Hacienda's banquet room is located.
The Hoover Dam Lodge will include a sports bar with a sports book, and the existing movie theater will remain.
Eide said Hoover Dam Lodge intends to embrace local history and keep an area on the casino floor where a video about the construction of the Hoover Dam plays, and it plans to construct displays with information about the area's past.
The Hacienda's approximately 200 employees were told they would be losing their jobs Dec. 23, but they would be able to reapply to work for the Dotty's-owned casino.
On Monday, more than 150 Hacienda employees who had reapplied were extended job offers to work at Hoover Dam Lodge, a spokesman said.
Dotty's stated in a Nov. 22 news release that it also would be hiring internally for Hoover Dam Lodge positions. But on Monday Eide said it was unlikely that existing Dotty's employees, most of whom work and likely live in Las Vegas, would want to commute to Boulder City.
"We're hoping most of those people (at the Hacienda) reapply," Eide said. "It makes sense."
Unlike the Hacienda, Dotty's does not offer vacation pay or sick leave for its full-time employees.
"We believe as a company everyone needs a vacation," Eide said. "We just can't offer that for our bartenders (and other employees)."
Eide did not say how many people Hoover Dam Lodge aims to employee.
He said the Hacienda is operating at a loss of $3 million a year, but if Dotty's can turn the property around, it will likely employ more people than the Hacienda does.
Hacienda management could not be reached for comment regarding the property's earnings.
However, Tony Korfman, who served as the property's general manager a total of 22 years from 1978 to 1998, and then 2004 to 2006, said the property "never had a losing month" under his supervision.
But "anything is possible with the last couple of years, the way the economy has been," Korfman said.
Dotty's was contacted about buying the property in May by Hacienda owners Michael Ensign, William Richardson and David Belding, Eide said.
"One of two things was going to happen," Eide said. "The owners were going to continue to feed it or it would close."
Ultimately, a third option presented itself. Dotty's, a rapidly growing company with no debt, decided to buy the 33-acre property just outside Boulder City for an undisclosed price.
And now the future is wide open.
"If we can make money, the potential is limitless. There are so many things we can do with the property," Eide said.