Dotty's taverns are simply complex
August 13, 2014 - 1:09 pm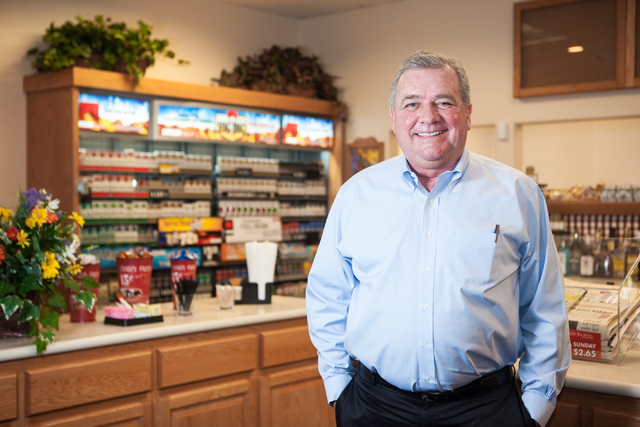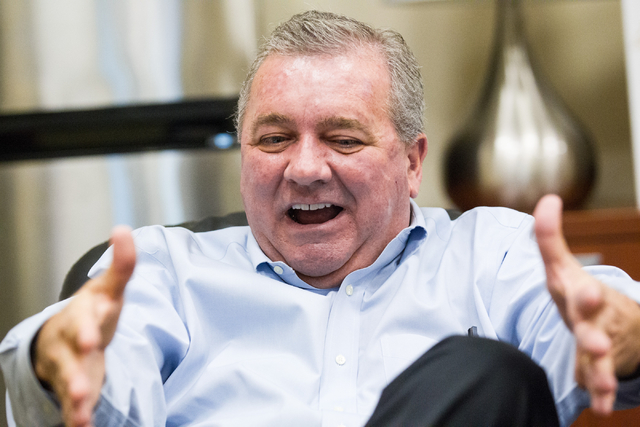 The 160,000-square-foot North Las Vegas warehouse and headquarters of Nevada Restaurant Services — parent company of the Dotty's chain of taverns — is a cross between Costco, Home Depot, a slot machine manufacturing plant and a direct-mail house.
Everything making up a Dotty's — think a grandmother's house with gambling devices — sits in the warehouse.
Near the building's executive suites is a full-scale Dotty's mock-up, complete with free-play slot machines and a kitchen counter filled with snacks, used to train store managers.
The centralized office is one secret behind Dotty's success.
Craig Estey, founder and president of Nevada Restaurant Services and the creative force behind Dotty's, said controlling "everything that that customer touches" is a sign of efficiency.
"Our business philosophy is to maximize revenue per store, and we do that by taking care of the customer," Estey, 61, said during a 90-minute interview and tour of his company headquarters. "There are two ways to make money in business; increase revenue and decrease costs. We try and do both."
Privately held Dotty's is viewed as one of Nevada's most successful gaming and tavern businesses, with more than 300,000 customers in its player database.
But its business model — offering minimal food and beverage choices with a heavy focus on gambling — has been hotly debated since 2010, when locals-oriented gaming companies prompted government bodies and state gaming regulators to enact laws and regulations aimed at slowing the company's growth.
Estey largely remained in the background during the debate as his longtime lieutenant, Mike Eide, 64, Dotty's chief financial officer and chief operating officer, took center stage.
In his first extensive comments since the debate, Estey moved to dispel misconceptions about his business. For example, although each Dotty's has only one or two workers on duty at any time, each store supports 10 jobs — warehouse workers, accounting personnel and security, all based at the corporate headquarters.
"It bothers me when people say we don't hire people," said Estey, adding that Nevada Restaurant Services will soon have 1,500 employees.
"The frustrating thing during the ordeal has been the nontruths," Estey said. "They really slammed us. My customers aren't stupid, and neither (are) anyone else's customers. If you're not offering what the customer wants, they should have the freedom to go anywhere else they want."
CAREFUL PLANS
Some people may see Dotty's as a chain of taverns, but there's a purpose for everything in its detailed business plan.
The idea was to create a place for middle-aged women turned off by male-dominated taverns.
Windows at Dotty's allow natural light to filter into the brightly lit rooms where countertops and end tables are adorned with checkerboard tablecloths and artificial plants. Slot machines and comfortable chairs are distributed throughout.
Televisions are tuned to news channels and programs that favor female audiences, such as "The View" and "The Ellen DeGeneres Show."
The Dotty's business model is an enigma to rival tavern operators, who initially fought the concept but lately have introduced knockoff brands such as Jackpot Joanie's and Molly's Tavern.
"They don't do what we do," Estey said. "We've been doing this for 22 years. The business has changed. You can't just plug in 15 machines and think it will work."
Estey declined to reveal monthly or annual revenue figures. Eide said the average Dotty's customer visits three or four times week for 20 to 40 minutes, and spends $20 to $30.
"We really don't know how that's different (from the competition)," Eide said.
Dotty's debuted in Las Vegas in 1995 in a shopping center at Tropicana Avenue and Maryland Parkway. The company has grown expeditiously since the mid-2000s.
There are now 120 Dotty's statewide, including 80 Dotty's taverns with 15 slot machines each and 27 nonrestricted Dotty's that average 40 slot machines per facility. The company also manages the slot machine areas in Nevada-based Food 4 Less and Kmart stores under the Dotty's brand.
In its restricted locations, Dotty's pays annual and quarterly flat fees on slot machines. The annual fee is $250 per machine, the same price paid for nonrestricted licensees. The quarterly fee is $81 per machine for the first four machines, then $141 for each additional machine. A location with 15 machines pays $1,815 per fiscal quarter.
In its nonrestricted locations, Dotty's pays the same 6.75 percent gaming tax as traditional casinos, a market Estey recently moved to join.
In December, Nevada Restaurant Services purchased the Hacienda near Boulder City and is rebranding it as the Hoover Dam Lodge. In July the company announced it is buying the River Palms in Laughlin for $6.75 million and is awaiting licensing before taking over the operation.
The hotel properties will include Dotty's-branded casinos, Estey said.
LOGICAL MOVE
Estey was in the hospitality industry when gaming came to him — he owned lodges at Oregon's Crater Lake and Oregon Caves tourist areas when the state legalized video poker machines in the early 1990s.
Estey hoped to become a gaming device distributor and operated a business that serviced and distributed amusement games and vending machines.
"It just seemed like a logical move," Estey said.
While researching gaming locations, Estey realized that bars and taverns didn't cater to women. So he worked on a side concept of a tavern geared toward female customers.
When Oregon decided to oversee slot machine distribution itself, Estey polished the Dotty's concept and entered the tavern business. He acquired video poker machines created by Montana-based VLC, which was co-owned by Eide.
He opened 15 Dotty's in Oregon, but they weren't an immediate hit.
"We were losing money," Estey said, "and I knew I had to immerse myself in gaming to fix it."
Fine-tuning made Dotty's profitable within a year and company revenue grew into 5 percent the total gaming volume in Oregon, which had a 70 percent gaming tax rate.
Estey said he decided to bring the concept to Nevada in search of a "friendlier gaming environment," although Silver State gaming regulators were skeptical that the business model would work.
"They were right," Estey said. "We had to bring in different efficiencies."
Dotty's dropped its slot machine route operator and ran its own machines. The company took on a slot machine manufacturer and distributors license. Estey bought video poker machines from VLC. In 2002, he persuaded Eide, who had sold the business, to move and help run Dotty's.
"We put the customer first, and we did things to push the envelope," Estey said. "The business finally took off."
RAPID GROWTH
Several events converged in the mid-2000s to fuel Dotty's largest era of growth in Nevada.
A 2006 voter-mandated statewide ban on smoking in locations where food is served — except casinos — forced taverns to eliminate food service or wall off restaurants from bars and slot machines.
Estey said Dotty's closed its kitchens, although the locations continued to offer some snack items.
Then the economy soured, hammering many tavern operators.
"We were seeing financials on guys (who) were making $700,000 to $800,000 per location and they were now losing $300,000," Eide said.
Estey sold his Oregon Dotty's locations — he retains a licensing agreement with the new owner — and another businesses. Suddenly, he was sitting on $20 million in cash.
"The economy went to hell, and we became buyers," Estey said.
Eide said shopping center landlords and real estate brokers began calling the company.
"Our reputation was that we always paid rent on time," Eide said. "When a tavern went out of business, we got the call. We were picking up a lot of locations. That still happens today."
Estey said Dotty's growth included 14 locations built from scratch, but most were previously operating taverns that were remodeled. Although some perform financially better than others, the company has never closed a location, Estey said. The original Dotty's remains open.
"We always stuck it out," he said.
BACKLASH
In 2011, state gaming regulators and Clark County changed laws to require working kitchens and bar-top slot machines in taverns. The 2013 Legislature changed language governing restricted gaming sites, such as the size of a location and gaming devices that could be offered.
Most of the changes were directed at Dotty's.
In May, a members of a legislative interim study committee failed to push forward a bill seeking a definition of traditional and nontraditional restricted gaming locations.
The underlying concern was that Dotty's makes too much money off gaming to be considered taverns.
"It's really constant pressure," Estey said. "If you try and put us out of business, you're going to put all the tavern guys out of business. Certain people seem to get aggravated."
Station Casinos has been Dotty's largest detractor, believing the business model is not a true tavern but more akin to a slot machine parlor.
Still, Estey said he talked with Station Casinos officials throughout 2012 and the company made a formal offer to buy Dotty's in early 2013. He rejected the proposal and made a counteroffer to buy part of Station Casinos. He was turned down.
"We discussed a whole bunch of things," Estey said, "such as they taking out slot machines and us taking their sports kiosks, maybe even have the company's players cards work in both places."
Station Casinos denies making an offer.
"We have publicly commented in this subject several times," company spokeswoman Lori Nelson said. "Suffice it to say that our version of the events differ greatly from Mr. Estey's version."
Either way, Dotty's isn't done expanding.
Besides hotel-casino projects, the company is considering a sports bar concept that it plans to unveil at the renovated Hoover Dam Lodge. Estey was vague on the details because several aspects, such as the menu, are still being tested.
Estey said the sports bar is designed to fit into the same footprint as Dotty's. The company may look at converting some underperforming taverns to the new concept.
"We still don't know if that's the intent, but it gives us flexibility," he said.
Contact reporter Howard Stutz at hstutz@reviewjournal.com or 702-477-3871. Follow @howardstutz on Twitter.