Doggone good job: Police K-9s' service honored by local historians
November 30, 2016 - 2:07 pm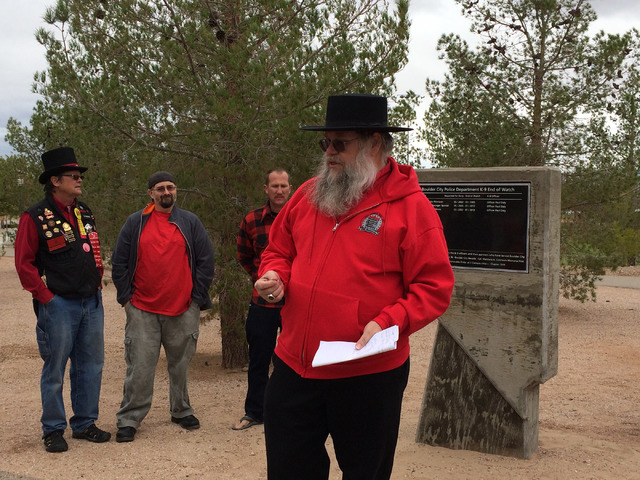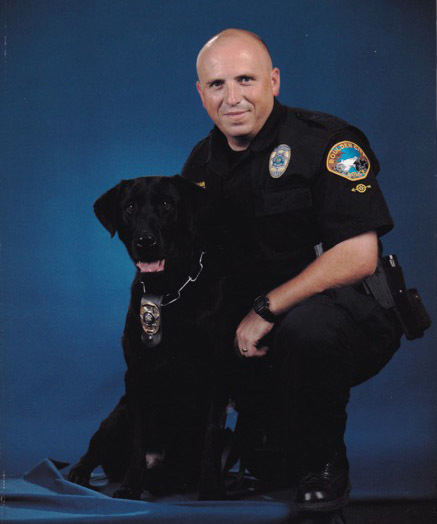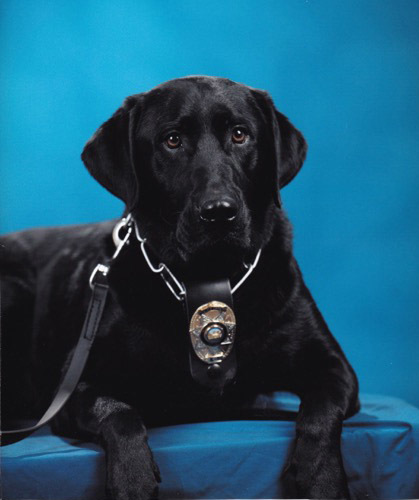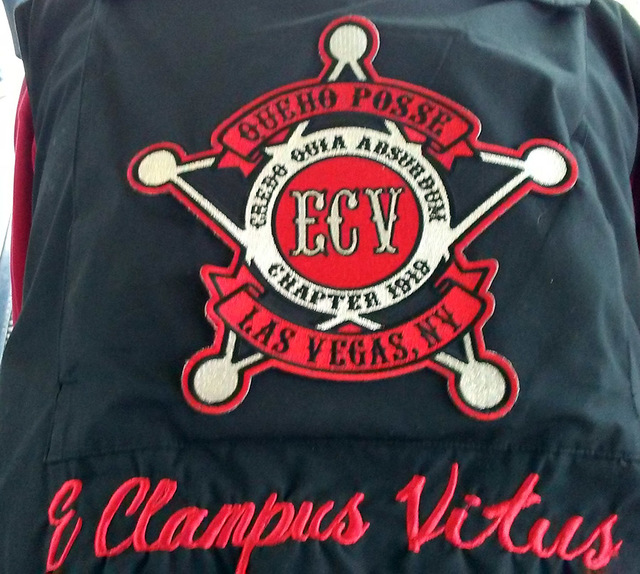 The important role of K-9 officers in fighting crime was recognized Sunday as the Queho Posse chapter of the Ancient and Honorable Order of E Clampus Vitus dedicated a monument in their honor.
The Nevada-shaped monolith was erected at Veterans' Memorial Park and features the names of the city's three deceased police dogs engraved on a plaque, with room to honor future K-9s who come to the end of their watches.
The very informal ceremony was officiated by Mark Hall-Patton, a past humbug of the chapter and museum administrator for Clark County Museum. He offered a brief history of K-9s in police work, starting in the 1400s in France, where law enforcement officers would use strays as well as their own pets.
It wasn't until 1907 in New York City that K-9s as we know them today were used.
Hall-Patton said the first trained K-9 unit was established in 1957 in Baltimore, and Las Vegas Police (now Metropolitan Police Department) was among the early adopters of the program, adding dogs to its force in 1961.
Boulder City introduced K-9 officers in 2003.
The day also served as a time to recognize the department's only K-9 officer, Charlie, who is partnered with officer Alan Nutzman and retired Nov. 21 because of health issues.
Nutzman said they don't have an official diagnosis for Charlie, a black Labrador, but he has a growth in his sinus and has been having occasional seizures. Days ago he was started on a new medication regime to help prevent the seizures, but the drugs make him woozy.
It will take about one month for the medication to take full effect, at which time they will determine the next course of action, Nutzman said.
"We are not sure what the future means," he said. "This came on very suddenly — from Saturday to Monday's retirement. I just want him to be a happy dog."
For now, Nutzman said Charlie is staying at the veterinarian's office but should be able to return to his home, where he lives with the officer and his family.
Nutzman, who has been with the department since 2005, has been working with Charlie since June 2009. Charlie is trained in narcotics detection and has been instrumental in numerous cases, including those where he assisted with the Drug Enforcement Administration.
All of Charlie's medical expenses, including a $3,000 MRI, are covered by Boulder City. It is possible that the growth in Charlie's sinus is cancerous, Nutzman said, but more testing would be needed to make an official diagnosis. Treatment, if suggested, could cost thousands of dollars.
The Veterans of Foreign Wars, Cpl. Matthew A. Commons Post No. 36 of Boulder City, assisted with the dedication ceremony and barbecue lunch served afterward.
The monument at Veterans' Memorial Park is one of several in the area erected by E Clampus Vitas.
According to Hall-Patton, E Clampus Vitus is a fraternal organization of men who "get together and do something for history."
"We take our history seriously and pretty much nothing else," he said.
Other monuments are at Boulder Dam Hotel, Boulder City Elks Lodge (formerly the Trans World Airlines terminal) and Railroad Pass.
Hali Bernstein Saylor is editor of the Boulder City Review. She can be reached at hsaylor@bouldercityreview.com or at 702-586-9523. Follow @HalisComment on Twitter.