Diehm named library director; board cites past six months experience in unanimous decision
September 22, 2016 - 10:44 am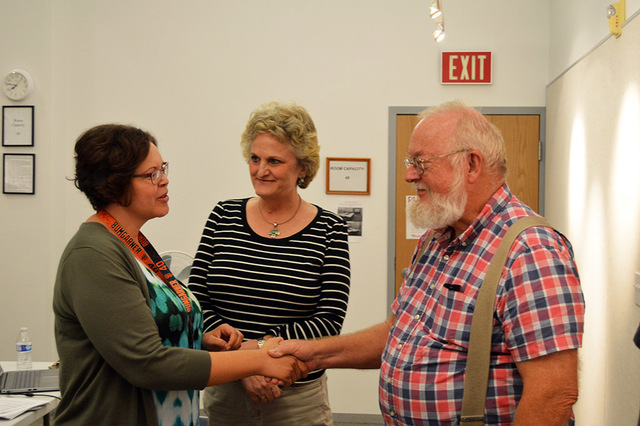 The Boulder City Library Board of Trustees unanimously selected Kimberly Diehm as its new director on Wednesday night, capping off two nights of interviews before the selection was made.
"I am going to accept the job," Diehm said. "I can't let my staff down."
Diehm has spent the past six months as the library's acting director and it was her experience that served as the deciding factor in the board's decision.
"Kim has already demonstrated that she can make the leap to director since she has been doing the job for six months," board Chairman Jeff Breeden said. "The board did not have to make her acting director, but we had faith she could do it then so I think she could do it now."
Diehm concurred in a phone call the day after the meeting.
"I think the whole learning process of being a director has been going on for the last six months, so I think I am ready for the job."
Since she was serving as acting director Diehm has already started in her quasi-new position, which will pay her a $75,000 annual salary.
The board felt that other finalist, Kelly Cuci, may not be prepared to make the jump from her current job to the head of a library.
Cuci is the head outreach coordinator for Orland Park Library in Illinois. Board members worried that her current staff of four and department budget of $75,000 was too small to effectively handle Boulder City Library's department of 25 employees and a budget of $1.3 million.
"When I learned that her budget was $75,000 I thought that was a huge jump," said board member Marita Rhinehart. "I think it is way too big a jump for what Kelly does and I think she is more suited as a department head and not a director."
Board member Gary Berger expressed the same sentiment.
"I agree; she has too small a budget and having four staff members and ending up with this crowd is a world of difference," he said.
The board spent the majority of their Sept. 21 meeting praising Diehm.
"Everyone on this staff signed a letter in support of Kim and that is why I would like to see her continue to succeed here," Berger said. I know I always say that the library is a business and not a family operation, but it kind of is (a family operation)."
Berger went on to say that he wanted Diehm to be the director as long as she keeps "Being as wonderful as she is."
Cuci also was praised during the meeting and many board members said that if she were selected, it would still be a huge positive for the library.
Trustee Ann Langevin was in favor of Cuci before voting to offer Diehm the job.
"I have to say that with Kelly's previous theater experience and her technical expertise with contractors, plus the fact she already runs a homebound seniors program, we could really hit the ground running with her," Langevin said. "Plus I promise you if we don't get her now, then Clark County Library will steal her from us."
Allegations of beratement by two Orland Park Library employees seemed to have little effect on the board's decision. Not one trustee mentioned the allegations during the meeting and after the meeting Rhinehart said the allegations did not factor into her decision.
"The played a very little part in my decision," Rhinehart said. "I had no contact with the people that made them and I felt it would have been unfair to Kelly to accuse her of something we have no proof of."
Contact reporter Max Lancaster at mlancaster@bouldercityreview.com or at 702-586-9401. Follow him on Twitter @MLancasterBCR.