Developer eyes 640 acres for homes
September 28, 2016 - 2:17 pm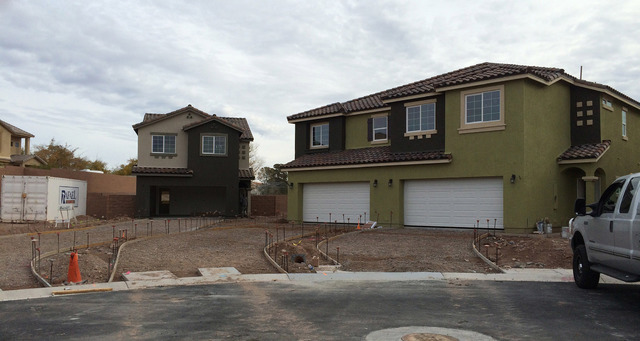 Boulder City developer Randy Schams announced Monday morning that he is in escrow for 640 acres of land in the Eldorado Valley, where he plans to build a master-planned community, and is seeking approval from the city to supply water and sewer service to the site.
The property is in unincorporated Clark County adjacent to the city's limits.
At the same time, Schams also has submitted a proposal to the city for two master-planned neighborhoods straddling U.S. Highway 93 near Cascata Golf Course that would be within the city limits. The proposal is in response to a request from Mayor Rod Woodbury to move the project closer to Boulder City and its existing facilities.
He said he hopes to swap his land for the parcels in the city.
With either proposal, Schams, CEO of RPS Homes, said he envisions creating a master-planned community called Boulder Highlands with about 1,600 homes ranging from entry-level to luxury.
Woodbury said moving the proposed community closer or within the city limits "makes a lot more sense from a land planning perspective," though he stressed the fact that the city has no official position on the proposal at this point.
"The last thing we want is to be forced to serve a residential development way out in Eldorado Valley with emergency responders and schools, for example, and not get any tax dollars in return," he added.
Land Management Plan
Schams filed his proposal to the city Monday morning as part of its Land Management Plan process, which helps determine the viability and feasibility of suggested uses for a piece of land.
The Land Management Plan, adopted in 2001, provides a forum for city officials and members of the public to comment on how city land is used through a series of hearings before the City Council and Planning Commission.
As part of the process, the city announced in early August that is was seeking requests from developers who want to purchase or lease city-owned property, along with specific uses for the land, so that they could be considered by officials and members of the community.
Monday was the final day for submissions for this year.
Community Development Director Brok Armantrout said each proposal goes through a three-step process to be added to the plan.
The first step would be bringing the proposal before the City Council, where it will decide if the request is worthy of being considered. Armantrout said that should happen at the Oct. 25 council meeting.
If the council votes to move forward with the proposal, it would advance to the Planning Commission where commissioners would review the parcel's zoning and determine if any changes need to be made. The commission would likely see the plan at its Nov. 16 meeting.
From there, the proposal would return to the City Council, probably at its Dec. 13 meeting, for a final review and public hearing. Council members also would consider the Planning Commission's recommendations. At this time, they would determine if the proposal should be included into the Land Management Plan, Armantrout said.
Proactive approach
Once the application is voted into the city's Land Management Plan, Armantrout said council would direct the city manager to act or not act on each proposal in the plan.
"The purpose for the City Council action is to be proactive for some parcels there is interest in," he said.
"The city manager and city staff are cooperating with Mr. Schams to gather information and discuss feasible options, just as we would with any developer," Woodbury said. "And, to be clear, other developers have approached the city with inquiries about development as well."
Woodbury supports moderate growth in the city and said he is "anxious to see where this process takes us and will keep an open mind about any development ideas until the details are fleshed out."
Polarized positions
So far, feelings among community residents are mixed but polarized.
"I support anything that gets more kids in our schools," said Boulder City High School Principal Amy Wagner.
She said enrollments have declined steadily since she has been at the school and this year she lost two teachers because she only has 594 students.
"We did lose staff members and that's hard. We can't offer as many classes. It makes it tough on our mission and what we are trying to do."
Brina Marcus, general manager of Flightlinez and president of the Boulder City Chamber of Commerce's board of directors, also is in favor of exploring the possibility of adding more homes to the community.
"As a business in Boulder City, that means more bodies in Boulder City and more bodies on my mountain," she said, adding that she welcomes the opportunity to see what the project "can do for us" while also examining how construction would impact local wildlife.
Boulder City native Terry Stevens is adamantly against adding more homes to the community, especially such a large amount in a short time.
As a parent, he said he feels the schools have a good number of students in the classes now so that they can get the attention they need.
He also expressed concerns about the strain that would be placed on existing utilities, saying the city needs to properly maintain and repair what it already has before adding more.
"Boulder City is a special small town. When you add all that to it, it will ruin it," he said.
Development negotiations
If his request to develop Boulder Highlands is approved, Schams said the next step would be to work with city officials to create a development agreement that would get into specifics of the project. Negotiations and creation of the agreement would likely take anywhere from six to 12 months, he said.
Even without complications, Schams said construction wouldn't likely begin until middle to late 2018, after the Boulder City bypass is completed.
The completion of Interstate 11 has been a concern for community residents and businesses, which is projected to reduce traffic in the city by 30 to 40 percent.
"Boulder City has never in its history seen the vast changes that will occur with I-11," said Jill Rowland-Lagan, CEO of the Boulder City Chamber of Commerce. "When it comes to the economic health of our community's future, we owe it to our residents and business owners to learn more about economic development projects such as Boulder Highlands. Through open, public dialogue we can explore and evaluate the worth of valuable, economically stimulating projects."
In the meantime, Schams, a 26-year resident of Boulder City, has hired RVi Planning, a planning and landscape architecture firm that has designed master-planned communities and large commercial projects across the Southwest.
"My first vision for the project is to build, below Cascata, a more golf course community, then with more family and kid-friendly homes on the lower level (across U.S. 93)," he said.
Landscaped entry
The master-planned community would have roadways with landscaping on both sides and in the median, including the stretch near Cascata that serves as the western entry to Boulder City.
According to Schams, the landscaping would offer a "more attractive entrance" and a "better feeling coming into Boulder City.
"It's far enough away from the center of town not to change its character, but the town would benefit from the residential tax base," he said.
Schams, who has been building homes in Boulder City for 20 years, also is requesting that development of the project happen at a quicker pace than the city's limited-growth ordinance.
Enacted in 1979, the ordinance limits the number of new homes that can be built each year to 120, with no more than 30 per developer.
Schams would like to see new homes built at a rate of 320 per year over the next five years.
He said the project could serve as a "right-sizing," since the average number of permits in the past 37 years has only been 58 per year. Currently, according to information on the city's website, there are about 6,780 housing units in the city.
Before filing any paperwork with the city Schams said he tested his idea for the project with some community leaders, and nearly everyone said "what can I do to help."
"My biggest fear was what would community residents say."
Although Schams will develop the overall community and build some of the homes, he said he does not expect to build them all.
"We know because of the land shortage they will come," he said of other home builders. "This is a unique opportunity to build in Boulder City."
In addition to developing the property for residential use, Schams said bringing in utilities would provide him with the opportunity to help develop infrastructure for the four corners area where the road approaching Boulder City meets Interstate 11.
Hali Bernstein Saylor is editor of the Boulder City Review. She can be reached at hsaylor@bouldercityreview.com or at 702-586-9523. Follow @HalisComment on Twitter.