Denton daughter awarded fellowship for book project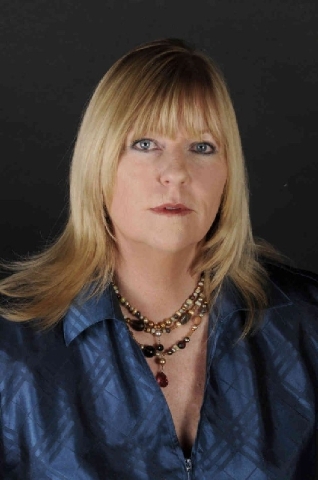 Boulder City-raised journalist and author Sally Denton will be returning to town next year to write a book about the Bechtel Corp., a company involved with the building of Hoover Dam that has grown to one of the largest contractors in the world.
Denton, who lives in Santa Fe, N.M., was recently awarded the BMI-Kluge Fellowship by the Black Mountain Institute, an international literary center at the University of Nevada, Las Vegas.
The fellowship will provide Denton with a $50,000 stipend and an office at the John W. Kluge Center of the Library of Congress in Washington, D.C., where she will conduct research on Bechtel from September until the end of the year.
"A lot of the main players in the story, their papers are housed at the Library of Congress … a lot of government documents and congressional hearings," she said. "It's great."
Then, January through May, Denton will be provided with an office at UNLV, where she said she will write her eighth book, while living in Boulder City at her mother's house.
"I can't wait. I just haven't really (lived) there as an adult," she said. "I have an 89-year-old mother there and a lot of family. It'll be a lot of fun."
The Bechtel Corp. began as an engineering firm in the 1920s, then called the W.A. Bechtel Co., and was one of the Six Companies Inc. that won the bid for the construction of the Hoover Dam.
"I've always been interested (in Bechtel), coming from Boulder City," Denton said. "Their first big project was Hoover Dam."
Over the rest of the century, the privately owned company's activities expanded from engineering to include the defense, mining, energy and finance industries, and is now, according to Denton, "a global behemoth … emblematic of the blurring of lines between government and industry."
In fact, "Behemoth" will be the name of the book, Denton said. In 2007, Bechtel was given the contract to operate national nuclear weapons facilities, including the Lawrence Livermore National Laboratory in California, and Los Alamos National Laboratory in New Mexico.
Bechtel was also involved with the operation of the Nevada Test Site.
"Living in New Mexico, I had a keen interest in Los Alamos, and growing up in Nevada I was interested in what was going on with the Test Site," Denton said. "It's all very sensitive and dangerous stuff that they're doing there.
"It's one thing to let private companies run the post office, but when you're getting into this level of outsourcing … it seemed like a subject really worth exploring."
Denton said her book will examine some of the history of the company, but the book's main focus will be Bechtel's relationship with government.
"I think Bechtel probably has closer ties to government than any private corporation in modern history," she said.
Although she has written numerous books on American history, Denton said her new book will be a return to her earlier investigative journalism, similar to her second book, "The Money and The Power: The Making of Las Vegas and Its Hold on America."
"For me it's more of a return to my early work … how the political system works, and how it really works," she said. "It's really looking at the lobbyists and who is getting the money — who on Capital Hill should be conducting oversight, but instead is taking boat loads of money."
Denton has signed a contract with publisher Simon & Schuster for the spring 2015 release of "Behemoth," which she has been working on for a year and half.
"Sally is an incredibly accomplished investigative journalist and writer. … Her current research into Bechtel is producing new insight into a corporation that is one of the most important and least understood in the world. People are going to take note of this book," BMI Interim Assistant Director Joseph Langdon said.
Denton graduated from Boulder City High School in 1970, and briefly wrote for the Boulder City News after college. Her journalism has appeared in The New York Times, The Washington Post and Salon.
She has been awarded numerous grants and fellowships and was inducted in the Nevada Writers' Hall of Fame in 2008. Denton is the daughter of longtime Boulder City residents Sara Denton, and the late attorney, Clark County Commissioner and civil rights activist Ralph Denton, who died last year.