Democrats retain control of county posts
November 5, 2014 - 2:40 pm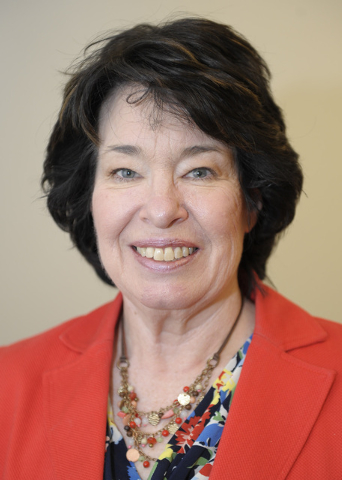 The Republican tide that swept across the nation and much of Nevada failed to catch on Tuesday in Clark County, where three Democratic county commissioners and other elected officials were re-elected over GOP challengers.
The outcome keeps Clark County with a full slate of Democrats in elected posts, from the seven-member County Commission to lower profile offices.
Commissioner Mary Beth Scow, who represents District G that includes Boulder City, had 50.89 percent of the vote while Republican challenger Cindy Lake had 49.1 percent, according to Clark County's unofficial results with all precincts reporting.
Incumbents Chris Giunchigliani, up for a third term, had the strongest lead with 61.4 percent of the vote, while Susan Brager had 49.7 percent of the vote, for Districts E and F, respectively.
In the district attorney's race, Steve Wolfson, the incumbent Democrat, easily outdistanced long-shot Libertarian candidate Raymond James "Jim" Duensing, picking up 72.2 percent of the vote with all of the precincts counted. Wolfson faced no GOP opponent.
County Assessor Michele W. Shafe, a Democrat without any GOP opponent, captured 63.5 percent of the votes, widely outrunning two third-party candidates: Libertarian Tim Hagan and Independent American Party candidate Brad Barnhill.
In the county clerk's race, Democrat Lynn Goya received 51.5 percent of the vote against Republican William Hols.
In the county recorder's race, incumbent Democrat Debbie Conway had 48.8 percent of the vote, enough to pull away from Republican Don Hotchkiss, who had 44.7 percent of the vote. Two third-party candidates, Libertarian Douglas "Tractor" Johnson and Independent American Party Shannon C. Maclean, took the balance of the votes in that four-way race.
In the county treasurer's race, incumbent Laura Fitzpatrick led with 56.2 percent of the vote against Republican Mike Javornicky, who received 43.7 percent, with all 1,089 precincts reporting.
In the public administrator's race, incumbent John J. Cahill led with 53.1 percent of the vote against Republican Ed Klapproth.
Republican Steve Hampe ran unopposed for the Boulder Township constable position, receiving 100 percent of the 4,365 votes cast.
In the hotly contested race for sheriff, Assistant Sheriff Joe Lombardo received 51.1 percent of the vote, edging out retired Capt. Larry Burns, who received 48.8 percent.
With outgoing Sheriff Doug Gillespie and former Sheriff Bill Young supporting him, Lombardo benefited from an almost 2-to-1 fundraising advantage. A large portion of his financial support came from the casino industry, which has historically given money to the outgoing sheriff's hand-picked candidate. And that candidate almost always wins.
Burns, a popular former SWAT lieutenant, proved a tough challenger. Metro's rank-and-file officers and union leaders overwhelmingly supported Burns for sheriff, and he was backed by former Sheriff Jerry Keller and Nevada Attorney General Catherine Cortez Masto.
In statewide races affecting Boulder City residents, incumbent Republican Joe Hardy ran unopposed for his District 12 Senate seat.
Incumbent Republican Joe Heck easily defeated Democratic challenger Erin Bilbray to retain his seat in the U.S. House of Representatives. Heck finished with 60 percent of the votes to Bilbray's 36 percent.
Republican Chris Edwards garnered 65.1 percent of the vote against Democrat James Zygadlo for the state Assembly seat for District 19, while incumbent Melissa Woodbury, a Republican, ran unopposed for her District 23 seat.
Boulder City residents also voted on three state ballot questions.
Question 1, which would create an appeals court to hear certain civil and criminal cases, passed with 53.7 percent of the 247,007 votes cast in its favor.
Question 2, which would amend the Nevada Constitution to remove a cap on taxing minerals and restrictions relating to taxing mines, mining claims and minerals, was narrowly defeated, getting 50.3 percent of the votes, according to the secretary of state's unofficial results with all precincts reporting.
Question 3, which would impose a 2 percent tax on the businesses whose gross revenue is more than $1 million, was easily defeated with 78.7 percent of the vote.
Hali Bernstein Saylor is editor of the Boulder City Review. She can be reached at hsaylor@bouldercityreview.com or at 702-586-9523. Follow @HalisComment on Twitter. Las Vegas Review-Journal reporters Mike Blasky, Ben Botkin and Francis McCabe contributed to this article.