Dam Short Film Festival founders look back on last two decades
September 29, 2023 - 10:49 am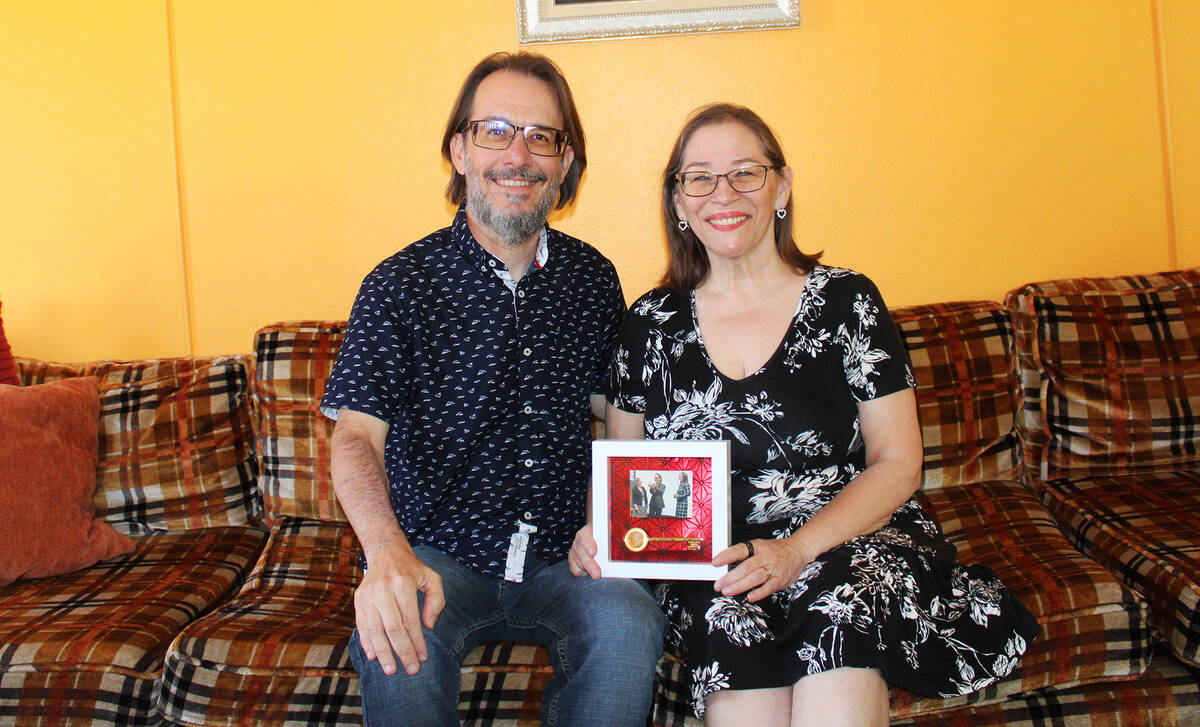 During the last 20 years, the Dam Short Film Festival has gained in popularity and is considered one of the best of its kind.
And while festival founders Lee and Anita Lanier may receive the accolades, they are quick to give a lot of the credit to those behind the scenes.
"We've always had an amazing team, which has helped in the success of the festival," Anita said.
In the late 1990s Lee began making his own short films and after meeting, the two went to local festivals in the Bay Area and elsewhere. But in 2001, the couple realized that the San Francisco area was too expensive and following a trip to visit his parents in Henderson, they decided upon Boulder City.
"Almost immediately after moving here we decided this would be a great place to have a festival," she said.
In the first three years of the event, it was held in the former American Legion Hall, next to Boulder Bowl. From that point on until the pandemic, the Boulder Theater was home to the festival. After being two years virtual during the pandemic, this past year it moved to the Elaine K. Smith Center.
"I felt like we always had a lot of early support from the community," Anita said, adding that some of their volunteers have been with them since the beginning.
"We had a lot of experience going to some amazing film festivals, some mediocre ones and others were just bad experiences," Lee said with a smile. "My films ended up being in about 200 festivals. So, we knew what we wanted to create. Our mission statement was based upon those experiences and has just two parts: find the best films for local audiences and treat the filmmakers really well."
In the early days they got a decent number of submissions but once they joined the website Without a Box, that opened the door to many more filmmakers because it connected those making films with the various festivals.
"That made a huge difference because we were limping along with like 50 submissions," she said. "It was a challenge getting submission before we established a reputation."
Speaking of reputation, for the last five years the festival has been ranked in the top 100 worldwide, as voted upon by those in the business.
"It makes us feel very proud, especially since it's not arbitrary but rather voted upon by filmmakers," Lee said. "In the beginning it was like 'Who are you' but now, filmmakers spend years trying to get into our festival."
The festival, which is a nonprofit, has a board and a film review committee, which has had as many as 40 to 50 members. They watch all the submitted films, make recommendations, and then there is a small group of programmers, often led by Lee, who decide upon the final lineup. From there, it's a bit of a jigsaw puzzle as they take the short films, which can't be more than 40-minutes long, and put them into roughly 60-to 90-minute viewing blocks. While comedies have always done the best, they create the blocks based on similarities among the films.
"The programmers have zero agenda, we just want to find the best possible films for the audience," Lee said, noting that they now get an average of 1,200 submissions in about a dozen categories. Of those, roughly 150 are shown during the festival.
Because a short film has to be less than 40 minutes long, as determined by the Academy of Motion Pictures, both said it is often challenging for the filmmaker to cut a film down to meet those standards. But they also said some of the best films don't have to be full length if the story is well done through writing, acting, editing, sound and cinematography.
"It's an unappreciated art form," Anita said. "Sadly, there's not many opportunities for people to see these amazing shorts."
Advancements in technology have made filmmaking easier, less expensive and has made the submission and screening process easier as well. But as Lee pointed out, you still have to have the key elements for a film to be successful.
"Technology has made filmmaking more accessible and more democratic, so more people can make films and make them cheaper," he said. "So, a $500 film can now compete with one that cost $50,000 to make. But it still comes down to the same issues, including story, characters, and originality. The technical aspect can make a film sink or swim but that can happen to a real expensive film or a really cheap one."
These days, the couple has pretty much stepped away from the festival as they feel it's in good hands. Anita is focused on her acupuncture clinic in Henderson while Lee, who is still a festival consultant, has shifted his career to fine art and has a studio in Las Vegas. That said, their hearts and thoughts are not far from the festival they created.
"I'm proud of it being a very well-respected festival by both the community at large and the filmmakers," she said. "It's a big deal to just be in the festival. And, it's important to have such a great team who will continue the festival."
Lee then added, "They understand the culture we built and realize why it's important. It was a little tough stepping away but when the time is right, it's right."