DA won't pursue attempted murder charges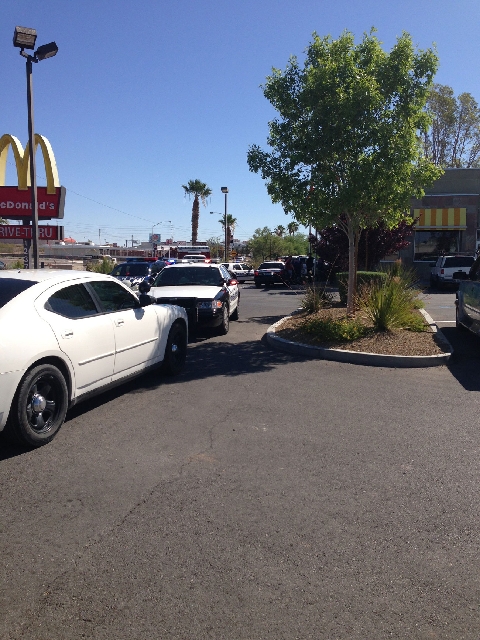 Prosecutors have decided not to pursue attempted murder charges against a Reno man arrested Friday in front of McDonald's.
Jonnie Lynn Seely Jr., a 29-year-old veteran of the Iraq War, was unarmed at the time of his arrest in front of the Nevada Highway restaurant. According to police, he was planning to meet his father, whom he wanted to kill, in an attempt to retrieve three military medals.
He was arrested on a tip from Mohave County (Ariz.) sheriff's office, which had been in contact with a family member, that Seely planned to kill his father.
A search warrant executed on a vehicle registered to Seely recovered a pair of firearms.
However, the Clark County district attorney's office decided to file a single charge of resisting a police officer, a misdeamenor.
The fact Seely did not have any weapons on him when he was arrested coming out of McDonald's, where he was to meet his father, was a factor.
Chief Deputy District Attorney Lynn Robinson said the office believed there was not enough evidence for the attempted murder charge to stand up in court.
"Attempt murder is a charge of specific intent and you have to have an act in furtherance of it," Robinson said. "What he did was say he was going to kill his dad … but he didn't really make an act of furtherance of it. Attempt murder is a very hard charge to prove"
Boulder City Justice of Peace Victor Miller released Seely on Tuesday for four days time served for the resisting a public officer charge.
Seely, wearing blue clothing of the Clark County Detention Center and handcuffed at the waist, told Miller that he'd only come to Boulder City to retrieve from his father medals he had earned.
"I had no intent to do anything other than get my military awards," he told Miller.
Seely, who said he had been stabbed while in the military, told the court that he'd tried to get his father to mail the medals, but his dad was "keeping them for leverage against me."
When Miller asked him what the father would need leverage for, Seely responded, "I don't know."
According to the police report, Seely had been threatening to kill his father by phone text and verbal threats. It is unclear from the police report to whom he made the threats.
Mohave police contacted Boulder City police June 12 after receiving a tip from a family member that Seely planned to "kill–shoot" his father two days later. It is unclear from the report if the father lives in Boulder City.
"On Friday, local police learn the father is on his way to McDonald's on Nevada Highway to meet Seely," the police report says. "When an officer approaches the suspect, Seely begins yelling expletives at the officer, claiming 'I don't have to tell you anything.' "
According to the report, a "small crowd of McDonald's patrons began to form watching the disturbance while police are unsure if Seely has any weapons on him."
After refusing to identify himself or cooperate with police, Seely was arrested by two officers.
According to statements at the scene from the father, Seely had "threatened to bring a 'posse' — from Reno — to beat" the father, then shoot him. The father also said a threat was made to burn down his house.
Robinson said that despite the fact Seely drove from Reno and made verbal threats, the fact he left the guns in his car at McDonald's when he knew he was going to meet his dad would be important in court.
"We didn't feel we could prove beyond a reasonable doubt," she said. "We have to prove all of the facts surrounding what happened at the moment at the McDonald's. That we just couldn't do."
Miller told Seely on Tuesday the best way to recover the three medals would be to file a criminal complaint.
According to police dispatch reports, attempts to call McDonald's before the incident went unanswered.
Additionally, Seely first planned to meet his father in front of the police station on Arizona Street on Friday. Police were told by Mohave police that whoever survived the ensuing duel planned to commit suicide by cop, the dispatch report said.