County commissioners seek more land for development
Updated June 20, 2018 - 4:02 pm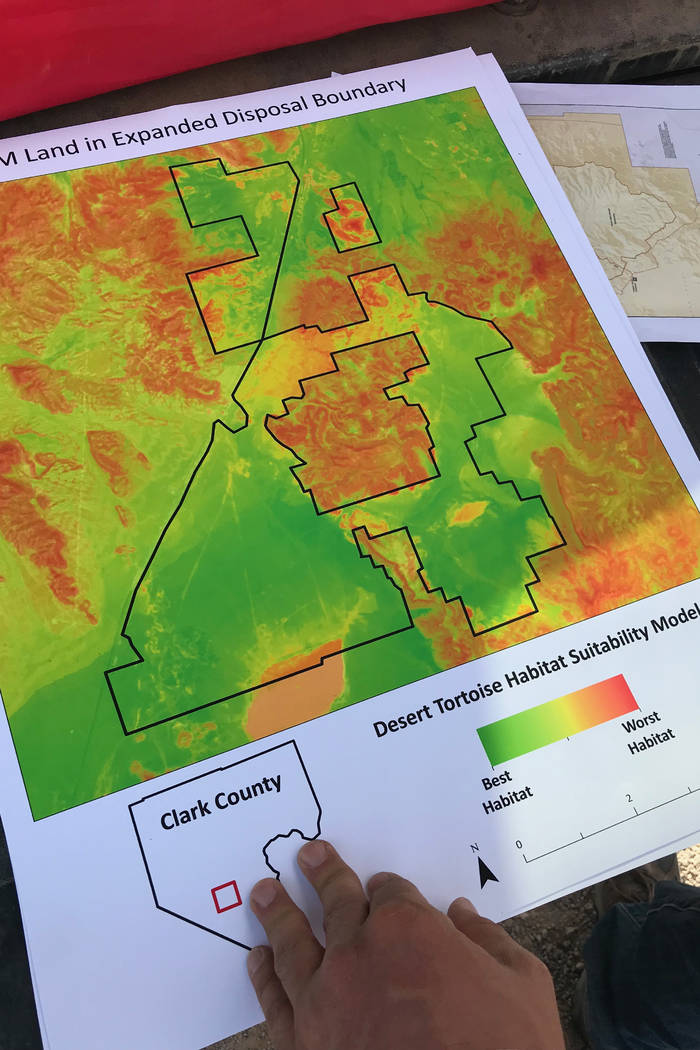 The Clark County Commission approved a resolution Tuesday requesting federal legislation to allow more than 44,000 acres of public land controlled by the Bureau of Land Management to be available for development.
This land runs along Interstate 15 outside of the Las Vegas metropolitan area and in Henderson. A portion of it abuts Boulder City near the Eldorado Valley, which is causing some residents to be concerned.
"The way it was described made it seem … water intensive," said Boulder City resident Jay Piper. "It presents the risk that the whole valley will enter a shortage sooner. … Residential development doesn't answer where the water comes from. … I worry about our future and Lake Mead."
Resident James Adams said he is concerned about the environmental impact the development could cause as well as the lack of time for public input.
"Ultimately, my biggest concerns relate to environmental impact: water, asbestos, wildlife habitats, etc. … The rushed timeline was based on the BLM's need to finalize their usage plan," he said. "The concern was that if Nevada did not get this approved, then the BLM could determine how to dispose of the land with zero input from Nevada. The whole thing felt like a catch-22. Ultimately now, should congress approve of this acquisition, individual proposals for land use will come before their respective municipalities for constituents to voice their opinion. I don't think this vote will be the straw that breaks the camel's back, but her legs look like they're buckling."
Adams was also concerned because it seemed like the other major cities involved had been contacted, but no one had talked to Boulder City, which City Manager Al Noyola confirmed.
"They have not reached out to city leadership. … The city manager's office has not received any written correspondence for it," he said.
Noyola added there is nothing the city can do right now as the resolution still has to get congressional approval.
"There's nothing for us to do at this point," he said. It's county driven and we weren't asked for input. We don't see any negative input to Boulder City."
"The city is aware of the Clark County board's approval yesterday of a resolution urging the Nevada delegation to advance federal legislation that would expand conservation lands and the disposal boundary," said Community Development Director Michael Mays. "According to Clark County Director of Air Quality Marci Henson, this is the first step in the process. Boulder City staff will be working with county staff to further evaluate the proposal and to participate with our regional partners in the ongoing process."
The commissioners' 6-0 vote came after almost two hours of mostly negative input from the audience.
Other provisions would add 41,000 acres to the Moapa River Indian Reservation, transfer to local control of any federal land where schools, parks, flood control basins and other permanent public infrastructure have been built, and use fees collected at Red Rock Canyon National Conservation Area to reimburse county police and fire services for emergency calls at the conservation area.
Las Review-Journal Reporter Henry Brean contributed to this report.
Contact reporter Celia Shortt Goodyear at cgoodyear@bouldercityreview.com or at 702-586-9401. Follow her on Twitter @csgoodyear.