Council to start town hall meetings, allowing informal talk between city, residents
August 23, 2017 - 2:24 pm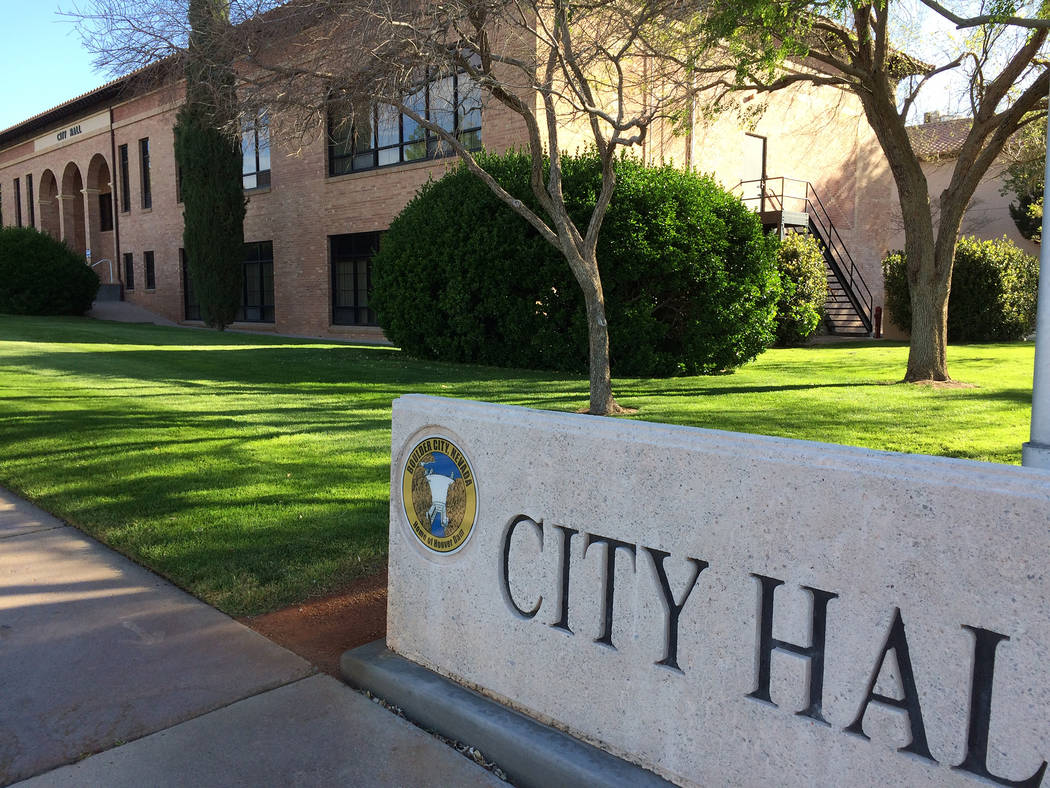 Residents soon could have a new way to communicate with city officials as staff is moving forward with holding quarterly town hall meetings.
Councilman Warren Harhay requested adding a discussion about the sessions be put on the agenda for Tuesday's City Council meeting.
He said there are many opportunities for residents to comment publicly about Boulder City, but there is no real opportunity for two-way conversation with them and the city.
The town hall meetings would be informal and compliant with the open meeting law, meaning only two members of council could be present and no minutes or action would be taken. They would also not be aired live on BCTV or live streamed from the city's website.
Harhay said he hoped having them would "presolve" some problems by helping disseminate correct information about issues and things going on in town, as well as dispelling some of the "hysteria and angst" people have when they're "uneducated" about what is happening.
Other members of the council supported the idea, too.
Councilwoman Peggy Leavitt commended Harhay and said town hall meetings were something she had wanted to do since first coming onto the council, but they had not worked out yet.
"Thank you for pursuing this and having the courage to talk about it," she said.
Mayor Rod Woodbury said he also supported town hall meetings but they should be sustained in meaningful ways with staff and council input.
Councilman Kiernan McManus also liked the idea but thought it would be helpful to have the meetings filmed and minutes taken.
"If you're taping and doing minutes, you're no longer having a town hall meeting," said City Clerk Lorene Krumm.
She added that any topic that arises at a town hall that needs action can be put on a future council meeting agenda.
In addition, Harhay expressed concern that having a video camera at the town hall meeting could have a chilling effect, preventing people from talking as freely as they would have otherwise.
Despite that McManus still felt that having cameras recording was a good idea.
Residents at the meeting also liked the concept of having town hall meetings.
Council unanimously approved having the city manager and staff start planning for the first one, which was tentatively set for October.
In other actions, council:
n Approved extending the limited, temporary license agreement by six months for use of the old airplane hangar at 1401 Nevada Highway. The facility is currently leased to Rowley Contracting Inc. and used for storage.
n Approved amending Title 11, Chapters 2, 20, 21, and 25 of the city code with minor updates and corrections.
n Heard a presentation by Workforce Connections regarding the One-Stop Career Center at Boulder City Library.
n Heard a presentation from Nevada Department of Transportation, Regional Transportation Commission of Southern Nevada and Las Vegas Paving Corp. about Phases one and two of Interstate 11.
n Heard a presentation and update from Wes Anderson, executive director of the Nevada League of Cities, on the recent legislative session and league activities.
Contact reporter Celia Shortt Goodyear at cgoodyear@bouldercityreview.com or at 702-586-9401. Follow her on Twitter @csgoodyear.