Council to consider annexation of Eldorado Valley land
February 8, 2023 - 3:39 pm
Updated February 9, 2023 - 10:30 am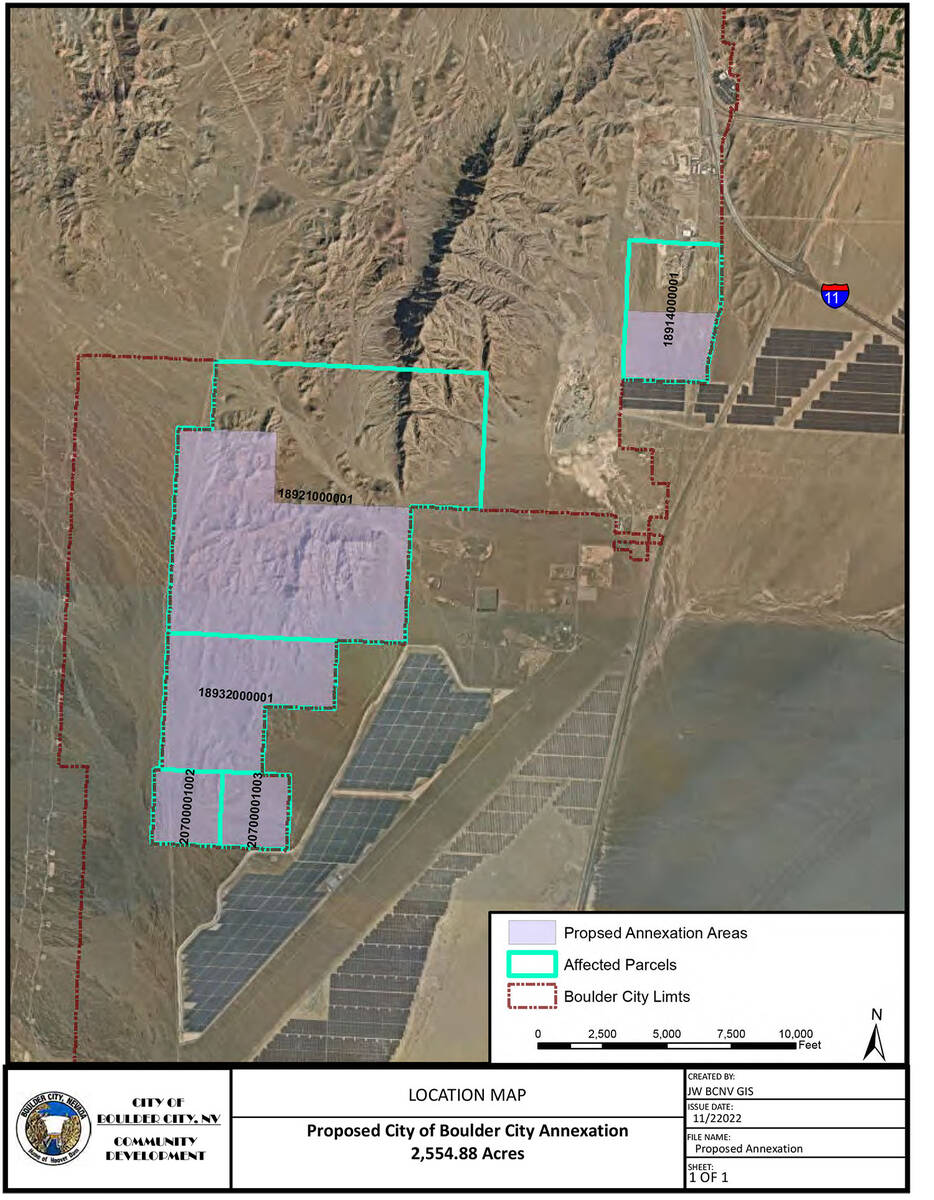 The City Council intends to begin the process for the possible annexation of a large tract of land just west of the current city limits during its meeting scheduled for Tuesday.
The land, which is owned by the Bureau of Land Management, is in the Eldorado Valley and sits between the boundaries of Boulder City and the city of Henderson. It is currently not a part of either city's jurisdiction. Boulder City officials have been working with their counterparts in Henderson to come to an agreement on which city should control the land. As a result of those efforts, the City Council will propose the annexation of 2,555 acres.
The area under consideration is divided into two parcels. The northern-most plot consists of about 204 acres, of which 80 acres would be used for an expansion of the Townsite Solar project. The bulk of the land lies south and west of that parcel and is surrounded on three sides by the current boundaries of Boulder City. It is not slated for commercial or residential development.
Both of the areas under consideration would continue to be owned by the BLM.
Other acreage in the Eldorado Valley are has already been annexed by Henderson, which intends to develop it.
"This is the first step in the process of annexation," said City Manager Taylour Tedder. "If the City Council passes this resolution, which states our intent to annex the property, a public hearing will be scheduled for March 28, 2023. The 2,500-plus acres proposed to be annexed will remain BLM owned and will preserve open space (with the exception of approximately 80 acres for the Townsite Solar expansion). We appreciate the support received from the city of Henderson and the BLM on this proposed annexation for Boulder City."
The city has already received notice from the BLM that it does not object to the annexation.
If the process moves forward after the public hearing, a bill would be introduced in late April and discussed by the council during its first meeting in May. Annexation could be effective as early as May 31.
Contact reporter Bill Evans at wevans@bouldercityreview.com or at 702-586-9401.