Council softens stance on board members' speech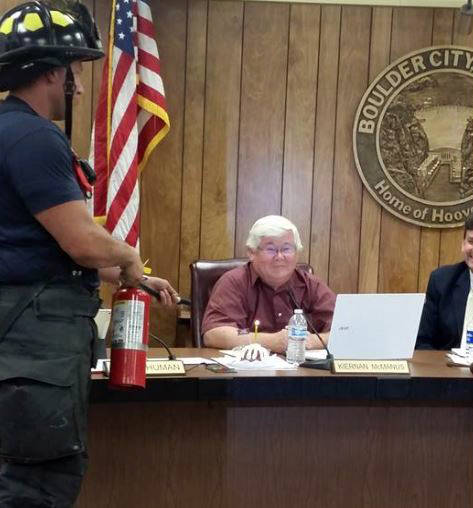 Members of Boulder City advisory boards will still be able to talk to the press and comment on the topics facing them despite an amendment to the city code.
At its meeting on Tuesday, May 22, City Council unanimously approved adding a new chapter to Title 3 of the city code.
One part of that chapter, Section B of the standards of conduct, determines what board members can say about items on their committees' agendas.
The first draft of that section said that they must forward all inquiries from the press or other media to the staff liaison. It also said that board members "will make no announcement, nor give any information about, any pending matter before the board, or action taken by the board, to the press or other media."
"This to me is an outrageous attempt at stifling free speech in favor of on-brand marketing," said resident James Adams. "This is a city government, not a corporate entity."
"I think this is … not well thought out … and I feel kind of insulted that the city would think those of us that volunteer to do things, to try to do our best for the city and care about the city are stupid and need to be controlled like a second-grader," said resident Judy Dechaine.
Resident Rob Martin said he thought inquiries being put to the staff liaison was wrong.
Prior to the meeting, council members had asked staff to make some changes because of their concerns and from concerns they had heard from members of the public. City Clerk Lorene Krumm presented those changes, which allowed board members to express their personal opinions about items on the agenda and to refer "all" press or media inquiries to the staff liaison.
"I still think we have more issues in this," said Councilman Kiernan McManus.
Councilwoman Peggy Leavitt suggested removing that paragraph entirely from the amendment because the standard of conduct signed by each board member says that any public comments they make on behalf of the committee or board will be made with approval by the board and in line with the organizational policy.
"I think it's redundant and this (the standard of conduct) is more clear," she said.
Planning Commissioner Tom Clements said that the proposed ethical standards presented "seem normal."
McManus was also concerned with a part of proposed section, 3-1-4, which said that any question regarding the powers and duties of any board or the interpretation of Chapter 3 of the code "shall be determined by the city attorney," except when other law was applicable.
He wanted the city attorney's interpretation to be "advisory rather than determinative."
Krumm suggested removing that paragraph because the city charter allows the city attorney to provide advice to the City Council anytime there is a question about the law. She also said that staff goes to the city attorney to get his opinion when it is needed.
There also had been some concern expressed about Section D of the proposed standards of conduct that gave the city manager the ability remove members of the boards if they violated administrative policy. It was changed to say that he could recommend their removal to council unless it was otherwise prohibited by the city charter or code.
Council also removed language about board members receiving training from the ordinance amendment, instead adding it to the advisory boards standards of conduct. In addition, it chose to not postpone the vote on the amendment despite some residents asking for more time to look at the changes.
Contact reporter Celia Shortt Goodyear at cgoodyear@bouldercityreview.com or at 702-586-9401. Follow her on Twitter @csgoodyear.