Council OKs first step to raise waste fees
November 23, 2016 - 2:03 pm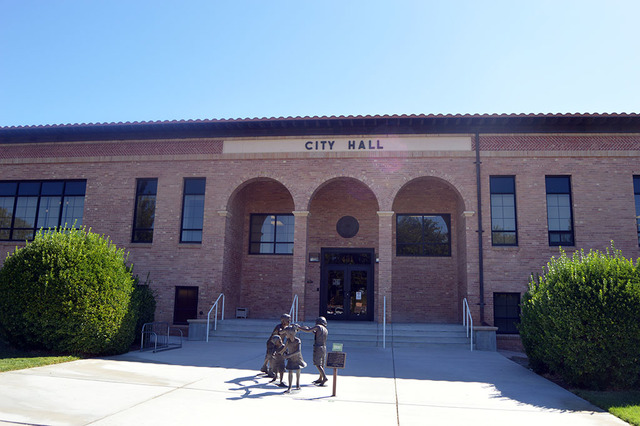 Boulder City Council unanimously voted to approve a business impact statement regarding proposed fees for recycling.
The impact statement was needed because B.C. Waste Free, the company contracted by the city to manage the city's waste, requested that the council approve rate increases for recycling costs.
B.C. Waste Free is asking for an 8 percent increase for commercial users and a 5 percent increase for residential users.
The actually dollar amount of the proposed rate increases depends on the size of the customer's trash can or dumpster and the number of times B.C. Waste free comes to pick up trash. For example, a commercial customer with a 3-yard trash container who gets service three time a week will see the monthly waste cost go up from $328 to $353.
Despite the fact that the company is a private contractor it must get approval from the City Council to raise rates because the city has a number of assets in waste management, such as the Boulder City Landfill.
Robert Martello, general manager of B.C. Waste Free, said the increases are necessary to catch up with current costs for processing recycled material.
"We have already paid over $100,000 this year to manage recycling in the city and our costs are going to get higher," Martello said. "Recycling has been a success in Boulder City with over 90 percent of residents participating, but we need to increase rates."
According to the Institute of Scrape Recycling Industries, a group that tracks market prices for recycling across the country, B.C. Waste Free is making less revenue than in the past.
In 2012, B.C. Waste Free received $60 per ton for waste recycling and $125 per ton for recycling steel. During this fiscal year, B.C. Waste Free has received only $50 per ton for waste recycling and $20 per ton for steel.
Martello said that the company's profits have gone down because the city's rates have not kept up with costs.
Council members did not say if they supported rate increases or not, but Councilman Cam Walker applauded city employees and B.C. Waste Free for getting out information on potential rate increases in a clear and precise way.
"This is they way communication should occur," Walker said. "I applaud the city and B.C. Waste Free for laying out the rate increases in a way that people can understand."
The Department of Public Works held a meeting for public comment on the proposed recycling fees Nov. 14 with 13 residents attending, but no one from the public made a written comment so no public comments were added to the impact statement.
City Council will vote on rate increases for recycling as well as increases for other utility fees during its Dec. 13 meeting.
In other actions:
n Erika McDonald was nominated to fill a seat on the Parks and Recreation Commission. McDonald was the only nominee for the seat and was therefore appointed to the committee by default.
The new member of the commission is taking the place of longtime community leader Christy Springgate-Hill, who lost her battle with cancer in October.
McDonald will now begin a four-year term on the commission, which ends June 4, 2020.
Councilman Rich Shuman nominated McDonald and said she was more than qualified for the job.
"I think Erica McDonald will make a fine addition to the commission and I am happy to nominate her."
The Parks and Recreation Commission meets on the fourth Monday of every month.
n Council approved the rezoning of 441 acres of city-owned land in Eldorado Valley.
The land, which is near the dry lake bed, was labeled with a government park and open lands designation. The dry lake bed is now designated as an energy resource and manufacturing energy plot on the city's zoning map and master plan.
The designation was needed to expand the amount of land solar company Sun Power could use on the dry lake bed. Sun Power currently has a lease on the land in that area.
Contact reporter Max Lancaster at mlancaster @bouldercityreview.com or at 702-586-9401. Follow him on Twitter @MLancasterBCR.