Council looks at plans to raise water, sewer connection fees
November 9, 2016 - 1:48 pm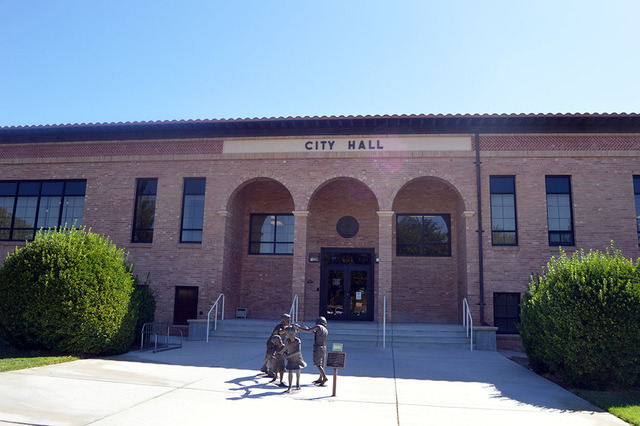 City Council approved three separate business impact statements at a short council meeting on Tuesday.
The impact statements were created by Director of Public Works Scott Hansen and they pertain to potential new fees regarding sewer and water connections, as well as new fees for the Boulder City Municipal Cemetery.
The business impact statements said that the city has not looked at new connection fees since 2006 and that a change is needed to more aptly match Henderson's cost of connecting water and sewer.
"We have not updated these fees since 2006 and I think it is time that we do that," Hansen said. "We need a better fee schedule that is more in line with our operation costs."
The proposed water and sewer connection fees for a residence or business match the cost of connection in Henderson and are less expensive than fees in Las Vegas.
The fees will calculate the cost of connection based on the size of water and sewer lines needed.
For example, a person or developer in need of ¾-inch meter water line would pay a $6,470 connection fees, up from $3,560, while the basic sewer connection with a 3- or 4-inch service would pay an $1,800 connection fee, up from $1,000.
The city also approved a business impact statement for the Boulder City Municipal Cemetery.
Hansen said that fee changes for the cemetery were needed because the area losses a lot of money every year.
"The cemetery puts us in a $47,000 shortfall every year and we have to update our fees," Hansen said.
The proposed change for cemetery fees would deal with plot purchases by residents. Currently, Boulder City residents are able to buy a plot of land at the cemetery for $550 while nonresidents pay $3,600 for one adult burial plot.
The proposed fee would increase cost of a plot for residents to $3,600, but make the cost of a burial free. Nonresidents will pay $700 for a full burial and $600 for a cremation, with the cost of the plot remaining the same.
Hansen said he is proposing this increase because residents who buy plots are selling them to nonresidents at a cheaper price and keeping the city from making the money needed to break even.
"We have people selling their plots for a profit to nonresidents and I don't think that is how city-owned land should be used," Hansen said. "We don't want to make money off anyone with these new proposals we just want to break even."
The proposal also includes an annual 2.5 percent increase.
The council will continue to look at the impact statements and will vote on implementation of the new fees at a council meeting on Dec. 13.
In other actions:
■ Developer SHF International was awarded a bid to construct a restroom building at Boulder Creek Golf Course. The company agreed to do the project for $118,046. It was the lowest bidder and the cost of the project will come from the capital improvement fund.
■ Council voted to label three city-owned cars as surplus. The vehicles will be put up at public auction and sold to the highest bidder.
■ Council recognized Boulder City High School student and 3A State Golf Champion Lani Potter for her 20-stroke victory in the state tournament. Councilman Cam Walker said it was great to have so many competitive athletes in the community.
Contact reporter Max Lancaster at mlancaster @bouldercityreview.com or at 702-586-9401. Follow him on Twitter @MLancasterBCR.