Council denies appeal for liquor license request
November 2, 2023 - 11:16 pm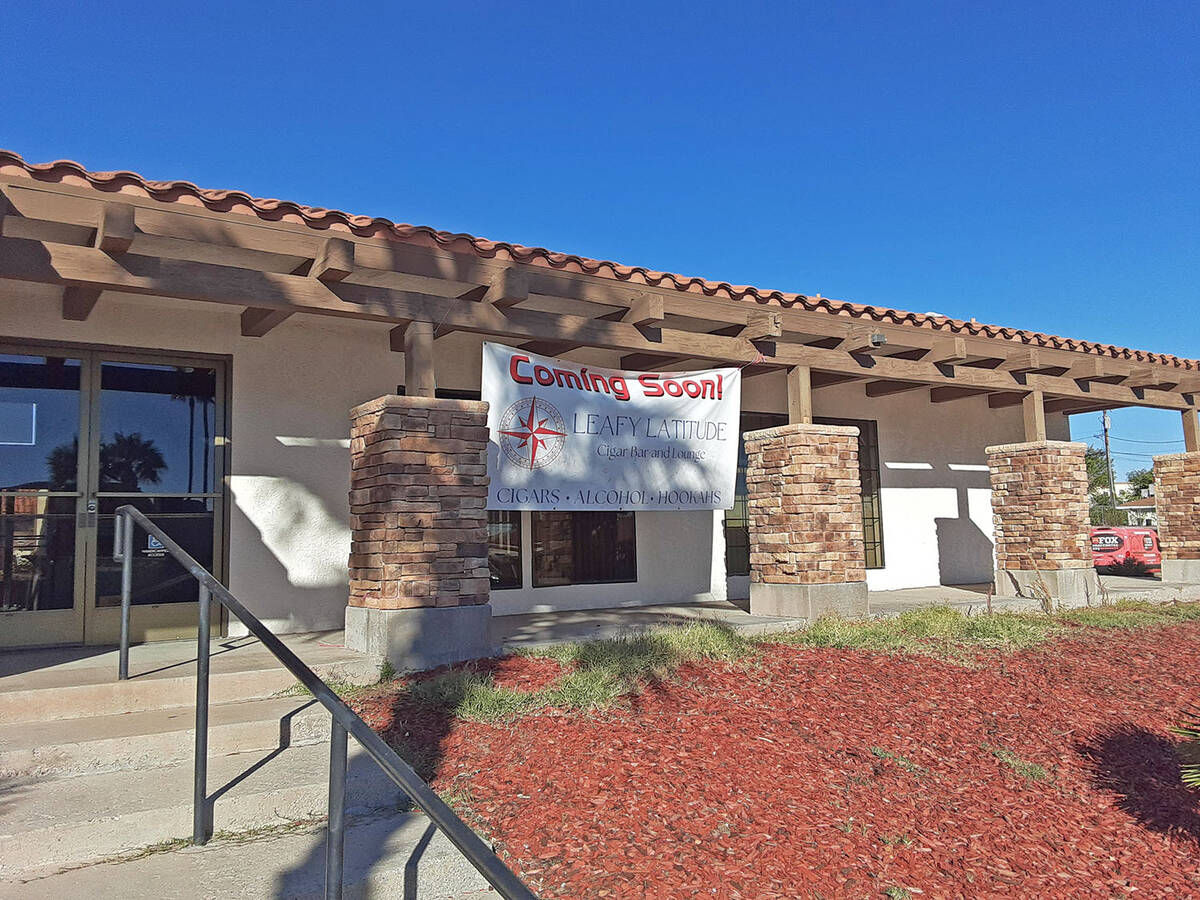 When the "coming soon" sign first appeared, it may have signaled hope for some that the building at 1000 Nevada Way, which once housed a branch of Nevada State Bank and that has been a vacant shell for more than four years might be reborn as something new.
Admittedly, a cigar and hookah lounge called Leafy Latitude might have struck many as an unlikely progression for a former bank building. And, in fact, it now seems that "coming soon" may have been overly optimistic.
In their meeting of Oct. 24, the city council voted 4-1, with Councilmember Matt Fox dissenting, to uphold a denial issued by the Business License Liquor Board in mid-September.
That entity, usually shortened to just Liquor Board, consists solely of senior members of city staff – City Manager Taylour Tedder, City Attorney Brittany Walker and City Clerk Tami McKay. They voted unanimously to deny the license application.
The applicant, T&S Bar LLC, presented a plan for a tobacco retailer and cigar/hookah lounge where people could smoke on premises and where they could also purchase and consume alcohol.
That mixed-use bit is crucial. In Boulder City, it is really the only way a new business can get a liquor license. The municipal code only has one license category that allows for sale and on-site consumption of alcohol as a primary business. It is known as a tavern license and, per city code, there are only three such licenses available and all have been spoken for.
The Liquor Board, and especially Walker, seemed to take the position that this business was trying to get around those limitations.
"I also have significant concerns in general that this applicant could ever meet our business license and liquor licensing code," Walker said. "Because they are applying for the cocktail lounge liquor license, which requires that there be a principal business other than the sale of alcohol. With the sale of alcohol only, there is only one license category that applies, which is our tavern license and we are limited to three in the entire city based on our population under our code. We are limited to three tavern licenses. I do have concerns that this business, in effect, would be operating as a tavern rather than a cigar and tobacco retailer. So for all of those reasons, I will be voting to deny this application."
As the applicant had, at the time of that meeting in September, not yet procured the tobacco retailer license from the Nevada secretary of state, it was an understandable objection. But, after Tedder expressed that he felt that the prospective business owners needed to have the state tobacco license before a liquor license could be approved, Walker continued to express doubt.
"Even if they had the tobacco license, I don't know that I would approve this liquor license because I have significant concerns that this would be operating as a tavern and we only allow three in our jurisdiction," she explained. "The financials are not convincing at all that [tobacco retailing and lounge] would be a primary business. I feel that the sale of liquor would be the primary business."
The financial information referenced consisted, according to city reports, of just a spreadsheet showing what the applicants were forecasting as possible revenue from both tobacco and alcohol sales with no supporting documentation.
Brady Prestwich, the utility billing supervisor for Boulder City, who also works with the issuance of business licenses, spoke to the council at their most recent meeting outlining what had already occurred. He clarified that since the original denial, the applicants had obtained and provided a copy of the tobacco license to the city, which had been a major sticking point in discussions by the Liquor Board.
But in the end, it made no difference. After some discussion and explanation of the very nature of a hookah lounge, a representative of the applicant told the council that they had not been clear about the needed paperwork but intended to be a good neighbor and to bring a luxury experience to Boulder City that is not already available.
Councilmember Steve Walton asked for clarification of the code requirements, which resulted in Walker, who appeared to lead the charge against the application as a board member, providing info about the appeal to the council in her role as city attorney.
Only Fox sided with the applicant. Noting that he had been to a few cigar lounges and that alcohol consumption was ancillary to the overall experience, he discounted doubts expressed by others about the viability of the business.
"I think we should approve it," he said. "Let them try. If it doesn't work, it doesn't work. But I don't think we should be the ones to say 'no'."