Cortez Masto tours airport, gets report on improvement projects
August 11, 2023 - 10:38 am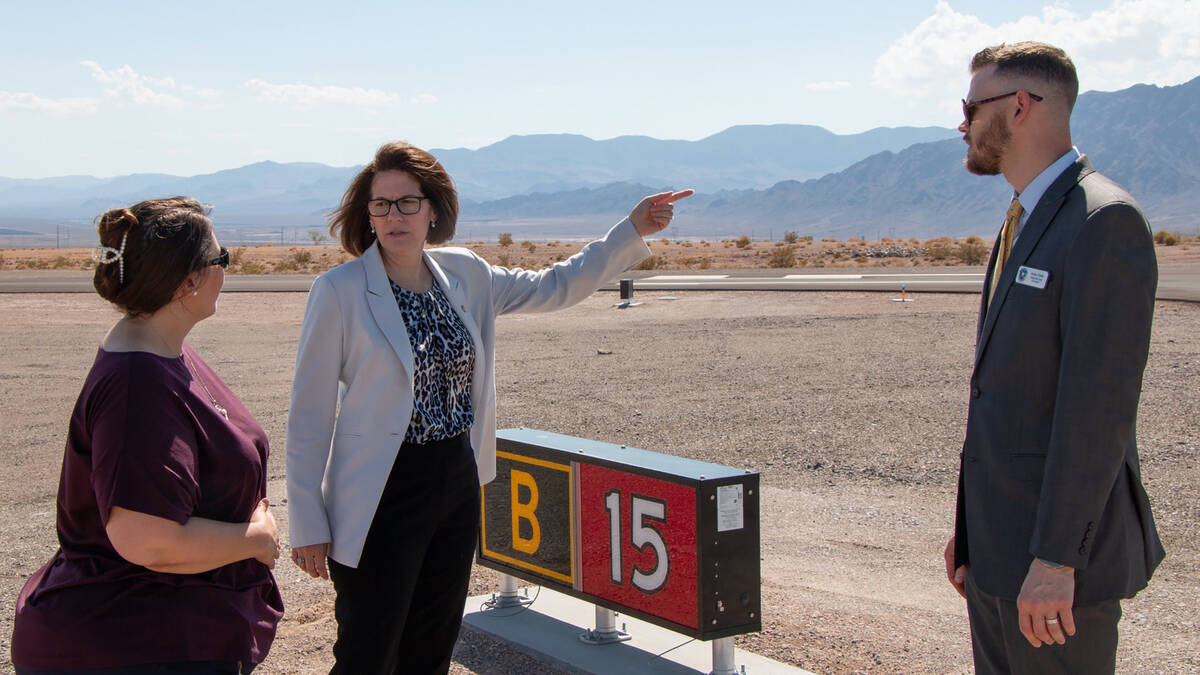 U.S. Sen. Catherine Cortez Masto (D-Nev.) toured the Boulder City Airport to discuss federal funding she's secured to improve infrastructure and safety at the airport.
"From making sure the airport can get the funding it needs, to build a new air traffic control tower, to delivering grants to keep their runways up-to-date, I've fought to help the Boulder City Airport make infrastructure upgrades and keep travelers safe," said Cortez Masto. "The airport is a vital part of Boulder City's economy and I'll continue working to make sure they have what they need to support residents and tourists alike."
Since 2019, Cortez Masto has helped deliver federal grant funding to the Boulder City Airport through government funding legislation for infrastructure improvements, including runway rehabilitation and airport operations. She has also worked to ensure that Boulder City Airport can access a federal program that is providing funding for a new contract tower for air-traffic control.
The secured funding includes a $281,250 share of a nearly $5 million fund that went to 10 Nevada airports funded by the Bipartisan Infrastructure Act that was passed in 2021.
"Our airports provide so many essential services to Nevada's rural communities, and I'm glad these federal funds I secured will help them make needed updates to support safe operations," said Cortez Masto when that funding was originally announced. "I'll continue working to strengthen our rural communities and support their growing economies."
In April of 2020, the airport received a funding infusion of nearly $2.7 million as a result of the CARES Act, the first of multiple federal grants related to the COVID-19 pandemic. In a short meeting with Airport Manager Marissa Adou and City Manager Taylour Tedder prior to touring the airport, Cortez Masto was told that the CARES funding had largely gone to the construction of a new fuel farm. The previous fuel facility, which included underground tanks which were reported to be leaking, was described by Adou as badly in need of replacement. The new tanks will allow the airport to offer jet fuel, a big consideration as huge international events including the upcoming Formula 1 race and the 2024 Super Bowl in Las Vegas are expected to bring significantly-increased international traffic to Boulder City as airports within the Vegas Valley are already at capacity.
Also noted was a recent resurfacing of the primary runway as well as the installation of LED lighting on the runway.
Masto asked about progress on an air control tower and was told that airport staff are currently working with tribal authorities to address concerns about the depth of support footing that would need to be excavated in order to build the tower. Masto was informed that the airport currently does not have a control tower and that avoiding collisions is the responsibility of individual pilots.
Once the studies and plans, including environmental reviews are completed, it is estimated that tower construction would cost $14 million and take about one year to complete.