Controversy surrounds Ameriway as it closes Boulder City location, heads to Henderson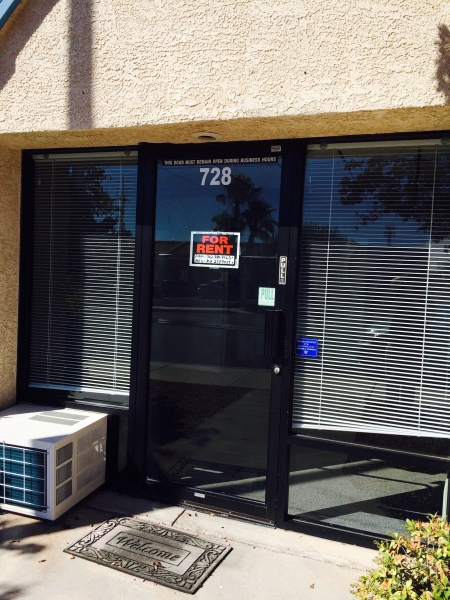 Ameriway Charities has closed its doors less than nine months after opening in Boulder City.
According to founder Paul Tarantino, the charity officially closed its Boulder City office Aug. 1. It will move to a Henderson location at Boulder Highway and Major Street where it is expected to open by the beginning of September.
An ad was placed on Craigslist in reference to purchasing a nonprofit, with the Ameriway logo featured in the ad. The phone number listed was the same telephone number used to reach Tarantino, though Tarantino said it was in reference to his brother's nonprofit.
The ad has since been removed.
"Ameriway isn't up for sale," Tarantino said.
The charity is listed as a nonprofit and is registered with the IRS, according to Guide Star, an informational service that specializes in reporting nonprofits.
Earlier this year, Tarantino described the charity as one helping the "poor, needy, hungry, elderly and people with emergencies" as well as providing "spiritual support."
Tarantino said the charity's board of directors consists of himself, as well as Las Vegans Jeff Keller and Bob White. He said he decided to close Ameriway in Boulder City and relocate to Henderson because of the thrift store's inadequate location at 728 Canyon Road.
"There's not necessarily a reason for moving. Just the location. It wasn't right," Tarantino said.
According to Tarantino, all of those working at the thrift store were volunteers. He said didn't have an exact number of people affected by the closure because the number of volunteers varied from month to month.
Ameriway also had two donation bins inside the Haggen's parking lot, but Tarantino said the city wrote letters asking the property owners to remove the bins.
"We feel that the city of Boulder City didn't want us here," he said. "They seem like they're real nice, but then they're sending these letters. I feel like the city didn't want us to be here in the first place."
Jill Craig, who serves as the city's environmental compliance coordinator, said the city was getting complaints about trash being left outside Ameriway's donation bins. She said it wasn't anything personal toward Tarantino or Ameriway.
"The city has received multiple complaints about illegal dumping in the lot," she said. "We don't have a problem with the bins at all, we just wanted to ensure that the area around the bins didn't have trash dumped on it."
The Boulder City Review had received numerous complaints from people regarding previous interactions with Tarantino and Ameriway Charities, including Phoenix resident Alfred Trujillo.
Trujillo said he was disappointed with Tarantino after he and his wife set up as vendors during the Ameriway festival held in Boulder City two months ago. He said Tarantino misled them about the number of vendors that would show up to the event, as well as the activities that were supposed to take place, including a car show and a dunk tank.
Trujillo said Tarantino told him there would be about 100 vendors at the event, though he counted just 12 by the time he and his wife left. What was supposed to be a car show, he said, resulted in just one classic car being there.
"There was no foot traffic at all," he said. "It became clear that there would be nobody there."
Disappointed with how the event turned out, Trujillo said he asked Tarantino for a $200 refund that he and his wife paid to have a spot at the festival.
"He obscenely gestured to his crotch, and stated that my refund 'is right here, come and get it,' before stating that we had 15 minutes to leave before he would have us removed," Trujillo said in an email. "I understand there's risks in dealing with any business, however, we want to make sure this is brought to your attention to prevent future issues like the one we experienced in your city."
Tarantino vehemently denied that he grabbed his crotch at the Trujillos, saying it was an "indecent and horrible" thing to do.
He added that he offered to give them a refund when they asked for one on the festival's first day, but they declined and said they'd "stick it out." Tarantino said they asked again for a refund the following day, but he told them no.
Trujillo said he and his wife were so disappointed with the first day, that they didn't even show up for the second day of the festival.
Tarantino described them as "crazy," and said he had to call the police because they were the ones who threatened him.
"They got what they were promised. A space," he said.
Contact reporter Steven Slivka at sslivka@bouldercityreview.com or 702-586-9401. Follow him on Twitter @StevenSlivka.