Clark County changes rules for tavern slot establishments
December 11, 2014 - 10:50 am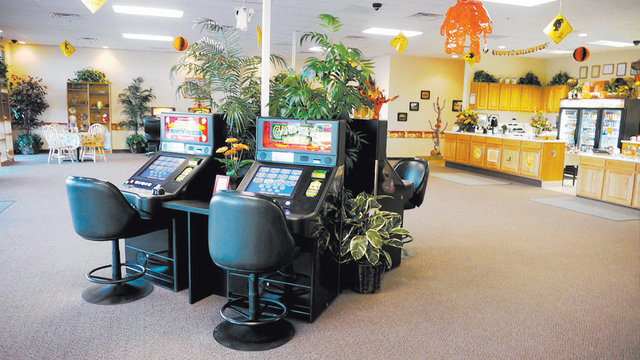 Clark County commissioners approved regulations Dec. 3 affecting slot machine operations in taverns.
The changes, aimed at the Dotty's tavern chain, passed on a 6-1 vote. Commissioner Chris Giunchigliani cast the lone dissenting vote and had pushed unsuccessfully for an amendment allowing existing taverns more time to comply with the new regulations.
The new ordinance requires taverns to operate a full-service kitchen and embed more than half of the location's slot machines into a bar top. If that requirement isn't accomplished, the taverns must show that slot machine revenue is 50 percent or less than other revenue.
If a tavern is unable to accomplish at least one of those requirements, it must reduce the number of slot machines from 15 to seven. The ordinance is effective immediately for future tavern applicants.
For taverns already in place, the revenue reporting period starts Jan. 1. After a year, they'll report their revenue figures for 2015.
"If they're getting less than 50 percent of their revenue from gaming, it doesn't matter what they do, they're OK," commission Chairman Steve Sisolak said.
The decision followed a three-hour public hearing Dec. 2 that featured testimony from the tavern industry.
The Dotty's business model, which offers a simple food and beverage selection with 15 slot machines, has come under scrutiny, with critics contending it's more a slot parlor than a tavern with incidental gaming.
"This is a small group that I feel has been operating as slot parlors (and) were never taverns to begin with," Sisolak said.
Dotty's has 120 taverns in Nevada, 80 of them with 15 slot machines apiece. The changes affect 25 of the 28 Dotty's locations in unincorporated Clark County. Dotty's is the parent company of the Hacienda/Hoover Dam Lodge just outside Boulder City.
"I'm disappointed," said Mike Eide, chief operating officer of Dotty's. "At this point, it is what it is."
The company has estimated it would cost $10 million to comply with the ordinance.
Eide said Dotty's has a two-page menu and kitchen, adding, "This idea that people talk about how we don't sell any food — it's absolutely false."
The changes had the support of the Nevada Resort Association, tavern operator Golden Gaming and Station Casinos.
"It levels the playing field and requires people who are operating slot parlors to operate a true business other than gaming," said Sean Higgins, an attorney for Golden Gaming.
Gaming laws require that revenue from slot machines in restricted locations that have as many as 15 machines must be incidental to the business' primary purpose.
The definition of incidental has been left open, and most Dotty's locations make more than half of their revenue from gaming.
Clark County in 2011 had changed tavern regulations, requiring Dotty's to have bar-top slot machines and a restaurant. But supporters of the new changes say it closes loopholes that still existed after the 2011 changes.
Giunchigliani suggested that existing taverns be given six months to complete renovations so they would have ample time to adjust to the new regulations. It would also put the county on stronger legal footing, she said.
"I also believe when government makes changes, you give people ample time to comply one way or another," she said.
Contact Ben Botkin at bbotkin@reviewjournal.com or 702-405-9781. Find him on Twitter: @BenBotkin1.