City seeks to disqualify judge in crosswalk case
November 14, 2018 - 4:52 pm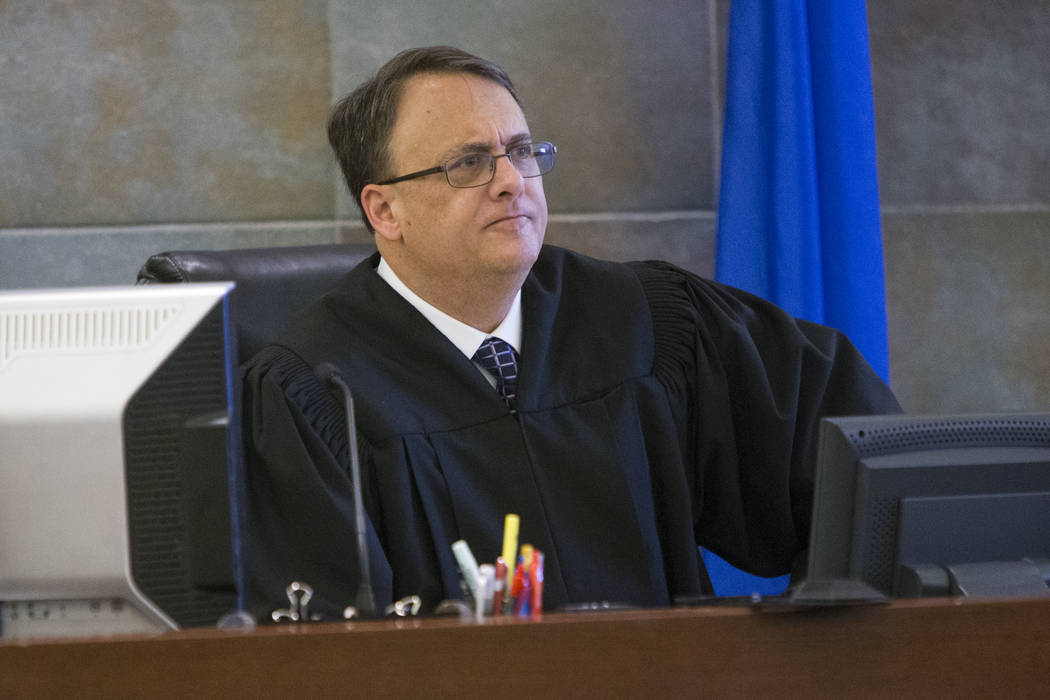 Boulder City is requesting that the district judge who declared it guilty of vindictive prosecution be removed from the case for allegedly demonstrating bias and showing himself unfit to preside over the matter.
The city is also claiming the judge did not follow the proper procedure and communicated with the opposing party without the city's counsel present.
District Court Judge Richard Scotti issued a written order Oct. 29 that said the city vindictively prosecuted former Boulder City resident John Hunt, who was arrested June 8, 2016, after repeatedly walking back and forth in a marked crosswalk to protest a police-sanctioned enforcement event. Scotti also dismissed the case, ruling it a violation of the First Amendment.
Hunt's attorney, Stephen Stubbs, was appealing a case from Boulder City Municipal Court in which Hunt had been found guilty on four charges by Judge Pro Tem Margaret Whitaker.
"The city filed a motion to disqualify Judge Richard Scotti on Nov. 7 and the motion will be heard by Chief Judge Linda Marie Bell on Dec. 4, 2018," the city said in a statement. "The findings of Municipal Court Judge Margaret Whittaker in the criminal complaint were based on the merits and facts of the case; the city asserts that several procedural errors in Judge Scotti's decision were in violation of Nevada law."
City Attorney Steve Morris' motion to remove Scotti alleges that the judge did not follow procedure in the appeal.
"The city has only recently discovered that a written judgment pursuant to NRS 176.105 was never signed by Judge Pro Tem Margaret Whittaker and entered by the clerk of the Boulder City Municipal Court," Morris wrote in the motion. "Only after a judgment is signed by a judge and entered by a clerk, as provided in NRS 176.105, does a judgment become final, and an appeal de novo can only be taken from a judgment."
Communication methods questioned
Morris also argues that Stubbs and Scotti communicated multiple times without the city's counsel present, an ex parte communication, which violates Nevada Supreme Court Rule 2.9.
In his motion, Morris said they participated in multiple ex parte communications starting Sept. 19 when Stubbs appeared before Scotti even though a hearing requiring the counsel's presence was not scheduled. Additionally, Morris said Scotti heard arguments from Stubbs about the merits of the case and scheduled a hearing and briefing schedule on Stubbs' motion to dismiss and did not inform Morris and the city of the decision.
"It was Stephen Stubbs … that provided notice to the city of the briefing schedule set by Judge Scotti," Morris wrote.
In a separate court document, Stubbs said he did not know the Sept. 19 hearing had been taken off the court calendar, and Scotti called the case when he noticed him in the gallery. He also said everything that occurred in open court was "scheduling and administrative in nature," which is allowed per Nevada Code of Judicial Conduct Rule 2.9 (A)(1).
After the impromptu session, Stubbs said he and the court contacted Morris about the matters discussed, including scheduling an Oct. 24 hearing.
Other alleged ex parte communications occurred in several of Stubbs' social media posts from Oct. 23 and 24, according to Morris.
"The law clerk divulged not only that a decision had been made but apparently proceeded to discuss with Mr. Stubbs the merits of that decision outside the presence of the city," he wrote. "Mr. Stubbs publicly posted the decision of Judge Scotti on his Facebook page days before the written order was issued."
Morris said he was informed in a voicemail left by the law clerk that the Oct. 24 hearing had been canceled and that the judge would issue a decision on paper.
Last-ditch effort
"It's a Hail Mary pass," Stubbs said of the city's motion. "It's ridiculous. I have never spoken to Judge Scotti outside of open court about this case."
Stubbs said that when the law clerk called him and said the hearing had been canceled, he asked why.
"She said the briefs were done very well and Judge Scotti would make his decisions on the briefs," Stubbs said. "I find it extremely hypocritical that Steve Morris would accuse me of having an ex parte communication with Judge Scotti when he and Judge (Victor) Miller shared an attorney on a case. He's unethical. This a last-ditch attempt to save his reputation after being found guilty of prosecutorial misconduct and submitting false information in court. I'm going to the bar with this."
In his motion, Morris said Scotti had demonstrated a clear bias against the city and the decisions of Whittaker as well as federal District Court Judge James Mahan, who had previously dismissed Hunt's civil case against the city.
He said Scotti had proved "unfit to preside over" the matter and asked that he be removed from the case. Morris also requested that Scotti's order be stricken from the record and that the case be assigned to a new judge to proceed as a trial de novo after a final judgment is entered.
A hearing is scheduled for 9 a.m. Tuesday, Dec. 4, in district court.
Boulder City Motion to Disqualify by Boulder City Review on Scribd
Contact reporter Celia Shortt Goodyear at cgoodyear@bouldercityreview.com or at 702-586-9401. Follow her on Twitter @csgoodyear.