City ponders fate of historic water filtration plant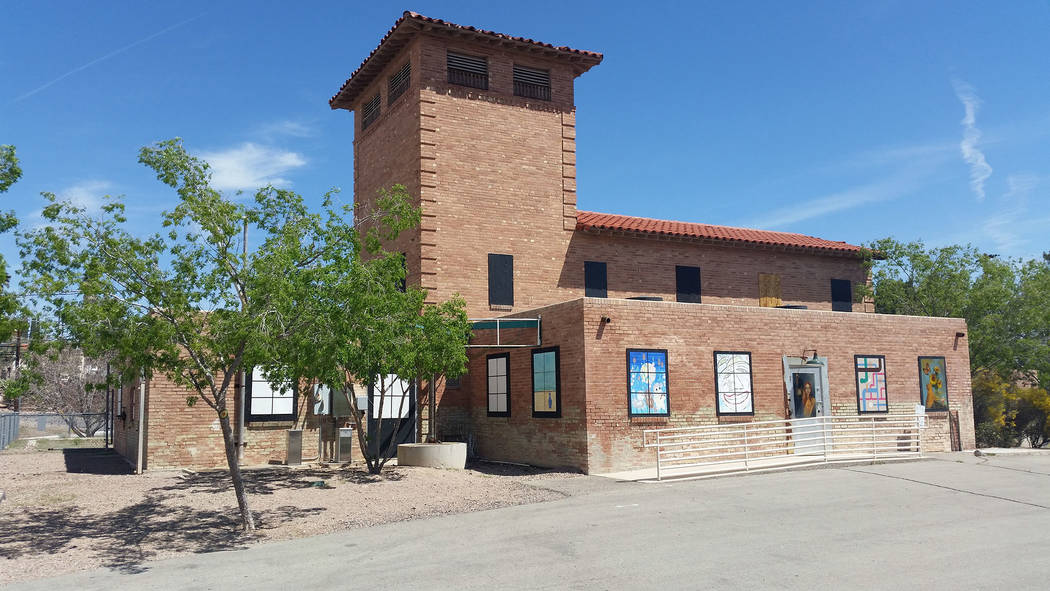 The possible sale of a historic property in Boulder City has residents and City Council members expressing a desire to keep the parcel and buildings on it under city ownership.
The old water filtration plant at 300 Railroad Ave. has fallen into disrepair over the past few years and a proposal was recently brought before the City Council to obtain an appraisal for the property.
Rather than approving the appraisal, council members instructed staff to research some outstanding ownership discrepancies with the almost 2-acre property as well as ways to protect the community gardens and Reflections park that are located there.
The legal description of the property states the city owns it all, but the Clark County Tax Assessor's office says the federal government still owns two pieces of it.
"The overall area to me is a very sacred place," said resident Shawna Wiley. "It's not just for physical well-being. It's a healing sanctuary."
Wiley, who is disabled, said that when her health deteriorates going to the garden helps her.
"I'm trying to live holistically and passing that down to my family," she said.
Wiley and her mother, Linda Brown, have a plot at the community gardens, which helps them grow food and live holistically.
They said the gardens and park add to the small-community lifestyle they enjoy.
"We've lived here 13 years, and that's one of the reasons we moved here. … For me, this community, this little city is a sense of normalcy," Brown said. "It's why people come here."
Brown also sees the gardens as a place for spiritual, physical and mental healing.
Sculptures on display
The Teddy Fenton Memorial Park Reflections Center, more commonly referred to as Reflections park, features sculptures created by members the Desert Sculptors group. According to artist Lynne Jordan, the group is more than 30 years old, and their work has been a part of the property for more than 20.
"It's one of our direct connections to the Hoover Dam," Jordan said of the property and water filtration plant. "I don't want to see these historic structures go away because one day we won't have a connection to the Hoover Dam. … I believe to sell it is, of course, disastrous."
At the start, she said the group had an agreement with the city for it to landscape, water and take care of the plants in that portion of the property. Desert Sculptors would take care of installing the art pieces.
In addition to residents' concerns, several council members said they do not want to see the property sold.
"Our historic properties should not be sold off, but that doesn't mean they should lay as monuments of decay," said Councilman Warren Harhay when the matter came up during a recent meeting.
"I support the preservation of the historic water filtration building; what needs to be decided is the best way to do that," said Councilwoman Peggy Leavitt. "The Historic Preservation Committee recently recommended to the City Council an adaptive reuse, which means using the old building for a new use while retaining the historic features."
Partnerships proposed
Council members suggested some type of private and public partnership for the property.
Harhay said the building could be leased to a developer who would use the building but keep the garden and park.
"The big mistake that was made was selling the hospital," he said referring to the city's original medical facility on Park Street that was demolished in November 2015. "Once it was sold, the city lost control. By leasing the water filtration plant, the city remains in control."
Councilman Kiernan McManus said a public and private partnership could be developed and "bring the park back to life."
"Quite a few things could be done without too much money from the city," he said.
McManus added the residential neighborhood around the property does not want anything "disruptive in there," and whatever does end up going there should have a low impact to the neighborhood.
One possibility he suggested was making the property a stop on the Boulder City Museum and Historical Association's self-guided audio walking tour. It would increase the foot traffic in the area and could be another reason for people to visit Boulder City.
The water filtration plant was built in the 1930s, and it has not been used since 1983, according to McManus.
"The appearance of the entire property … is not good right now," he said.
Despite how it looks the building does seem to be structurally sound.
Beneficial use
"As I've said many times before, my view is that the old water filtration plant should be on Boulder City's short list of structures worth preserving, both from an architectural perspective and from a historical perspective," said Mayor Rod Woodbury. "And it's usually most cost-effective and easiest to preserve any building when it's being put to beneficial use. … I'm open to all legitimate proposals. But whatever the use, it needs to be backed by a strong and truly feasible business plan that isn't going to be just flushing public money down the drain and end up being more of a burden than it's worth."
Just what that plan would be remains unclear.
"It should all be preserved, possibly repurposed, but at all costs, we should not knock down any historic buildings in town," said Councilman Rich Shuman.
Leavitt said the city and community have a "unique opportunity to collaborate" and come up with ideas.
"As part of this process, I would ask our city manager to organize a community outreach campaign so that we can hear all the creative and constructive ideas that our citizenry might have."
Once that process is complete, Leavitt said recommendations could be made to the council about the property including the community gardens and Reflections park.
McManus also said people have offered their time and skills at their expense to work on the building.
Contact reporter Celia Shortt Goodyear at cgoodyear@bouldercityreview.com or at 702-586-9401. Follow her on Twitter @csgoodyear.