City may be flouting code
January 17, 2018 - 3:56 pm
Updated January 17, 2018 - 4:09 pm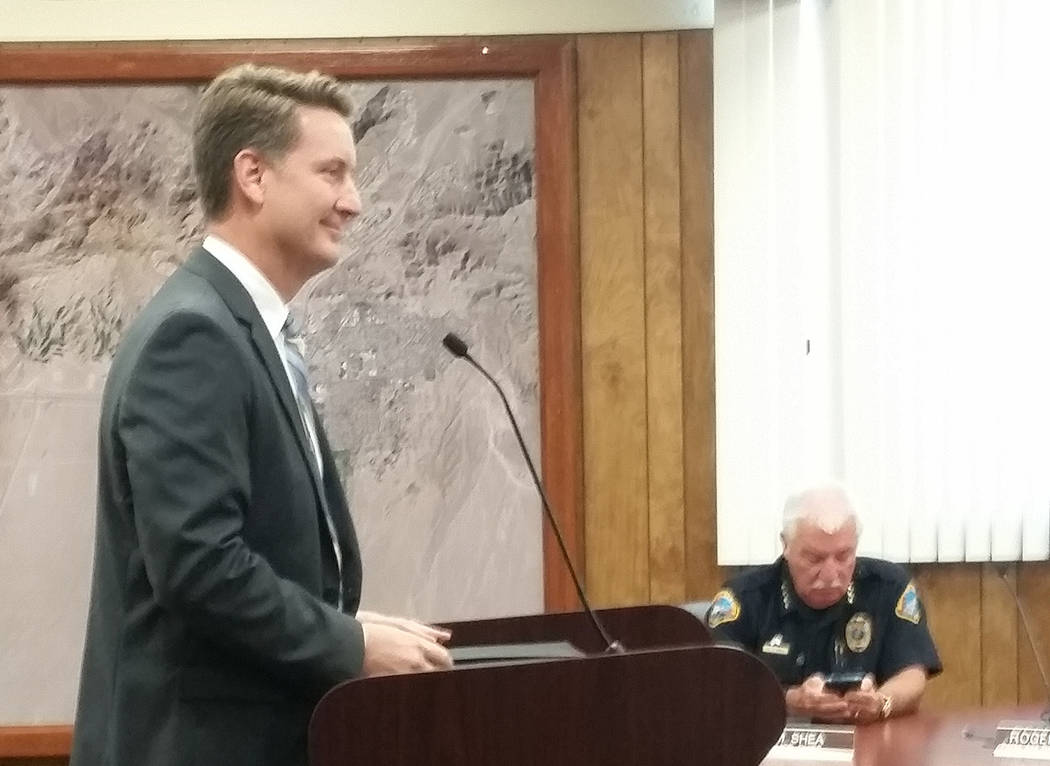 Boulder City could be violating its city code by not naming a new salary for its acting city attorney.
According to section 1-5-6 of the municipal code, any person designated or appointed to an acting position "shall be paid a salary as established by resolution of the City Council."
Currently, acting City Attorney Steve Morris is operating under the terms of his original independent contractor agreement, which requires him to work five hours a week for which he is paid $40,000 annually. It also allows him to be paid his billable rate for any hours he works over that five hours.
"Steve Morris is being paid according to a resolution of City Council," said city spokeswoman Sue Manteris. "His contract which set forth the terms of payment (or salary) came before the council back in October of 2012."
Morris was appointed acting city attorney by the council on June 26, and an amendment to his contract was supposed to come before it on July 11. At the beginning of the meeting, however, it was removed from the agenda.
"An amendment was taken off the agenda July 11, 2017, because a resolution regarding payment had already been approved by council," Manteris said.
The council approved that resolution in October 2012 when it first hired Morris as independent contractor, approximately four years before he was appointed acting city attorney. Additionally in that resolution, he is referred to as an "Assistant City Attorney on an independent contractor basis," not the acting city attorney.
When Morris was appointed acting city attorney, acting City Manager Scott Hansen proposed that he bring a different contract with Morris back to the council that would be more favorable to the city.
Mayor Rod Woodbury agreed with Hansen.
"I think we are going to save some costs then by doing that as opposed to just pay overtime to Mr. Morris," he said. "Assuming he's willing, I would recommend that we negotiate with him because he has the experience."
In December, Morris said he was working at least 15 hours a week above the five at his billable rate of $325 per hour, which equals $4,875 per week and $126,750 for six months.
Former full-time City Attorney Dave Olsen, who retired June 30, was paid $196,393 in salary and benefits for all of 2016, according to Transparent Nevada.
City records show that Morris was paid $564,676.36 in the three-year period between July 2014 and July 2017, which is approximately $444,000 more than the $120,000 he would have made in three years at his annual fixed rate.
Morris said the excess amount is for his work with litigation issues for the city. He also was reimbursed for $15,000 in expenses associated with that litigation, per his contract.
Two other city employees were also placed into acting positions in 2017. Hansen was made acting city manager on June 6, and his salary was increased to $150,856, in recognition of the extra duties.
In September, Doug Honey was appointed acting finance director and paid the finance director salary of $4,958.83 every two weeks.
"The acting city manager and acting finance director were and are city employees that are paid based on other protocols that are in place," Manteris said.
Contact reporter Celia Shortt Goodyear at cgoodyear@bouldercityreview.com or at 702-586-9401. Follow her on Twitter @csgoodyear.