City, Fraser part ways: Council unanimously OKs 7-month severance package as part of separation agreement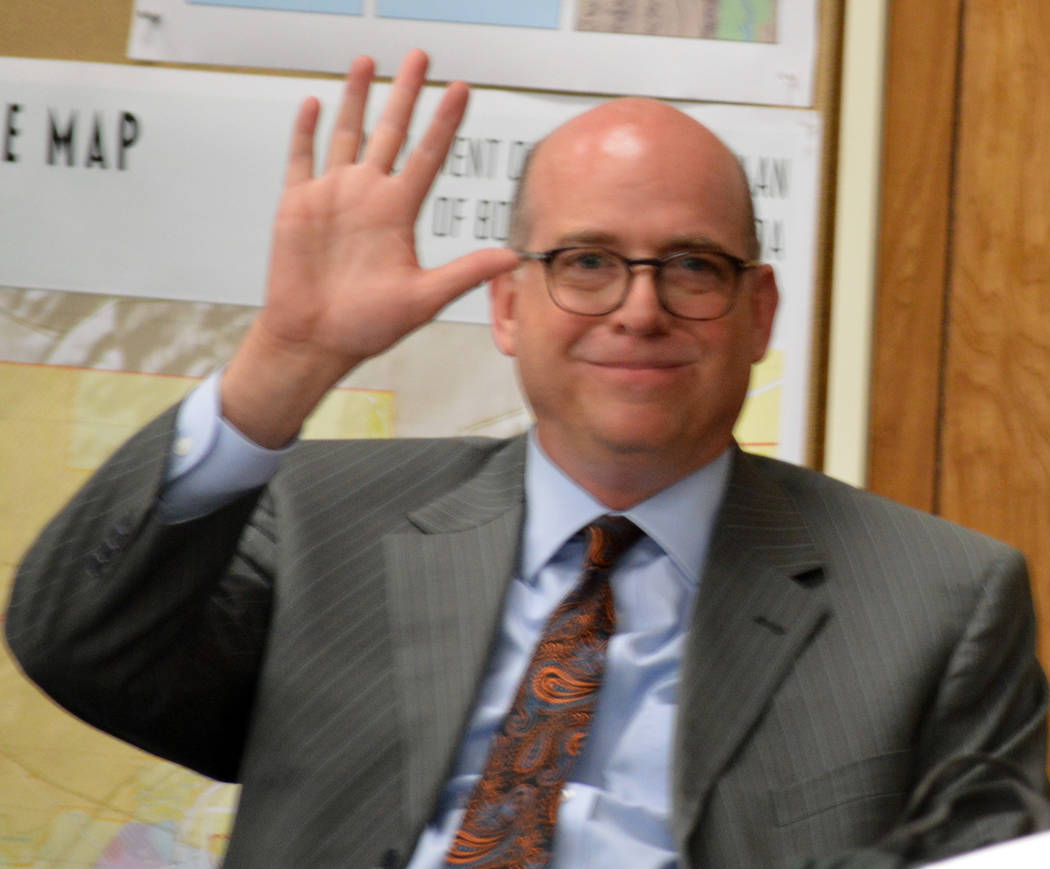 City Council approved the separation agreement with its city manager at its meeting Tuesday, giving him seven months of salary and benefits rather than the six that were in his contract.
According to Mayor Rod Woodbury, now former City Manager David Fraser was receiving the extra month because the Public Employee Retirement System.
"Like other qualifying city employees, Dave Fraser was the beneficiary of PERS contributions made by the city for his benefit as part of his regular compensation package … In order to become vested in PERS, which triggers the right to access those retirement funds, an employee must work in a qualifying public position in Nevada for five years," he said. "So, since Dave hadn't reached his five-year mark yet and consequently hasn't yet vested, he initially requested that the city pay him an equivalent amount as part of his severance, which would have been a substantial six-figure amount. "
Woodbury said that he and City Attorney Dave Olsen talked to PERS and found a way to get Fraser vested with seven months of paid leave, but ultimately Fraser and his attorney requested to have to the severance money in a lump-sum upfront payment, without vesting in PERS.
He added that they left the severance at seven months rather than six in the interest of compromise.
Olsen told the council members Tuesday evening that the agreement was a good one for the city, and he endorsed it.
Fraser added that he and his personal attorney also agreed with it.
"I just want to commend and thank the employees of the city of Boulder City," Fraser said. "They get up every morning … and put in a hard day's work for one purpose only and that's to make this place a better place to live … It's been an honor to have been one of them for a season."
Fraser also thanked the community for reaching out to his family when they moved to town, as well as recently.
"I also want to thank the council for putting food on my family's table for four and a half years … Most of all I want to thank my family who, really on too many occasions, has subordinated their desires that we might stay united as a family, as I pursue my chosen profession, and all my deepest love and gratitude goes out to each of them," he said.
"It's been a heck of a pleasure being here," he added. "My family and I have loved the community."
Council members unanimously approved the separation agreement, which was effective immediately and allows the seven months of salary and benefits as well as leave accrued through June 6 to be paid in one lump sum to Fraser. Based on his salary from last year, that amounts to about $126,000.
According to Transparent Nevada, Fraser earned $215,835.78 in pay and benefits in 2016.
"It's never easy to part ways, but I believe both sides are satisfied with the results of these good-faith negotiations," Woodbury said. "The separation agreement allows both Dave and the city to move forward in positive directions. I would personally like to thank Dave for his service to the city, and I wish him and his family all the best in the future in whatever direction life takes them next."
Fraser gave no reason why he submitted his resignation or what was discussed when he met with two council members just before he resigned.
The council named Public Works Director Scott Hansen as the acting city manager until a replacement is found.
Hansen will receive the city manager salary of $150,865 while acting as city manager. His current salary is $141,856.
Woodbury expects the search for a new city manager to take a minimum of four to six months.
"Scott is still our public works director, but with his added city manager duties, I know he'll have to delegate more within that department," he said. "He's got a great team under him, though, so I don't anticipate any major problems with that. Under Scott's leadership, public works will continue to be responsive to the community's needs, just like they've always been with him at the helm."
Contact reporter Celia Shortt Goodyear at cgoodyear@bouldercityreview.com or at 702-586-9401. Follow her on Twitter @csgoodyear.