City asks for input on roundabout
September 17, 2015 - 3:03 pm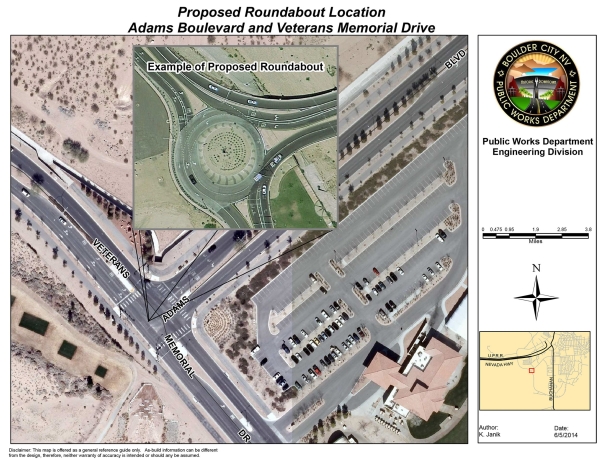 Boulder City is seeking the public's feedback for a proposed roundabout at the intersection of Adams Boulevard and Veterans Memorial Drive.
The roundabout would replace the current traffic light at the intersection and include dedicated lanes for traffic travelling west on Adams turning right onto Veterans Memorial, for drivers travelling north on Veterans Memorial turning right on Adams and for cars going south on Veterans Memorial to avoid the roundabout.
The roundabout would be funded entirely through a grant from the Nevada Department of Transportation, the city said, though a cost estimate was not immediately available. It would be the first roundabout in Boulder City.
The project was up for approval at the Sept. 8 City Council meeting, but the council voted to table the resolution for a later date.
Public Works Director Scott Hansen introduced the roundabout at the meeting as something that would improve traffic flow, especially for northbound travellers on Veterans Memorial, who are often forced to stop at the current traffic light at the intersection, he said.
Hansen also noted that air quality would be improved with fewer cars stopping and going at the light. From a safety standpoint, the public works director said the risk of crashes between cars going north on Veterans Memorial and cars turning right from Adams would be removed.
Other city employees offered differing views on the need for a roundabout at the intersection.
Roundabouts can be challenging at first for drivers that aren't accustomed to seeing them on the road, said Councilman Duncan McCoy during an informal interview a few days after the meeting. The councilman said people might "go off the road" if they don't know what's coming in front of them.
If a roundabout is busy enough, drivers also could get confused and end up circling around more than once, he said.
"A roundabout for me is only an issue if you come up on one and you don't know it's going to be there," McCoy said. "If you don't know how to work one of those things, you can get in and you might not be able to get out."
Councilman Cam Walker said most of the accidents at the intersection come from drivers turning left from Veterans Memorial onto Adams. When speeding drivers miss turning onto Adams, they take out the landscaping, he said.
"That left turn movement is very fast and I think the roundabout would help them slow down some," Walker said. "It at least ought to be looked at."
Boulder City residents can share their input at pwadmin@bcvn.org and 702-293-9291. The public is also welcome to share their thoughts in person at the public works department, located downstairs in City Hall, or by sending a letter to the director of public works at 401 California Ave, Boulder City, NV 89005.
Contact Chris Kudialis at ckudialis@reviewjournal.com or 702-383-0283. Find him on Twitter:@kudialisrj.