City approves plans for banquet facility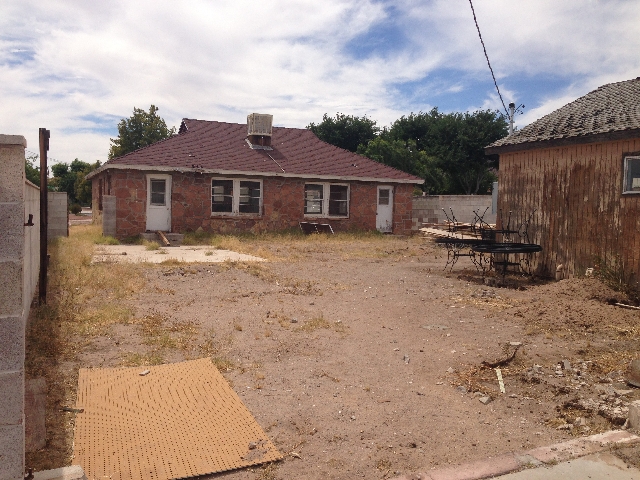 The City Council denied a neighbor's appeal May 6 of a rooftop deck for a proposed banquet facility at an old house at 553 California Ave., something that was approved under a conditional use permit by the city Planning Commission in April.
The property is being developed by Grant Turner, owner of The Dillinger Food & Drinkery on Arizona Street.
The appeal was brought by neighbor Dean Kine, as the City Council tried resolving some concerns neighbors had over privacy and noise issues.
The City Council voted unanimously to allow Turner to add a rooftop deck, with the condition that he would add two feet to his proposed 5-foot fence on the south and east side of the deck. Additionally, no music would be allowed on the rooftop deck. Turner plans to operate a small banquet and catering hall with seating for 60, or for occupancy of close to 100 without seating at the property adjacent to the police station.
"I don't think we should be subjected to that music at my house in my backyard while we're having friends over seven nights a week," said neighbor Jerry Keller, former Clark County sheriff.
Kine objected to the addition of the rooftop deck.
"I'm sure I'm not going to like it," Kine said.
Turner's battle began in February when he applied to the Planning Commission for a use permit to allow the banquet facility, which he was granted.
He then returned in March to switch the location of a proposed building addition from the north side of the property to the south side , stating that it would create a "better buffer of the new outdoor courtyard from the neighbors to the south."
Planning commissioners agreed that this was a beneficial change, City Planner Susan Danielewicz said.
"The residential uses to the south would be somewhat buffered by the building on the north side," Danielewicz said.
Turner returned in April to add the rooftop deck, with staff recommendation that the deck "not be used for bands or other live music." Despite that recommendation, the planning commissioners passed the request without the restriction on bands or live music, stating Turner would have to comply with city regulations regarding noise.
With the final addition of a rooftop deck, Kine appealed to the city.
Kine was also concerned about future projects and tactics being used by Turner
"It appears to me that the way this is working is an inch worm," Kine said. "I'll go and get this little approval, then I'll expand upon that approval, and then I'll expand upon that approval until I end up with what I wanted, which I was sure I couldn't get if I went for it all at one time."
The Planning Commission had removed the prohibition of live music being allowed on the deck because commissoners didn't see an issue with it, but city noise ordinances still applied to the property.
"If somebody had a violin player for a small wedding reception or something like that, they didn't necessarily think that would be a problem," Danielewicz said.
Mayor Rodger Tobler questioned Danielewicz on the city's noise code, which Danielewicz said was vague.
The code states that there should not be any unreasonable noise within 75 feet of another property, Danielewicz said.
The city ordinance is not the only means of defense for the public.
The community development director can revoke a use permit if enough grievances have been submitted, Danielewicz said.
Danielewicz was questioned about parking issues at the property. She said more than two decades ago properties that were zoned C-2 general commercial became exempt from providing on-site parking with the creation of the Central Business District.
Properties such as Turner's fall under a different code which left Turner two options: try to get the Central Business District's stop point moved or abide by the rules under the C-1 zoning his property is, which Turner chose.
According to code, businesses with C-1 zoning can use adjacent parking lots to meet parking requirements with owner and planning commission approval, Danielewicz said.
With no parking available for customers on the actual property, the agreement would allow Turner's customers to use 15 spaces on nights and weekends.
City Councilman Cam Walker questioned Danielewicz about other parking issues involving the possible removal of a garage on the property, which the city can't stop and leaving no parking on-site.
"Somebody could take it down and we have no way of stopping them," Walker said. "They are going to do catering and probably going to have a catering truck, and have no place … to park it."
The house was built in 1942 and acquired by a limited-liability company controlled by Turner in May 2012 for $120,000.