Chilly Jilly'z opens to big crowds
September 5, 2013 - 4:00 am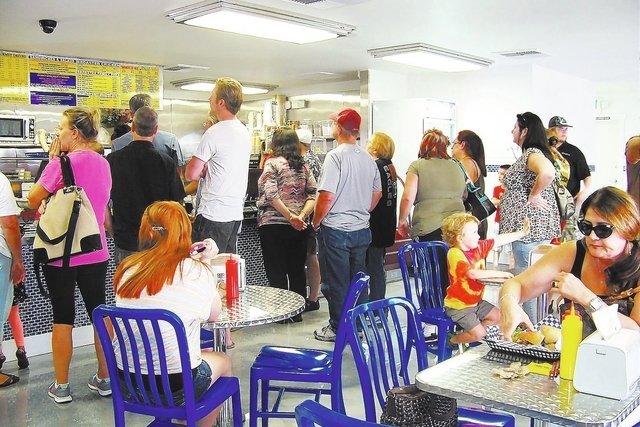 This weekend, hundreds of locals and visitors celebrated the grand opening of the new Chilly Jilly'z in Marshall Plaza, 1680 Nevada Highway, with an impressive turnout.
The new bakery and café was jam-packed Saturday afternoon with customers anxious to taste broasted chicken, choose from one of 10 flavors of soft serve frozen yogurt, sample a cinnamon roll piled high with cream cheese frosting, order their favorite gourmet coffee drink, or have a pineapple or mango Dole soft serve or Dole float.
And if that's not enough to satisfy, the menu also features salads and made-to-order sandwiches on fresh-baked breads.
"Awesome," was how customer Debbie Paris described the grand opening. She and husband Mike, who share their time between Boulder City and Hawaii, came to the café and bakery for the broasted chicken and soft serve yogurt.
Coleen Fitzgerald Palmeri is a regular at the first Chilly Jilly'z at 1629 Nevada Highway in Red Mountain Plaza (formerly the Boulder Bean), and makes a daily stop for a sugar free caramel frappuchino. People working that location know Palmeri's drink of choice and start working on her order as soon as she drives up.
Palmeri attended the Friday night soft opening but had to stop by Saturday for the grand opening to sample the broasted chicken which she said "was to die for."
Broasted chicken has the appearance of fried chicken, but because of the pressure cooking, does not absorb grease.
Owners Jill Quatrale and Steve Bunch are California transplants who have also bought Marshall Plaza. While Quatrale runs the operations, Bunch was on-call during the grand opening to deal with machine maintenance issues or make emergency runs to Costco.
He said the grand opening Saturday produced "a wonderful turnout." He was "extremely, extremely grateful" for the many locals who attended the Friday night soft opening and said, "today (Saturday) is amazing."
"We just hope we have a lot of repeat customers, and I think we will," Bunch said. "We've got some really good products that we're putting out. Great staff, great crew, chefs are great, food is perfect. What more could we ask for?"
Quatrale and Bunch took the building for the new Chilly Jilly'z location from bare studs to a structure of spotless stainless steel, vibrant pink trims with coordinated blue chairs, offering indoor and outdoor seating and a drive-thru window.
The pair has stuck with all the hard work involved in purchasing the former Boulder Bean in Red Mountain Plaza, tripling that business since November 2012, and at the same time creating a second Chilly Jilly'z in Marshall Plaza, all in approximately six months.
The two hired local contractors every step of the way during construction, and Quatrale is already looking for another cook and possibly more staff behind the counter.
During the grand opening on Saturday, nine Boulder City residents worked behind the counter filling orders prepared by three local cooks.
Part of Chilly Jilly'z new property is the building that was Lady Bug Nursery. Bunch said part of that building may need to be converted to an additional prep area for the café and bakery and the remaining area would be turned into an event center for parties.
Bunch said the new location is a good one with plenty of parking and easy in and out access to Nevada Highway.
While Quatrale was pleased and surprised by the number of people in her new location on Saturday, she said she felt this happened because Boulder City customers "become loyal in avery short time."
She felt her customers at the Red Mountain Plaza location "experience good customer service" and have enjoyed "a quality product."
Quatrale has also become a Boulder City booster and charitable contributor during the short time she has been in business in the city. Among other acts of giving back to the community, Quatrale recently donated a substantial amount of merchandise and plants to the 31er's Educational Outreach Program at the Boulder City/Hoover Dam Museum & Historical Association, the Friends of the Arts for restoration workshops and its ongoing project at Reflections Park and to a garden project at St. Jude's Ranch.
Museum Association board member Cheryl Waites described Quatrale as "very generous" with her donation of not only plants from the old nursery but also wind chimes and pottery that could be sold in the museum gift shop.
"She is such a dear," Waites said. "She didn't think twice. She was very excited to come on board."
Chilly Jilly'z at Marshall Plaza has also given space to Goodwill for its donation area which, according to Goodwill employee Brian Barkley, will be open daily from 7 a.m. until 8 p.m.
The grand opening also had a family touch with the addition of Denise Quatrale, known to regulars as Jill's mom. Denise Quatrale said, "I think it's incredibly overwhelming. Both Jill and Steve have done an amazingly fantastic job. … We are very excited."
Quatrale and Bunch have plans for converting the Chilly Jilly'z in Red Mountain Plaza into a drive-thru hot dog stand with grilled hot dogs and fresh baked buns. Chilly Jilly'z in Marshall Plaza will, in the near future, offer garden-style, outdoor dining that will be pet-friendly.
This location will be open seven days a week, Monday through Friday from 5 a.m. until 10 p.m., and Saturday and Sunday from 6 a.m. until 10 p.m.
"We have something for everybody," Quatrale said.
Reporter Rose Ann Miele can be reached at roseannrab@hotmail.com.